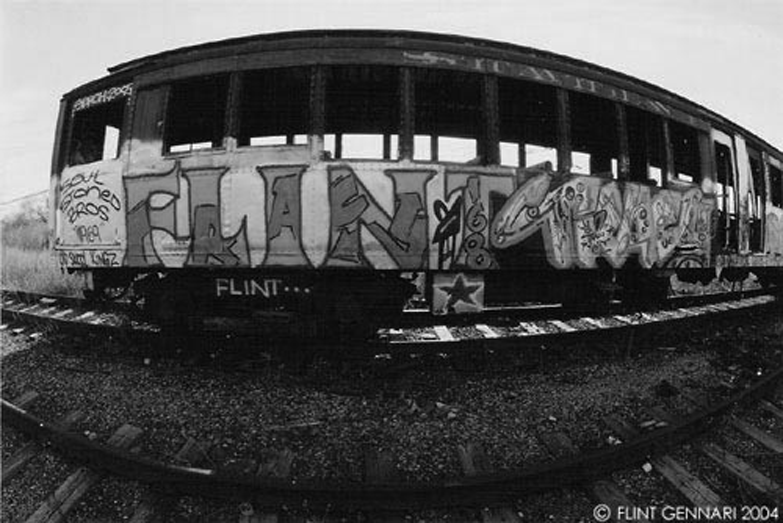 The graffiti art of Flint and Tracy 168 on an abandoned train in Staten Island, circa 1982.
Graffiti is a Latin word, points out Carlo McCormick, senior editor of Paper magazine. Obviously, it is not a recent phenomenon. "Historically, some people would claim that the early cave paintings are essentially prototypical forms of graffiti," observes McCormick. "In other words, this kind of mark-making is perhaps older than civilization—as old as culture."
And now graffiti art is coming to the Varga Gallery in Woodstock, beginning August 11. This is apparently the first graffiti art show in the Hudson Valley. Artists LSD-OM, Zephyr, Flint, Kr.One, Team, and Whisper are confirmed, and Revolt is a possibility.
As a postwar phenomenon, graffiti parallels the rise of street toughs and gangs. Its present form began in the late sixties, and became known as part of hip hop culture by the mid '70s.
"Most people who walk through a big city, they don't really notice graffiti," says McCormick. "They just read it as urban noise. They don't realize that there's this whole legion of kids around the world who actually know the whole history of these writers."
Graffiti writers of the '60s wrote with black Magic Markers, in clearly printed letters. They also used their real names. Later, graffiti would incorporate spray paint and pseudonyms, then cartoon characters, and, finally, elements of Cubism for a technique known as Wild Style. By 1983, only a bow-tied curmudgeon could deny that some graffiti was beautiful.
The artists' goal was to achieve ubiquity—to be everywhere at once. (This was called "getting fame.") Of course, working-class teenagers rarely thought beyond the city in which they lived. Braving the dangers of the police and train yards, a citywide community of "writers" developed. (Interestingly, graffiti artists always refer to themselves as "writers.")
Flint was one of the earliest graffiti artists, beginning in 1969. Raised in Bedford-Stuyvesant neighborhood of Brooklyn, Flint invented catch phrases such as "For Those Who Dare" and "Bad Not Evil," which later inspired the writings of SAMO, Jean-Michel Basquiat's first pseudonym, which he shared with his friend Al Diaz. In 1973, Flint began photographing examples of the artform. Some of his photos will appear in the show.
LSD-OM is the only writer who lives locally. An early member of the Non Stop Action crew, he sees the origin of graffiti as a revolt against President Nixon and the Vietnam War.
The art world recognized graffiti with a show at the Museum of Modern Art in 1974; the exhibit led to the book The Faith of Graffiti, which features an introduction by Norman Mailer. Nonetheless, these artists never had true institutional sanction. Nowadays some major graffiti artists work for record companies or design T-shirts and other streetwear.
Varga's landlady has given artists permission to paint the former stained-glass windows on the Tinker Street Cinema next door, creating an installation evoking the Church of Saint Julio 204. ("Julio 204" was the first graffiti I saw on the walls of my neighborhood in Manhattan in 1969.)
A panel discussion with Carlo McCormick, High Times editor Steven Hager, and many of the artists will be held on September 8 at 3pm.
"New York City Graffiti Art" will be on view at the Varga Gallery in Woodstock from August 11 through September 9. (845) 679-4005; www.vargagallery.com.