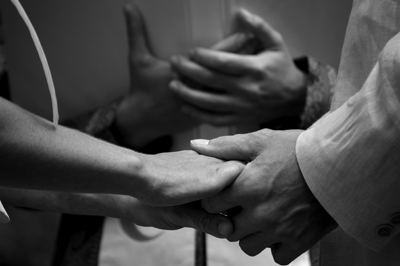 Hillary Harvey
Jeff Davis and Hillary Thing reciting their marriage vows that they wrote
On January 13, 2001, Gretchen Hein stood by a reflective pond in front of 100 friends and family at a state park in Tallahassee, Florida. The early morning sky had been dim and the air icy, but when Hein stepped out of the house with her fiancé Marty Klein at her side, the clouds shifted. By the time she got to addressing their clan, the Southern sun had determined to give its wintry all. She spoke from a pool of light as she welcomed the wedding guests.
"I invite you to be open to transformation," Hein said, "because we will all leave here different than we arrived. You are invited to be part of the transformation that Marty and I have decided to embark upon. Thank you for coming, thank you for sharing of yourselves."
Hein is a Kripalu-certified yoga teacher who owns Namaste Yoga in Woodstock. Her husband, a writer of plays and nonfiction, is the author of Blindsighted: One Man's Journey from Sight to Insight. They met at a re-evaluation counseling workshop in Atlanta, and, as romantic liaisons between teachers in that community are discouraged, decided to leave their leadership positions in order to pursue the strong and alluring connection between them. Marriage was a way to deepen that connection. It was not something they wanted another individual to do to them. They wanted to do it together, and so they opted to pen their own vows.
"It helped us clarify where we were going," Klein explains, "and what we wanted to have happen."
Her three children from a previous marriage spoke on that January day as well. Each espoused one of the three uppermost qualities the couple sought to enhance their union: clarity, creativity, and passion. The bride and groom recited poems by Marcus Aurelius and Amy Friedman.
Knitting poetic verse into matrimonial ceremonies is a common undertaking. When betrothed couples approach interfaith minister Sharami Kerr of West Shokan for input on their ceremonies, she often sends them to the bookstore, recommending, among other anthologies, a volume called Weddings from the Heart by Daphne Rose Kingma. It includes readings along with descriptions of traditional wedding customs from around the world. Couples can mix, match, and create services that suit their unique characters. Kerr describes a wedding during which she read the E. E. Cummings poem "I Carry Your Heart"; the couple received English and Hebrew blessings under a chuppah (a canopy used in Jewish weddings); sage and a feather were used to welcome the four directions; and the versatile duo recited their self-made vows, after which a close friend serenaded their amalgamation. They satisfied Jewish and Wicca customs, while adding personal splash.
For Kat and Benny Murello, who own Murello Plumbing in Wappingers Falls, covering all bases on their wedding day meant including loved ones who had died. Kat is an actress who had moved without enthusiasm from Manhattan to the Hudson Valley to live with her sister 10 years ago. Meeting Benny made her urban desertion worthwhile. They were ardent companions for months before he asked her to be his girlfriend, and the next day he moved in. The original plan for their wedding was that it be outdoors and small, held at night under the stars. Family wanted something different, and the young couple found themselves walking down an aisle in broad daylight under the dome of a Presbyterian church. There were 250 guests looking on. Neither Kat nor Benny is religious, but they did see a deeper meaning in their ritual. They created a table where names of the beloved deceased could be placed, including Kat's father and Benny's grandparents. Married guests were encouraged to bring framed photos of their weddings. The Murellos composed vows with a slant toward sustaining passion and promising a union that would endure past death.
"We are soul mates," Kat says, eyes aglow with sincerity. "It goes beyond death. We used the term 'eternity' as often as possible."
Kat's earnest words could be accompanied by the transcendent notes of the harp that interfaith minister Ilfra Halley of Woodstock plays as she speaks of her work with couples seeking to make their ceremonies their own. "Planning a wedding with a couple is always a collaboration. I listen very deeply to what they say and what they want. It is about weaving a tapestry of both the bride and groom sharing with each other and me to create something that resonates with their beings and their vision."
The threads of Violet Snow and Sparrow's wedding tapestry were humorous, literary, and stripped of sentiment, though not of spirit. The Phoenicia-based writers met in a poetry workshop at St. Mark's Church in 1985. Their desire to marry four years later was based on a wish to start a family. A five-foot-tall female rabbi married them in a synagogue that had been banished from its original place of residence and forced to share space with a church on Bennett Avenue in Washington Heights. Cloths were thrown over the Christian ornaments for the duration of the Jewish-inspired service. Sparrow and Snow offered themselves to each other in sickness and health, for rich or for poor, from the movies to the delicatessen. It was important to them in forming their words that they create something new.
"We're poets. We just figured we had to. You don't want to be too traditional when you're a poet," Snow says.
Her tone, like the description of her wedding day, flutters with levity. The poem Sparrow read on that occasion was likewise buoyant, titled "The Who's Last Tour" and written by Ted Berrigan, the departed husband of the teacher who led the workshop where the bohemian bride and groom first encountered each other. "Who's going to be your man, love, who's gonna be yr man?" the poem asks, answering, "Why, I am. Don'tcha know? Why, I am."
I am. I carry your heart. I do. There are as many words to link two lives as there are pairs to seek those words out, and, as the betrothed create new formulations, may it be that they also create new possibilities for the multisyllabic language of marriage.