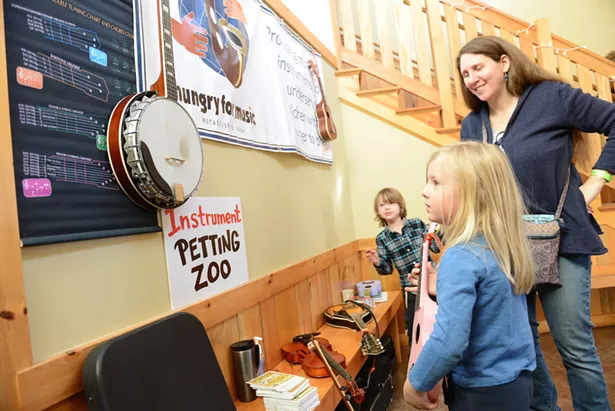 Tania Barricklo
The Instrument Petting Zoo at the Winter Hoot
The friendliest family-friendly festival, the Winter Hoot, happens this weekend. The Ashokan Center, that expansive educational center on 385-acres of fields, forests, trails, and streams in Olivebridge, gets a little bit cozier as festival-goers snuggle up in the Esopus Lodge to enjoy a spirit-raising good time in mid-winter. Bringing together amazing music, local food, beer and wine, film, art, nature, and dancing, with a Kids' Zone and a true community vibe, it often feels like you're spending the weekend at a good friend's awesome house party.
As always, the Kids' Zone will be packed with two staffed movie nights so parents can enjoy Jon Bowermaster's new film (on Friday) and music (on Saturday) in the main hall. Elizabeth Mitchell & You Are My Flower takes the main stage to start the music on Saturday, followed by a family-friendly dance at noon. The Kids' Zone schedule that day includes educational activities and entertainment from Riverkeeper, the Hudson Valley Sudbury School, Ally Britton of the Ashokan Center, Catskill Mountain Music Together, and Story Laurie. Don't miss blacksmithing demos and Fiber Flame's all-ages crafts room happening throughout the weekend.
New this year at the Winter Hoot is the Holler, where people are invited to sign up (
in advance online here
) to record a poem or song for our times. All voices are welcome, and the tracks will be uploaded to a shareable playlist. Local radio stations, WDST and WKZE, will even spin choice tracks on the air in spring.
Hoot organizers mean it when they say their goal is to build community through a shared love of music and nature, and they do it really well. Stay a few hours or spend the weekend.
Lodging
is available and tickets are always pay-what-you-wish.
The Winter Hoot at the Ashokan Center, 477 Beaverkill Road in Olivebridge: Friday, February 3rd, starts with a community dinner at 6p, and the Hoot runs through noon on Sunday, February 5th, with a community sing. For the full schedule and to purchase guaranteed advance tickets, visit their website.