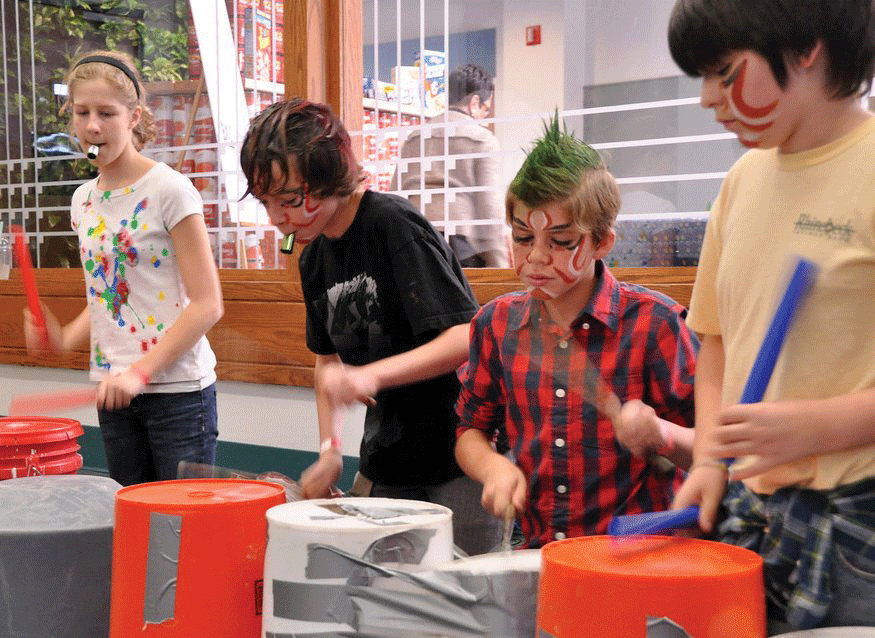 Students playing music at the Poughkeepsie Day School Fall Festival in 2011.
Michelle Wolin and her husband Phil believe in the public school system and always assumed their child would attend public school. As their son Zack was about to enter first grade, the family moved to a town with highly regarded public schools—but fate played a little trick.
Zack had gone to full-day kindergarten and was reading above his grade level, but as a result of recent budget cuts, his new classmates had only attended half-day kindergarten, which meant that many of them were reading below grade level. "For the first time in his life, Zack was bored and unchallenged," says Michelle Wolin. "He was miserable, and at that time, the school actually frowned upon accelerated learning programs for individuals." Perhaps this sounds familiar?
Wolin, who has an MA in elementary education and runs a preschool in her home, went to an open house at
Poughkeepsie Day School
(PDS). "I cried when I saw the PDS classrooms and met the teachers and felt the learning and the creativity just pouring through the walls," Wolin says. "I said to my husband, 'Can we try to make this work for now?'" They qualified for some financial aid, and Zack is now in fifth grade (PDS goes through high school).
The strengths of PDS—the smaller class size, hands-on approach to learning, ability to work with kids with different learning abilities and styles, and freedom from oppressive standardized testing—are the strengths of many independent schools. Wolin says, "At PDS, they look at the whole child, and work with the child and the family. When kids have learning challenges, they aren't looking for a quick neurological fix."

Where Leaders Shape Themselves
Perhaps the most unconventional private school in the region is the
Hudson Valley Sudbury School
(HVSS) in Woodstock. There are more than 30 Sudbury schools around the world, in which students from age four to 19 democratically determine their own curriculum and objectives. A small staff of adults serves not as principal or teacher but rather as facilitator for the curriculum as set by the students.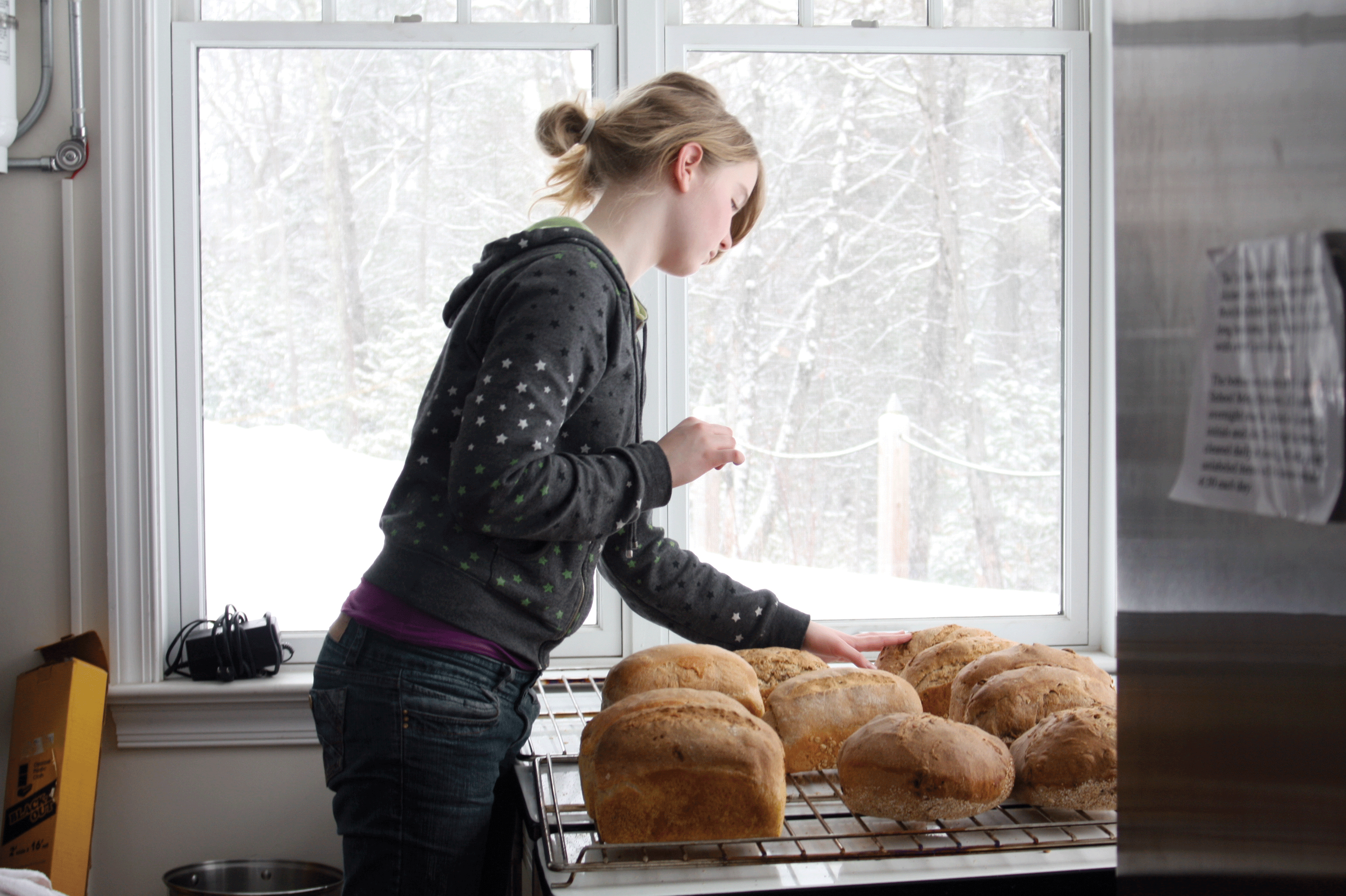 Lily, a student at the Hudson Valley Sudbury School in Woodstock, checking bread she baked as a fundraiser for her trip to England.
This may sound anarchic to those of us conditioned to public school norms. But Sudbury schools are founded on the premise that children are naturally motivated to learn if given the freedom to pursue what interests them. Many of us can identify with that from our own experience as children—we came alive when we got home from school and could read, study, or tinker with whatever we chose.
HVSS public relations clerk Jeff Collins (author of many informative essays about the Sudbury approach) relates the story of a student who came from a private academy where she was being groomed to be a doctor or lawyer. She was unhappy there, so her parents, to their credit, tried putting her in HVSS. Collins says, "When kids find what they want to do, there's no stopping them." In this case, the student discovered that what she really loves is the arts; she parlayed her natural talents into admission to Bennington College's arts program. This was also the right path for the HVSS student who was obsessed with video animation, created an extensive portfolio of his own designs, and got accepted into NYU Film School.
A survey of graduates of the oldest Sudbury school, the Sudbury Valley School (SVS), founded in 1968 in Framingham, Massachusetts, showed that 87 percent of the graduates continued on to some form of further education, be it four-year college, community college, performing arts school, culinary institute, or other professional training. SVS also generated a notably high percentage of entrepreneurs (42 percent).
Collins says, "The reason we think that happens is that when kids go to a Sudbury school, they learn that they are in charge their lives, their education, every aspect of what happens to them. When they get into the work world, they know how to work with others, but they naturally tend to want to be in charge of what they do."
The Wisdom of Waldorf, the Merits of Montessori
Worldwide, there are more than 900 Waldorf schools and 1,600-plus early childhood programs.
Waldorf education
was founded in 1919 by Austrian scientist, philosopher, and educator Rudolf Steiner. Waldorf, or Steiner education, emphasizes the creative and imaginative life of young people and beautiful surroundings that nurture heart and spirit as well as intellect.
Ulysses, Amelia, Lucie, and Cady, students at the Hudson Valley Sudbury School in Woodstock, look at playground design possibilities.
One facet of Waldorf education in which most, but not all schools participate, is eurythmy, which is music or prose made visible in movement. Rather than interpreting music through one's feelings or personal reactions to it, eurythmy mirrors the movement of musical notes—for instance, as they rise and dip. But the best way to understand eurythmy is to watch it: There are some truly charming videos on YouTube of kids of all ages in eurythmy class and some beautiful and mesmerizing performances by young adults in the San Francisco Youth Eurythmy Troupe and adult ensembles.
The practice of eurythmy is also one means of engaging those students who have difficulty concentrating. Ingrid Almquist is a teacher at
Mountain Laurel Waldorf School
(MLWS) in New Paltz, a school for children from nursery school through eighth grade. "In the earlier grades the length of time that children are expected to sit still and concentrate is far shorter than it would be in a public school setting," she says. "In grades one to three, 'circle time' activities begin the day, so that even though the children are learning, they are also moving around and generally on their feet, not sitting. This makes it much easier for the children with mild to moderate ADHD-like symptoms to successfully engage and participate."
Almquist has taught the same group of children from first through eighth grade. She says, "The intense teamwork that is necessary between the parents and teacher in order to work harmoniously together over eight years is extraordinary. Eight years is longer than many marriages last, and to maintain a healthy, symbiotic working relationship between teacher and parents over such a length of time is one of the greatest challenges and most rewarding aspects of the Waldorf model."
People often conflate the Waldorf and
Montessori
approaches, but they are quite different. The concept of "purposeful activity" is paramount in Montessori. Children are given the opportunity to work alone for several hours a day in a concentrated way on projects of interest to them, with teachers providing resources and guidance. According to the American Montessori Society, in these classrooms, "independent activity constitutes about 80 percent of the work while teacher-directed activity accounts for the remaining 20 percent." This independent activity can occur in groups when students initiate shared projects.
In Montessori, the theory is that as children master tasks, they become more self-confident and kind, and it is felt that this was the best kind of socialization. Founder Maria Montessori, the first female doctor in Italy, had observed when she established her first school in 1907 that children would rather cook than pretend to cook, or play the violin rather than pretend to play the violin. She felt that creativity naturally followed when children were provided the time and materials to master new skills.
From Wappingers to Woodstock
The
Randolph School
(currently offering pre-K through fifth grade) on Route 9D in Wappingers Falls, founded in 1963, has its mooring in the educational philosophies of John Dewey and Jean Piaget. Alisa Algava is the school director and a former Randolph student and college intern at the school. She went to Brown University for her bachelor's degree and to Bank Street Graduate School of Education in New York City for her MA.
"I've never been in a place where kids are so consistently treated with respect and trust by the people around them," Algava says. "Randolph excels in seeing and celebrating each child's uniqueness and supporting them in doing projects that really matter to them." For instance, recently the three-to-five-year-olds wanted to learn all they could about dinosaurs, so they took over an entire room and made a "dinoverse" with rivers, volcanoes, tar pits, and habitat for dinosaurs based on what they were learning from their reading.
Kristin Williams-Foley's three daughters all benefitted from time spent at Randolph. Her oldest daughter attended there for grades five through eight, and is now, at 19, already a junior in college at the New School in NYC, where she studies urban studies and gender studies, blogs on feminism, and is engaged in social activism. Williams-Foley says, "Even if you can only afford to send your child to a school like Randolph for a few years, it's worth it, because the kids get validated for their ideas and who they are, and that really helps build self-esteem. My daughter blossomed at Randolph."
Further north one finds
Woodstock Day School
(WDS), founded 35 years ago for ages two through 18. WDS emphasizes creative approaches to learning and boasts a 100 percent college admittance rate for its graduates. In terms not just academic, WDS "firmly believes there is no such thing as an average student."
WDS Head of School Jim Handlin describes how fourth and fifth graders, when studying immigration, will bring in their family trees to share, and everyone maps out their ancestors' origins on the globe. Then the students establish relationships with penpals in these countries, where the true significance and scope of immigration comes to life. Down the hall, preschoolers pick a country like China or India and have to "pack their suitcase" for a class play about their imagined trip to that country. In so doing, they learn about other countries, weather, culture, foreign languages, and being part of the world community.
An Entrepreneur and the Last Word
When considering private schools, meet with alumni. Are they happy in their work? In their personal lives? Alexander Basek, freelance travel writer and co-founder of the travel itinerary service Fortnighter.com, graduated from Poughkeepsie Day School in 2000 and feels good about his career choice. "PDS taught me not to be afraid of following a path that's unconventional," Basek says. "It also gave me comfort with handling a lot of different things at once. It taught me not to pass people by who at first blush seem really different. Thanks to PDS I have a whole set of friends—and even business partners—that has enriched my life greatly."