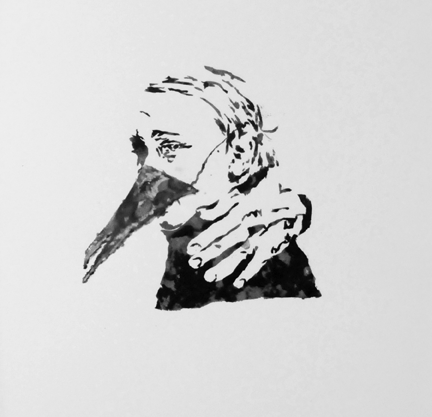 Bird in the Hand, Denise Orzo ,encaustic on paper, 2008. "Fabrication vs Verse," a solo show of recent encaustic work by Denise Orzo, will be exhibited this month at R&F Handmade Paints.
Denise Orzo first encountered encaustic paint in the late '90s when she took a job painting color charts for R&F Handmade Paints. By painting rectangular swaths of color samples, she was able to thoroughly acquaint herself with encaustic's sometimes capricious and unpredictable nature. Each encaustic color has a personality of its own and, when warmed, almost brings its colorful history to life before being transformed into something else. Encaustic painting is as old as ancient Greece; but until the 20th century, if artists wanted to experiment with encaustic, they had to make it themselves (which was time-consuming, messy, and dangerous, albeit alchemically exciting). Both Jasper Johns and Diego Rivera made their own encaustic paint. Today, more than 80 different colors of oil-based pigment sticks and soap-like bricks of encaustic paint are manufactured at R&F, and each retains a certain unique, hand-hewn quality. Because the colors are made naturally rather than synthesized in a lab, detritus such as tree bark, grasses, charred bones, and elephant hair are often sifted out of the pigment materials. Such are the unusual ingredients Orzo employs to render everything from women to wishbones.
"I love the paint itself. I love the materiality of it," says Orzo, "I love its wileyness. The smell of the warm wax and the experience of working with it makes for a very full sense experience." The paint is dynamic and independent, inviting the artist to cede control to it and blurring the lines between process and product. Painters who work in encaustic must use a hot palette to blend pigments together—and once the paint leaves the palette, time is of the essence. Unlike oil paints, which spend hours in the transition between wet and dry, encaustic paint takes only seconds to undergo a change of state from liquid to solid. Once solidified, the paint can be layered, sculpted, engraved, or embossed. Orzo's Macaroni, for example, depicts a single black feather whose weightlessness presents a striking and mysterious contrast to the medium's thick physicality. Orzo likens the piece's method to sketching, or incising, a drawing. "You're working invisibly," she explains, "your marks in the medium are not seen, let's say, until you smush oil paint into the lines you've drawn." In some cases, Orzo incises without filling her lines—the result is a kind of secret message for those who are willing to lean forward, play off the glare, and examine the text etched into the resin. Window Pain, which depicts a downy woodpecker along with details of the sighting (such as place and time), also contains hidden verses that employ this technique.
Most of Orzo's recent work is made using stencils to cut crisp and well-distinguished lines that define the wax against negative space. The overall effect, like that of Macaroni, presents the viewer with an interesting contradiction between method and medium—where an indulgent slathered-on heaviness is expected, light and clarity appear instead.
Denise Orzo's solo exhibition, "Fabrication vs Verse," is being shown through November 22 at the gallery at R&F Handmade Paints, 84 Ten Broeck Avenue, Kingston. (845) 331-3112; www.rfpaints.com.