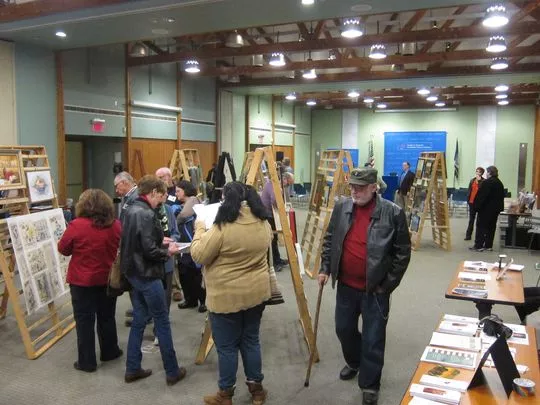 This showcase offers a series of events that celebrate veteran experience, alongside art's ability to heal and bridge gaps in communication.
Veterans will exhibit their work to the public at the FDR Presidential Library/Wallace Center for three days, fostering self-expression, recovery from the aftereffects of war, and reconnection with civilian life through a variety of artistic mediums. Over 50 works of visual art like "Combat Papers," veteran artwork on paper made from military uniforms, will be on display throughout the weekend.
An opening reception will be held Friday, November 18th at 5:30 pm. Veterans will present their work in a "Presentation of Colors," and NYU Professor Peter Meineck will examine how ancient wars have illuminated understanding of more recent wars.
On Saturday, a writer's workshop will be held for veterans and military families, followed by a series of performances and readings, including Jennifer Pacanowski of Warrior Writers, WWII veteran and writer Jay Wenk, and singer Fred Nagel. A discussion with the artists will also be held, offering a chance to talk with the veterans about on how the arts impact trauma and healing. Stephan Wolfert will perform his one-man show "Cry Havoc," which examines war's effects on society and self using Shakespeare's famous lines and speeches.
Core Stories, another civilian-veteran discussion, will be conducted on Sunday, along with a community drum circle and performance by Native American veteran Gil Tarbox and the Nimham Mountain Singers.
The Gallery opens Friday 5:30-8:30 pm, Saturday 10am-8:30pm, and Sunday 10am-4pm. FDR Presidential Library/ Wallace Center, Route 9, Hyde Park. November 18th to 20th. For more information, including schedule updates, visit Veteranartsshowcase.org.