All images courtesy of Catskill Cryo
Looking for an adrenaline rush? Then it's time to try your hand at cryotherapy. After just three minutes in a chamber that's been blasting your body with nitrogen gas supercooled to -180 degrees, your brain will think it just snowboarded down a black diamond run—and that's the whole point.
That's because those frigid temperatures trigger the body's natural "fight or flight" reaction, prompting it to go into protective mode. "When your brain perceives the superficial effects of the cold, your body's cold-shock proteins set in motion to rejuvenate, repair, and protect," says Sandy Dylak, owner of Catskill Cryo.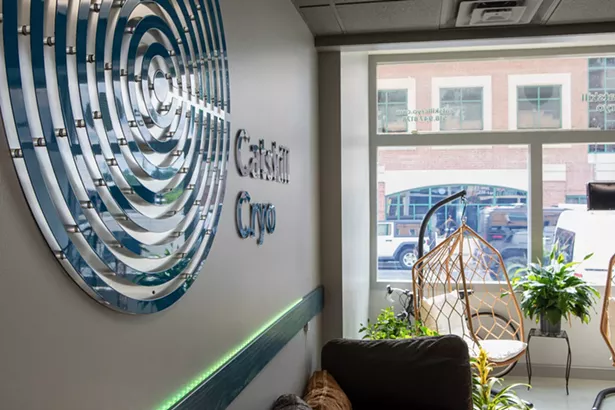 All images courtesy of Catskill Cryo
Though cryotherapy has recently earned a reputation as the exclusive wellness practice of celebrities and professional athletes, it was actually developed in 1978 by Toshima Yamauchi, a Japanese doctor researching treatments for rheumatoid arthritis who discovered that exposure to the extreme cold could help the body respond to inflammation.

After that rush of cold air begins, the body starts to push more oxygen and nutrients into the blood to help protect its core functions. Once the short cryotherapy process is over, the now-enriched blood flows back into the rest of the body, along with a burst of mood-boosting endorphins. Because of its many reported benefits, cryotherapy is now widely used for everything from improving athletic performance to treating inflammatory issues like arthritis, reducing anxiety, and improving skin conditions.

All images courtesy of Catskill Cryo
It was Dylak's own experience using cryotherapy to speed athletic recovery, and later to help reduce lower back pain and inflammation, and enhance sleep that inspired her to open up a cryotherapy center upstate near her home in Athens. After months of searching for the perfect location, she opted to land on Main Street in Catskill. Although Catskill Cryo was complete and ready to open in April, the pandemic forced Dylak to wait until July.
Upstate residents will also enjoy another benefit of cryotherapy that Dylak has discovered in her years since beginning regular treatments. She now has increased tolerance to the cold—a big plus for those frosty winters in the Catskills. "When I go outside in 30-degree weather it doesn't feel as intense as it used to anymore," she says.
All images courtesy of Catskill Cryo
In addition to three-minute sessions in the whole-body cryotherapy chamber, Dylak offers cryo facials (a boon for mask-covered faces everywhere), spot cryotherapy, compression therapy to further improve circulation, and infrared sauna.
The combination of cryotherapy and infrared sauna is a favorite of Dylak's. In fact, cycling the body through extreme cold and heat dates back to ancient times, where wellness devotees would hop between hot and cold baths to achieve similar effects. "A freeze for three minutes, followed by the sauna for 45 minutes and a cryo facial is such a great pick-me-up," Dylak says. "People just come out laughing and happy and with so much more energy, too."
Catskillcryo.com