Larry Decker
Suzanne Kelly of Green Owl Garlic
The Woman Behind the Green Owl
Owls are auspicious for Rhinebeck garlic farmer Suzanne Kelly and many members of her family. "They are our family totem," she says. When she began her operation two years ago, it was natural for her to name the business Green Owl Garlic. Kelly, a longtime home vegetable gardener, was a professor of women's studies at SUNY New Paltz for 10 years before she decided to leave academia and begin growing garlic for market.
Part of Kelly's motivation for switching careers was to have more time to write. This month her book, Greening Death: Reclaiming Burial Practices & Restoring Our Tie to the Earth, will be published by Rowman & Littlefield. Kelly is vice president of Friends of Rhinebeck Cemetery, Inc., and chair of the Town of Rhinebeck Cemetery Committee, where she collaborated in the development of the second municipal natural burial ground in New York State.
In deciding what to farm, Kelly chose garlic because it is easy to grow and store, is not susceptible to deer and other critters, she enjoys handling it, and her market research revealed that her certified naturally grown garlic would yield a good price at three key garlic festivals in the Northeast. The garlic festival in Saugerties is the second-largest in the US; this year it takes place September 26-27 at Cantine Field. The other two are in Bennington, Vermont (September 5-6), and Bethlehem, Connecticut (October 10-11).
Kelly sells most of her garlic at festivals but also sells a limited number of heads through her website; her garlic cloves can be used for cooking or as garlic "seed" (garlic cloves used for planting are referred to as garlic seed). The varieties she grows (all hardneck types) are German White, Music, Turkish Red, German Red, Hungarian Purple, Red Rezan, and Chesnok Red. The varieties vary in their head size, boldness of flavor, skin color, ease of peeling, and how long they can be stored.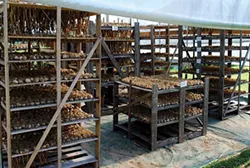 Larry Decker
Kelly's garlic-drying setup.
This year she harvested approximately 25,000 heads of garlic, grown on just ¼ acre of land. There is ¾ of an acre at her disposal, but to prevent disease and insect buildup she practices good crop rotation, so each year only ¼ acre is in garlic production, while the other ½ acre goes back into hay or is planted with cover crops. Apart from spring tilling, she uses no gas-powered machinery.
The Journey of the Cloves
"Eighty percent of the garlic you buy in grocery stores is grown in China," Kelly says. "You can tell because the Chinese producers are required to cut the roots completely off, flush with the base of the head. A lot of that imported garlic is sprayed with growth inhibitors and irradiated. Even most of the organic garlic you find in stores comes from China."
For this and other reasons, you may want to grow your own garlic. Start by buying good-quality garlic seed. (Garlic in the grocery store, having frequently been sprayed with growth inhibitors to prevent sprouting, is not a good bet.) Kelly recommends you get a soil test done through Cornell Cooperative Extension. "The soil test revealed that my soil has a low pH, so I added the recommended amount of lime to bring the pH up, to make the soil more suitable for garlic," she says.
As is true for growing any plant, good soil preparation is key. Garlic prefers a sandy loam, but any soil that's been liberally amended with compost should be hospitable. Kelly recommends the use of buckwheat and other green manures—cover crops that are turned under to add nitrogen and other nutrients to the soil. "Green manures are wonderful," she says. "They can really help to quickly build up the soil." She is intrigued by the Cornell recommendation to plant mustard seed as a cover crop, because when the mustard is tilled under, it releases a biofumigant gas that destroys contaminants.
Larry Decker
Garlic bulbs at Green Owl Farm.
Garlic is a bulb, and like so many other bulbs, it gets planted in the fall to be enjoyed the following growing season. Kelly plants her garlic between October 15 and November 1 and harvests the following July. Garlic farmers space their garlic seed anywhere from 4 to 8 inches apart; Kelly spaces hers 6 inches apart. When you are planting 25,000 garlic cloves, you need to find efficiencies. With the help of her brother-in-law, who welds, Kelly created a rolling dibbler with prongs that are 6 inches apart that she can comfortably maneuver over her 24-inch-wide beds to create four holes across for her seed garlic at planting time.
Immediately after she plants, Kelly mulches the beds with 4 inches of straw mulch. "You want to use the straw that's been chopped rather than the really long strands, which can mat and make it tough for the garlic to push its way through in the spring," she says. The mulch serves myriad purposes, including moisture retention, preventing freeze/thaw heaving in winter, and suppressing weeds. One can also use fall leaves for this purpose in the home garden, although you may not wish to mulch as deeply when using leaves (2 to 3 inches in depth is safer).
Kelly fertilizes her garlic plants twice; in the fall, she applies a dried kelp that she buys from a feed farm in Millbrook, and in the spring she applies a liquid kelp emulsion. "Kelp is an exceptionally good fertilizer for garlic," she says. Garlic doesn't do well with weed competition, so be sure to keep your garlic bed well weeded and mulched.
Harvest of the Aromatics
The most commonly heard guideline is "Harvest garlic when the lower four leaves die," which is usually around early to mid-July in our region. Kelly prefers to do a test dig. She says, "I want the cloves to be fully formed inside and to see that they are pulling away from the center. However, if I wait too long, the cloves will start to separate from one another. Different varieties mature at different times. I pull several bulbs of each variety and slice them horizontally so I can actually see what's happening inside."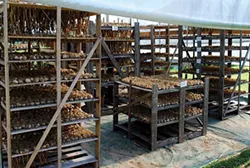 Larry Decker
Kelly's garlic-drying setup.
Once the garlic is out of the ground, it's time to cure your bulbs for several weeks outdoors. For drying, Kelly invested in a high tunnel (open-sided greenhouse) and erected a system of stacked drying racks, mostly made out of repurposed pallets from a local nursery. She says, "Garlic likes what we like: warm, breezy, low humidity, shady." For the average home gardener, you can dry your garlic in the shade of a tree. Dry weather is best for curing; humidity slows it down. Cornell research and Kelly's own observations show that removing the top leaves before drying helps the bulbs dry faster. She will leave some length of leaves only on those bulbs that she wants to "bunch" for aesthetic reasons for market.
Kelly recommends that home gardeners do their own version of crop rotation for garlic and all veggie crops, so that veggie-specific pathogens don't have the chance to build up in the soil. "Make a three-year rotation plan so that garlic and other crops are not in the same place more than one year out of every three," she says.
For further reading on the interesting history and wonders of garlic, Kelly suggests a 2014 book by Red Hook author Robin Cherry called Garlic, an Edible Biography.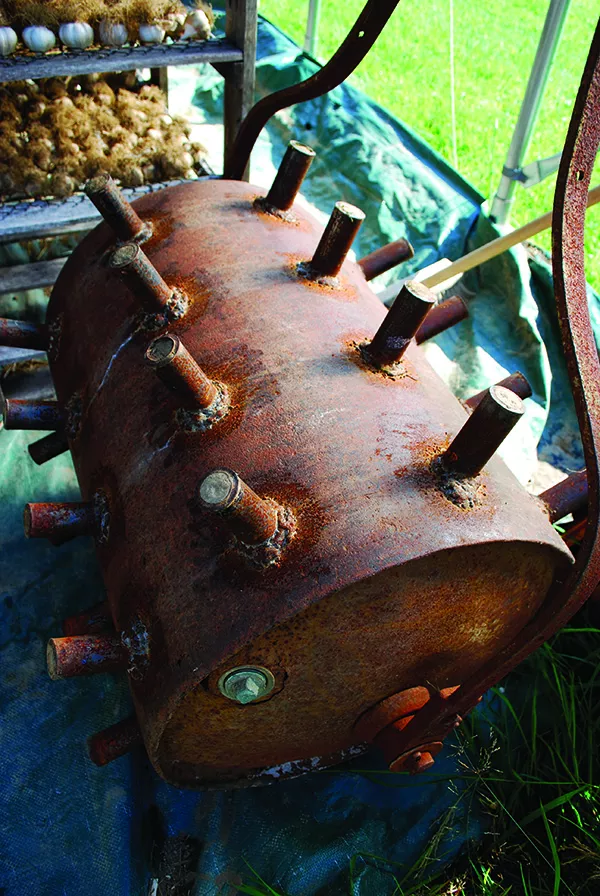 Larry Decker
Suzanne Kelly's prized invention: a dibbler for planting large quantities of garlic seed.