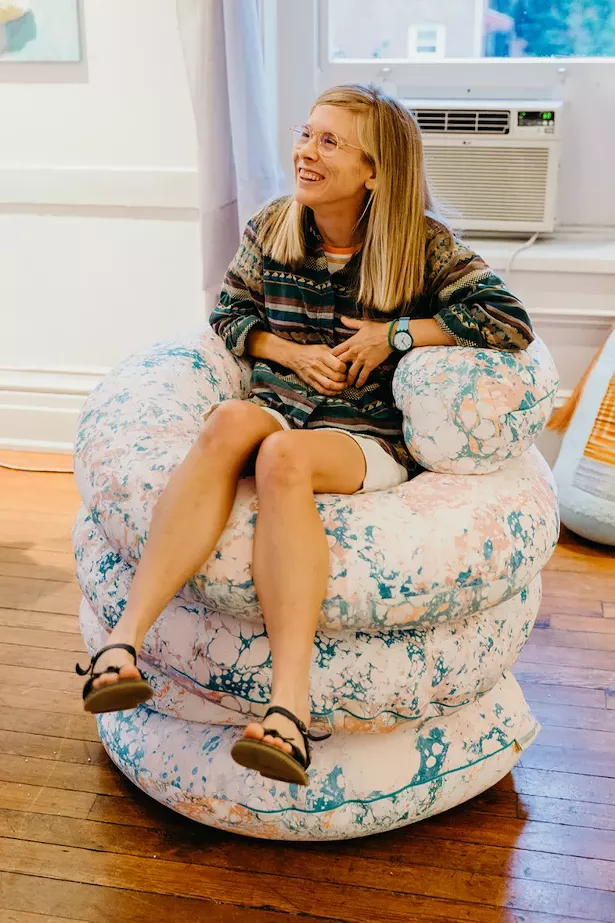 The hypnotic swirls and loops, bubbles, and misty trails of natural marble are created through eons of heat and pressure. Thousands of years ago, humans worked out a method of recreating this type of beauty: a very specific technique that involves manipulating pigment while it floats atop viscous liquid, then transferring the pattern created to paper or fabric. The look isn't quite like anything else—and you can find a master marbler at work in her studio right here in Catskill, NY.
Christin Ripley has been fascinated with the
Turkish ebru method of marbling
for years, along with other traditional hands-on art and design. "I was on the artistic path from a young age," she says. "I studied sculpture, printmaking, hand-printed textiles—I've always been drawn to functional arts that are small-scale and local."
Ripley grew up in St. Petersburg, Florida and attended Cooper Union on a full scholarship in 2001 at the age of 18. "Such an exciting moment!" she says. "Definitely my top school choice."
"I started getting to know the Hudson Valley while I was still in school," she says. After graduation, she worked for other people for a time. "I worked with Joseph Holtzman, who founded
Nest: A Quarterly of Interiors
, on his house in Ghent and on the magazine. He had a massive wealth of knowledge to share. I did the New York City thing for 14 years, but I wanted my own business and studio."
At the age of 30, she started hand-printing textiles and something clicked. That was in 2014, the year she opened Hand Printed and Sewn Here in Catskill. In the five years since, the business has grown into
Christin Ripley Studios
, offering Turkish ebru marbling, serigraph, relief printing, wood-working, bookbinding, sewing and upholstery of pillows, soft sculptures, wearables, paper goods, and accessories.
"Ebru marbling is my primary printing process," she says. "It's very wet. In the back, which is also where I sew everything, I have a 60 inch by 10 foot 50 gallon vat. I use Irish moss seaweed, boiled down to thicken to a viscous heavy cream consistency. Alum, aluminum sulfate, binds to the pigment and floats on the seaweed mix. When the pigment is floating just right, I lay the fabric on top and it absorbs the pigment. The tricky part is getting the design perfect; once I have the design I can replicate it as much as I want."
Or as much as
you
want. Ripley works with wholesale buyers and interior designers, and has stockists in Beacon (
Shop Hyperbole
), Kingston (
Rebecca Peacock Jewelry
) and Hudson (
Hudson River Exchange
and
Good Fight Herb Company
) as well as in Los Angeles and Manhattan.
She loves being part of the Catskill makers' community. "The first gentrifiers were the original Hudson River School artists," she points out. "But I didn't realize until I got going that we had this small, close-knit community of really high quality artisans. We all survive on internet sales, there's not a ton of foot traffic. But we have this hub of shops that are following a sort of 19th-century village model, with retail and display in front and studio and manufacturing space in the back. We have a really good group of creatives up here.
Corduroy Shop
recycles fine textiles,
Upstate Ink
does screen printing, we have ceramicists, a furniture shop, and a candle maker. We complement one another."
Fortunate Ewe Farm
,
Battenkill Fibers
and the
Hudson Valley Textile Project
. "I'm trying to get away from polyfill," she says. "Also, the reality is that the end products are quite expensive right now, but if I can build up my base enough, I would love to find a way to make this art available at price points that more people can manage." (A marbled pencil pouch costs $28, a youth T-shirt $35, and a pediment pillow $172.)
But whether you're in the market for marbled textiles at the moment or not, Ripley's website is worth a look for the envelope-pushing design inspiration. She is nothing if not original. "I have a pillow mission: to push the boundaries of the pillow," she says. "A lot of [my] shapes lean toward sculptural. I do triangles, wedges, spirals. I have a series of sine wave pillows."