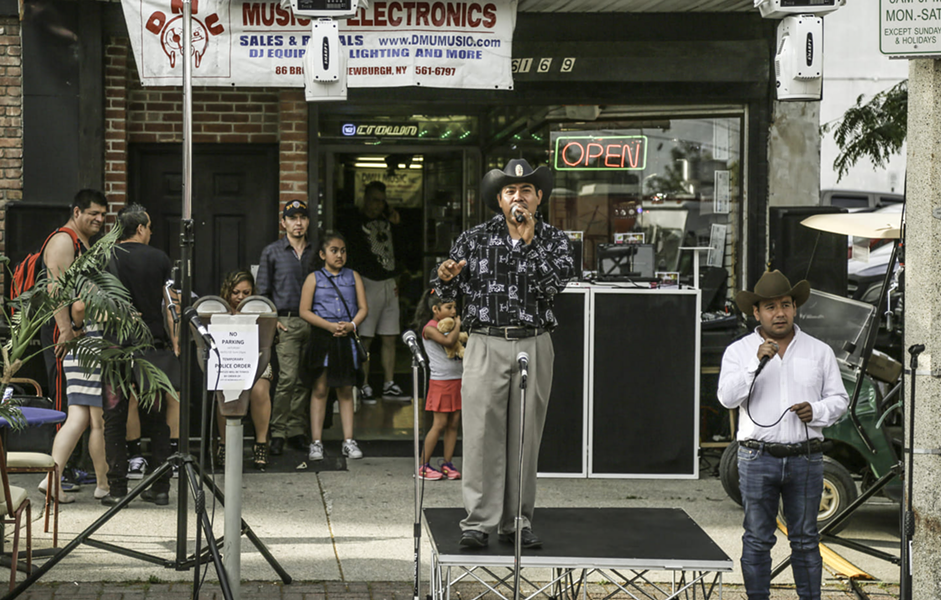 Photo by Brian Wolfe
Performance outside of DMU Music during Newburgh Illuminated Festival.
Like many towns in the Hudson Valley, the City of Newburgh has undergone a rebirth. A once-thriving industrial hub racked by midcentury urban blight, over the last ten years, Newburgh's residents—both new and old—have poured heart and soul into rejuvenating the city's small business and arts and cultural landscape.
With so much change often comes the need to pause and consider where the future is headed. That's where The Summit, an upcoming event by the Newburgh Arts & Cultural Study, comes in.
On Saturday, December 5, The Summit will bring together members of the community for a free online creative gathering where attendees will learn about and discuss the initial findings of the Newburgh Arts & Cultural Study (NACS). Woven throughout The Summit will be appearances from Newburgh performers, makers, and visual artists.

Erica Hauser, Colorgarden, 2019, scrap wood and paint.
Part of the Terrain Biennial Newburgh 2019, installed at Newburgh Urban Farm and Food Initiative.
A partnership between the Newburgh Arts and Cultural Commission and the City of Newburgh, NACS is the first comprehensive inventory and assessment of the diverse arts and cultural ecology in the city. After its launch this summer, the study initiated a city-wide conversation about who is participating in or creating cultural experiences for the public; how they impact the city; and what supports are needed to promote equity, increase access and participation, nurture development, and build capacity.

"We think of the study like a mirror—it reflects Newburgh back to us so we can see our multiple artistic and cultural identities together. This reflection is made up of data—information which will establish our anecdotal knowns and reveal new ideas," say NACS Project Managers Naomi Hersson-Ringskog and Naomi Miller. "Community members who attend The Summit will learn about the data findings, then make choices about our priorities for moving forward, which is an exciting part of the process. Community conversations held earlier in the study have already connected people and restarted a larger discussion about Newburgh's cultural future. Our future can be shaped by the study and used like a tool by the city, organizations, businesses, and individuals to make equitable change for those who live and work in Newburgh."
Photo by Brian Wolf
Newburgh Illuminated
"The Newburgh Arts and Cultural Study is the first of many critical steps towards a more equitable future for the City of Newburgh," says NACS Community Advisor and
conceptual artist Vernon Byron
. "It is sincerely my hope that the study will provide vital information that will inform much needed changes that will improve life within the city."
NACS's resulting report, data, and maps will establish a benchmark for the city that offers a rich and in-depth understanding of the city's cultural assets. With this guidance, stakeholders from NACS and the City of Newburgh can better make decisions and policies that best support Newburgh's growing cultural landscape and a creative economy that benefits everyone.
"The impact of art goes beyond even the economic and social value," says City of Newburgh's Councilwoman Ramona Monteverde. "The arts provide a means for learning and creative expression, allowing the community a constructive way to give voice to issues that may be controversial or divisive. Through the arts, citizens can engage these issues and emerge an even stronger community."
For more information or to register for The Summit, visit Bit.ly/NACSSummit.