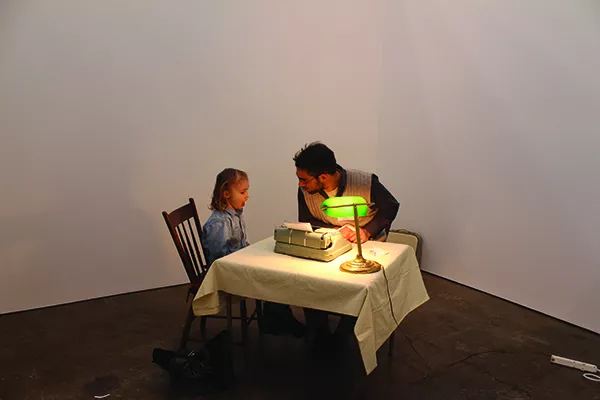 Rotem Rozental
Ori Alon helping Zora write a letter to her parents. He performs "Letters of all Sorts" in Beacon this month.
Ori Alon sits at his "letter writing station": a table with a green banker's lamp, a slim sheaf of paper, and stamped envelopes. The central object is a Hermes 3000 typewriter. Alon is at an event sponsored by the Hudson Valley Center for Contemporary Art in Peekskill, and around him other artists paint, weld, knit, and assemble. Alon, bearded and bespectacled, in a knitted vest and corduroys, waits. Soon, a woman enters his cubicle. Ori offers her a seat and a glass of water and the chance to dictate a letter. After some back and forth and gentle prodding, Alon types a brief invitation for dinner to the woman's estranged friend on his Hermes 3000, places it in an envelope, and seals it. He takes no money for what amounts to a collaborative performance. By now a crowd has gathered. Children especially are fascinated with his strange clacking machine with the baby-blue keys.
Alon is a 32-year-old artist from Israel who has been writing letters for a long time. His first one, written when he was just a boy, asked the Israeli president to stop car accidents. While attending the School of Visual Theater in West Jerusalem, Alon embraced manual typewriters as a writing tool. He liked the sounds they made, the fact that they did not need to be plugged in, and that they were not connected to the Internet. Starting in 2006, Alon began recording strangers' words, creating an epistolary archive of some 200 letters, in Hebrew and English, some of which he has bound, with permission, into books. He calls them "Letters of All Sorts" (in Hebrew he named his project zarim, which means both "strangers" and "flowers").
"I suspect typewriters have souls," says Alon. "When you type, it is more formal than e-mail. More serious, more lasting. You have to think about the words you want."
When Alon sits with people and records their letters, the scene is open to the public but intimate, revelatory but somehow inscrutable. "I feel I am offering a service. I type the letters up, but it's also like therapy. I help participants to edit and think through what they want to say," he says. "Many letters are written to the dead, some to those about to be born. Some people write to themselves, to their god, their children."
Alon's letter collections read like messages in a bottle. They are monologues, not dialogues. You have to create a backstory: Why did this man leave Manhattan? Why is this woman apologizing to her dead mother? Why is "Matt" writing to whomever now occupies his former apartment in Brooklyn? Alon distributes the collected letters by hand in Beacon, where he has lived since 2011. He places stacks of his "Letters of All Sorts" in shops around town and also makes them available wherever he sets up his letter-writing station. You can also order them through his community publishing house, Alfassi Books.
Since arriving in Beacon, Alon has expanded operations. He has trained "clerks" who now set up their own letter writing stations. Through Alfassi Books, he offers handmade sketchbooks bound in album covers ("multitasking sketchbook devices"), as well as "philatelic meditations," cards on which postage stamps depicting historical figures converse with one another (Lincoln with Hendrix, for example). He runs a service called "Where's My Typewriter?" that matches people with typewriters (again, at no charge). He is currently launching a "certificate of recognition" project, which allows participants to reinterpret past experience and have it validated with a stamp and a witness's signature—like a belated report card written for and by oneself.
Alon is with his typewriter and looking for collaborators the first Tuesday of every month at Quinn's in Beacon starting at 7pm. He will also be at Beacon Pantry in Beacon on May 16-17 for Beacon Open Studios, and at the Clearwater Festival at Croton Point Park on June 20-21. Alfassibooks.com.