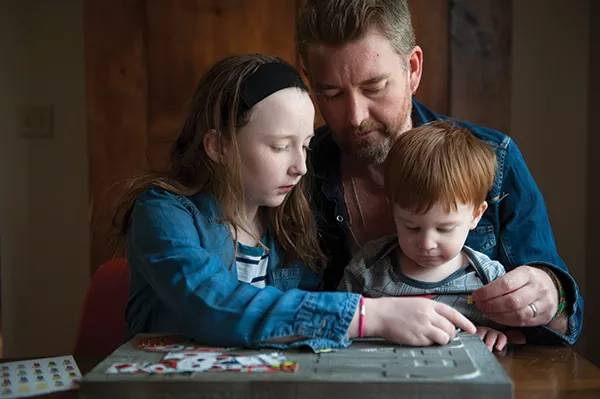 Hillary Harvey
Michael Hunt collaborating with Devon and Kiernan on an art piece at home in Woodstock.
In the cold, snowy winter of 2007, Michael Hunt was darting between New York City and a little house in Mt. Tremper. He was freelancing with a production company as much as he could before his wife, Suzanna Cramer, gave birth to their first baby. When their daughter, Devon, arrived, Cramer's work as a sales-training writer was steady, and she could do it in between breastfeeding. Cramer would hand Devon off to Hunt and return to her home office. Hunt is from a big Irish Catholic family and great with kids, so he was comfortable with and enjoyed the role of caregiver. "The situation found us, and we grabbed it, gratefully," he says. "She's the breadwinner, and I'm proud of that. She really likes her work, and she's great at her job."
While the stay-at-home parent population is still dominated by moms, Hunt is among a growing faction of stay-at-home dads. Stats from the Pew Research Center and the US Census Bureau differ vastly, depending on definitions, whether the children live with dad full-time, and whether dad works at all. (It's not clear how the rising number of two-dad families contributes to these statistics.) But what is certain is that the numbers of fathers taking on caregiving roles has more than doubled in recent years.
Because Cramer works from home, there are benefits to their arrangement. Hunt can run errands during naptime, and Cramer has the flexibility to alternate nights and weekends if there's a daytime school event to attend. They both enjoy adult conversation when Cramer takes a break from work and Hunt's been in kid-zone all day, chasing their new toddler, Kiernan. Being primary parent at home, Hunt has a lot of freedom. He devotes time to the community through his volunteer position as Friends of the Woodstock Library's vice president, where he helps to support children's programming, the library annex building project, and spends about half his life. And he maintains his art career. His work was auctioned at Sothebys.com in 2002 and shown at Art Basel in Miami 2004, 2014, and 2015. He's working with local business proprietors now on art installations at Oriole 9 in Woodstock, Yum Yum in Kingston, and Lekker in Stone Ridge.
At home, Cramer does the laundry, they split the cooking, and they check in with each other every day. "A family member (who is also a mom and the primary breadwinner) once told me that it's a lot of responsibility to be the primary breadwinner and a mom and a wife," says Cramer. "She said, on a regular basis, check in with yourself and separately check in with your spouse on how you're feeling about your arrangement. That advice is invaluable. I do ask myself if I'm happy with this arrangement. If there is ever something that either one of us isn't okay with, we talk about it and try to change whatever it is, if we can."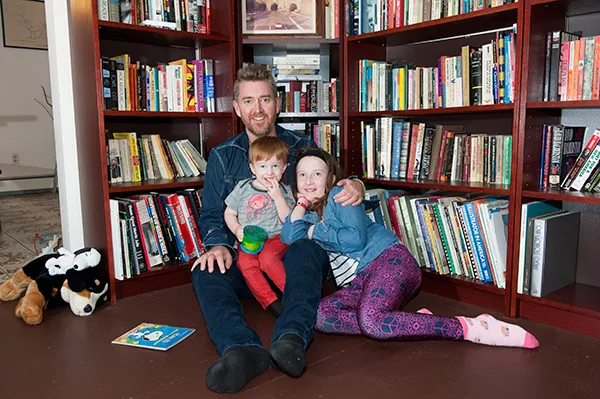 Equating their rise in numbers with the Great Recession—especially since male-dominated industries were the hardest hit while female-dominated industries saw growth—feels untrue to dads. Their reasons for staying home are changing with their increase. While stay-at-home moms overwhelmingly report that they're home specifically to care for family, the majority of dads cite illness or disability as a major impetus. Only a quarter of fathers say unemployment is why they're home, and an equal number name caregiving (preferring parent childcare over daycare) as their motive—something only 5 percent of stay-at-home fathers would have admitted in 1989.
According to stay-at-home dad Jeremy Adam Smith in his 2009 book The Daddy Shift, the Industrial Revolution was a turning point for men. It called them in from the family farm, where they worked side-by-side with their wives and children, an integral part of their lives, to undertake manufacturing work that took them elsewhere for much of each day, leaving women to play all gender roles at home. This division of labor hit its peak in the 1950s, when men and women inhabited separate worlds. He writes, "The brand new suburbs built a Great Wall of highway between the places where a man worked and where his family lived—reifying a divide that was a century in the making." But an undercurrent was also running through 1950s America. Women were resentful of being laid off after the men returned from World War II, and men's awareness of a developmental concept of parenthood—one that was less authoritarian and more concerned with emotional well-being—was growing. The American family was ripe to be claimed by the cultural revolutions of the 1960s.
Down with Mr. Mom
When Hunt says, "We're reversing social norms left and right at our house," he's talking about breaking down the conservative utopian vision of heterosexual marriage. But in doing so, Hunt and Cramer are realizing a feminist utopian vision where people, no matter their gender, play whichever family role suits them. Home management, child care, and breadwinning have to get done every day inside American homes, regardless of who does them. That Cramer and Hunt's decision was organic represents a cultural shift in our understanding of a father's role. "Looking back," Smith writes, "it is remarkable to me how little preparation I received for one day becoming a father, which is easily the single biggest event in my (and many another guy's) life." Smith believes that feminism is a liberation of men as much as it is of women. He writes that the story of the stay-at-home dad is also the story of women in the workplace, and in order for women to achieve economic equality, men must achieve cultural equality. We need to expand a man's value beyond his paycheck.
Throughout their relationship, Chris and Jaime Parent focused on Jaime's career, relocating for her jobs. "The work that goes into becoming a doctor, the time you put into it," Chris explains, "it's hard to drop it after all that." Chris says there was never an idea that she would be the one to stay home with their kids. Now a radiologist in Kingston, Jaime works while Chris is the parent on call. In the four years since Chris was home with their first son, Miles, to now being home with their new baby, Simon, he's seeing more dads around like him. For the Parents, it's no big deal. They have family support, and Chris's friends tell him he's their idol. The challenges Chris faces in being a stay-at-home dad are the same as any stay-at-home parent's: balancing the needs of different child developmental stages, relearning how to nurture a baby who is inevitably different from his older brother, and making time for everyone in the family. Knowing it's easy to burn out while caregiving, Chris recently went to Vegas with some college buddies for the NCAA tournament. They meet up every year to bet on games and catch up on life. Most of his friends aren't dads, and Chris spends the week away focused on recharging. It's a fun and necessary aspect of his parenting, so he can return to his family refreshed.
While intentional, Chris is also generally laid back about life and parenting. "The various parenting philosophies are fun to explore, but I don't think there's a huge difference in the end," he says. "The most important thing is to keep kids safe and fed, and they'll turn out okays." This outlook flies in the face of the bumbling-at-home dad stereotype, established in the 1983 comedy Mr. Mom. In reality, our concept of fathers as nurturing and competent has been evolving since the 1990s, as has our concept of male and female relationships. "My closest friends in Woodstock are moms," says Hunt. "But Suzanna and I are so tight in our relationship, it's never been an issue. If the situation were reversed, and Suzanna spent a lot of time with other men, I think it would be a challenge for me not to be jealous. So I'm grateful for the maturity of my friends' spouses."
For Hunt's kids, every family is different. Devon and Kiernan have friends with two dads or two moms, with two working parents or a stay-at-home mom, and their experience of a working mom and stay-at-home dad is just another example of a normal life. Their reality is that every family does what works best for them.