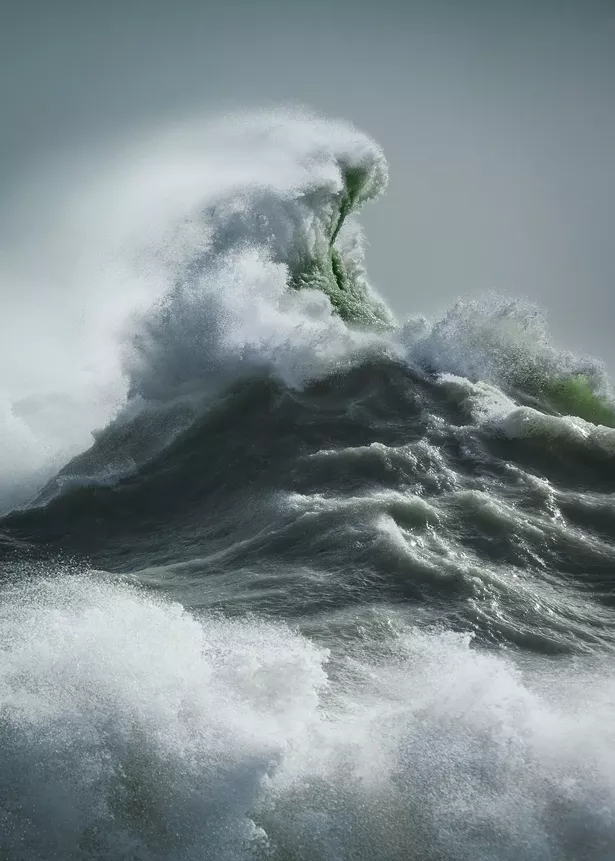 Sedna, a photograph by Rachael Talibart from the "Sirens" series.
Inspired as much by the craggy coasts of her native England as she is by Greek mythology, Rachael Talibart conjures photographic magic from windswept waves. An exhibition of Talibart's photographs, "Oceans & Odysseys," is on view through February 6 at Sohn Fine Art in Lenox, Massachusetts.
The daughter of an avid yachtsman, Talibart spent weekends and school holidays at sea as a child. She would make up stories about the waves, "seeing mountainous landscapes or strange creatures in the surf," she says.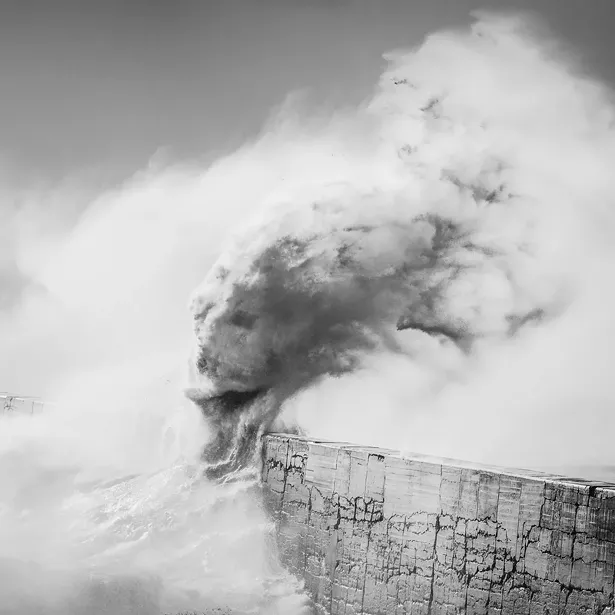 Loki, a photograph by Rachael Talibart from the "Sirens" series.
The cover image, Sedna, is from her Sirens series, which feature monstrous storm waves named after mythological beings. "Connecting these great waves to myths seemed natural to me," Talibart says. "Myths are the stories civilizations tell themselves to explain the mysteries of the unknown, and there aren't many things more mysterious and unknown than the ocean."
Researching myths is part of the pleasure of the "Sirens" project for Talibart, and the story of Sedna, an Inuit sea goddess, is particularly resonant for her. "Caught at sea during a storm, she clings to the boat, but her father sacrifices her to save himself by cutting off her fingers," Talibart says. "The severed digits fall to the seafloor and become the creatures of the ocean. Sedna is mostly benevolent but sometimes becomes angry if humans break taboos. Then her hair becomes tangled, trapping the creatures of the sea on which the Inuits depend. A shaman must dive to the bottom of the ocean to comb Sedna's hair and release the creatures. Sedna is both respected and feared and helps maintain balance in the world."
Fire Within, a photograph by Rachael Talibart from the "Sirens" series.
When she's ready to shoot, Talibart heads to the coast even if the weather is terrible. "Working in less-than-ideal conditions forces me to dig more deeply, to be more creative. I believe creativity thrives on limitations," she says. Talibart typically spends hours lying on the beach in search of the ideal image. She uses fast shutter speeds to capture the violence and drama of waves.
Doing most of the work on location by using on-camera filters, rather than relying on making changes in post-production, she edits using software to adjust tone and contrast. She explains her process, "Although I previsualize, I try not to be too prescriptive when working at the coast. If I have a particular project on the go, but the conditions on the day don't suit it, I will adapt and improvise. That flexible approach keeps me motivated and creative. Knowing the tides in advance is really important, and I will adapt my choice of beach accordingly."
Talibart's photographs are printed as giclee in limited editions. Sedna is one of the most popular of her prints, and there is just one copy of it left on the market, which is included in the exhibition at Sohn Fine Art. "Once it's gone, that will be it, no more prints of Sedna will ever be made," she says. "A strange feeling, but I am very happy that people have taken her to their hearts."
Print size depends on the photograph. "Most of my "Sirens" series tend to be popular in larger sizes. I am passionate about print and teach printing to other photographers," Talibart says. "There really is nothing quite like seeing a photograph beautifully printed on a luxurious fine art paper. Print brings photographs to life."