Page 2 of 2
The hamlet of Accord is a perfect place to experience the harmony DeWan references, with long-established valley farming families side-by-side with newcomers that will write the region's next chapter. Fresh-food enthusiasts can begin at Saunderskill Farms on Route 209, featuring the bounty of the land that has been the pride of the Schoonmaker family for over 300 years. A quick trip up the main road brings you to Kelder's Farm, another name deeply enmeshed in the area's farming history—and, each autumn, the site of the local harvest celebration affectionately known as the Jennie Bell Pie Festival. Kelder's landmark grounds present fields of pick-your-own produce alongside the exceptional work of artist and New York City transplant Maria Reidelbach. Reidelbach's Home-Grown Mini Golf, the world's only sustainable, edible miniature golf course, sets beneath the shadow of her now-iconic creation, a 14-foot-tall garden gnome, Chomsky, which was, until recently, the world's largest. Another quick jaunt up the rim of the valley will bring you to Hollengold Farm, one of the areas newest farms, where cutting-edge sustainable farming practices portend the future success of the region's agriculture.
The Sights and the Flavors
Equal to the powerful draw of the landscape, the breadth of the valley's cultural scene is an intrinsic part of its definition. The singular labors of the region's constantly evolving population of artists and artisans are always in evidence. Though it's impossible to catalog the range of the valley's ever-expanding options, it is certainly fitting to say that, now in its 28th year, Ellenville's Shadowland Theatre has become the bastion of the region's cultural heritage. Offering first-rate, self-produced theater has made the organization a pillar of visibility in Ellenville and beyond, a role Artistic Director Brendan Burke puts great stock in. "We have become an anchor for culture and entertainment in the valley, and we're very proud of that," says Burke, pointing out that the theater continues to grow and expand, and plans include opening a second venue.
Stephanie Tokle, Scott Albright, Tanya Smith and Anne Klein at The Last Bite, High Falls.
More surprising treasures can be found in a trip to the local public library. Its initial collection in 1893 only consisted of about 1,000 books. Now, the library is an informational and cultural center, with both a full gallery featuring revolving works by local artists, and an annex at the Terwilliger House Museum, which presents an extensive collection of local historical artifacts and information. And, before leaving town, consider a table at Marcus Giuliano's acclaimed Aroma Thyme Bistro, where the chef weaves his culinary magic with a seasonal selection of the finest local ingredients.

A trip up Samsonville Road in Kerhonkson leads to the Bradford Graves Sculpture Park, owner Verna Gillis's homage to the work of her late husband. This hidden gem can hold its own with the likes of Saugerties' celebrated Opus 40. Gillis testifies to the unique blend of energies that makes what she lovingly calls "the middle of somewhere" such an ideal place for creative expression. "We are a divergent group of characters all coexisting and complementing each other in unexpected ways, the old-timers and the recent immigrants. I feel blessed to be here," Gillis proclaims.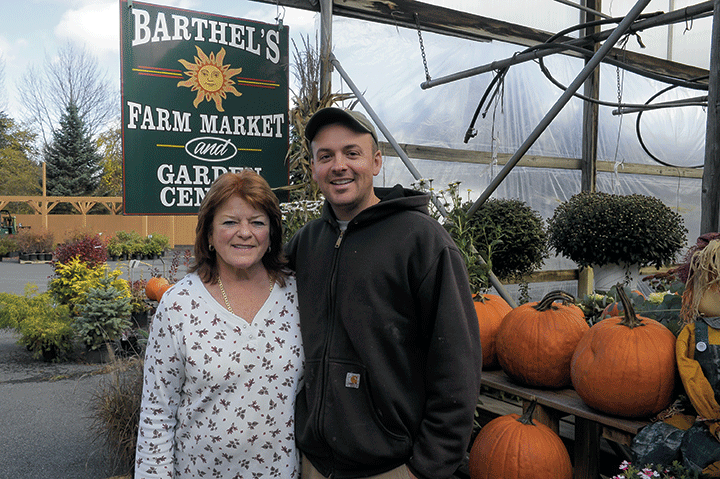 Roxanne and Nicholas Cipollone at Barthel's Farm Market, Ellenville.
A synergy of another sort occurred when Brian and Buffy Gribbon opened their High Falls Café seven years ago. The Gribbons found that their genuine approach and hearty food fit in lock-step with the sensibilities of the local community. Now at their new location at High Falls' Stone Dock Golf Course, the welcoming embrace continues. "It feels like home here, and that's a feeling that everybody shares," explains Buffy Gribbon. "I want people to feel like it's my living room." That works, as long as she has plenty of seats in the parlor: the High Falls Cafe has also become a preeminent hotspot for live music, from jazz to old-school funk, and everything in-between. And, when looking for a change of pace, High Falls always accommodates. Restaurants like George Nagle's Northern Spy and longtime denizen Richard Murphy's Eggs Nest offer both culinary delights and unique atmospheres, and John Novi, whose historic Depuy Canal House restaurant has been an eminent part of the local pastiche since the late sixties, continues to turn out his unique brand of gastronomic art.

Recently, Novi has contributed in the visual arts realm, as well. Led by the efforts of yet another vibrant new area transplant, Sevan Melikyan, Novi's charmingly rustic High Falls barn became the birthplace of the area's newest original art forum, the Wired Gallery. Curator and manager Melikyan is as inspired by the welcoming community energy as he is by the captivating work of the artists on display, like noted local sculptor and ceramicist Kaete Brittin Shaw. Shaw's studio, only a quick walk down Route 213 in High Falls, will now house the Wired Gallery movement, with its next group show opening there on November 10. "It's a collective effort, dedicated to sustainability," says Melikyan. "Truly, the local character is inherent to this business model." If the valley's history is any indication, that recipe should prove a success.
Resources
Broad Options
Depuy Canal House
Désirée
Diana Brenes Seiler, LMT
Family Traditions
High Falls Café
High Meadow School
Ingrained Woodworking
Kaete Brittin Shaw
Lounge (845) 687-9463
Marbletown True Value Hardware (845) 687-2098
Namaste Sacred Healing Center
Rosendale Theater
Sun Creek Center
Top Shelf Jewelry (845) 647-4661
World Peace Meditation Retreat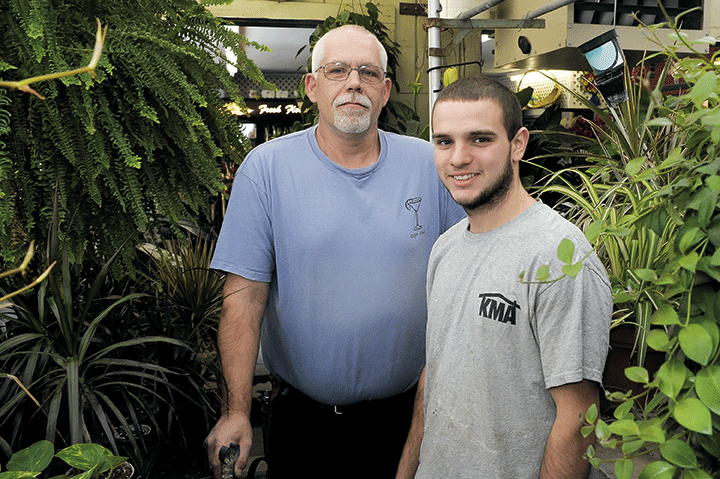 Bob Christian and Mike Baul at Christian's Florist, Kerhonkson.