26 slides
If one thing is certain, it is that there is no one history that can truly define the character of the Rondout Valley. Though steeped in tradition, the valley always seems to make space for new additions to the rich fabric of its culture. Perhaps some insight into what shapes this captivating swath between the Shawangunk Ridge and the foot of the Catskill Mountains can be found in a tale that begins in a New York coffeehouse, almost 200 years ago.
The Heritage
In 1825, entrepreneurial brothers Maurice and William Wurts set what seemed like a fantastical plan in motion—one that would, in fact, help transform a sleepy section of the Hudson Valley into the vibrant community it is today. Seeking to jumpstart their efforts to promote the then miraculously hot-burning anthracite coal, the Wurts brothers staged an impromptu demonstration in a cafe on Manhattan's Wall Street. Astounded investors backed their enterprise to the tune of an improbable $1 million, allowing them to begin digging 108 miles of canal that would open a trade route between the coalfields in Pennsylvania and the Hudson River in Kingston. Completed in 1828, the Delaware and Hudson (D&H) Canal cut a path along the sparsely populated Rondout Creek basin, giving rise to burgeoning way stations, like Ellenville and High Falls, along its route.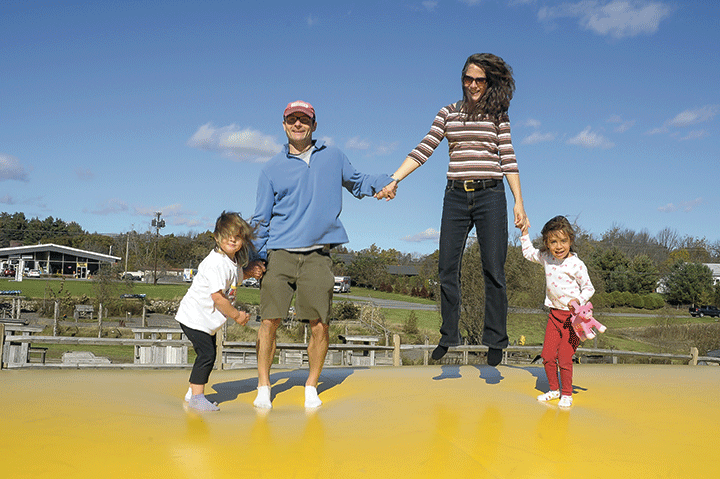 Hattie Nichols, Wally Nichols, Trish Stenger, and Serafine Broome at Kelder's Farm, Kerhonkson.
The Wurts's fanciful success story sets a tone of forward-thinking possibility that continues to shape the area's personality, its heritage perpetually evolving as new arrivals and fresh ideas are assimilated. The result is a singularly unique blend of old-world charm and a spectrum of contemporary appeal, one that distinguishes the area's character from that of popular nearby destinations like Woodstock, Rhinebeck, and New Paltz. As much as the timeless peaks and trails of Sam's Point Preserve, Minnewaska State Park, and the Mohonk Preserve describe the nature of the valley, so too does the range of newly minted traditions that, once established, seem like essential parts of the whole.
Telling examples of that diverse growth within the valley span the proverbial spectrum, none more than Kerhonkson's Soyuzivka, a Ukrainian Heritage Center and resort that, to visitors and residents alike, has become a fixture along the picturesque 44/55 mountain road. Each year, thousands of visitors of Ukrainian descent come to celebrate their rich culture; yearly events and programs, like their annual Cultural Festival and the Roma Pryma Bohachevsky Ukrainian Dance Academy, bring countless others who simply wish to bask in the magic of the heritage. At the other end of that spectrum—and of the valley itself—is Stone Ridge's SUNY Ulster. "As the college approaches its 50th year, its mission to coalesce opportunities and community is at its highest point," says Coordinator of Community Relations Ron Marquette. As Marquette points out, the college has become much more than a collection of classrooms—it is an ever-developing center for arts, culture, business, and community outreach.
Douglas Perro at his hot dog stand on Route 52 outside of Ellenville.
The Harvest
Any mention of the Rondout Valley, however, must begin with the extraordinary agriculture that is at the very heart of its makeup. Every new valley settler quickly discovers what the indigenous Lenape Indians knew long ago: The region is blessed with spectacularly rich soil for farming. On either side of Route 209, the main thoroughfare that bisects the valley, the sweep of inviting and fertile fields inform any visitor about the true soul of the region. The myriad farming and growing businesses that line the valley remain the region's true economic backbone, and a closer look reveals the special blend of tradition and progress that is its hallmark.
"We are unique in that we are located in a concentrated area that has incredibly wonderful soil, which lends itself to abundant potential to create high-quality food," explains Deborah DeWan, executive director of the Rondout Valley Growers Association (RVGA). About to celebrate its 10th year, the RVGA has grown from a grassroots movement of concerned local farmers to a trend-setting coalition committed to preserving farmland and creating a sustainable food system for the region—an institution in its own right. "What's special is that at the core of our leadership is a diversity of farmers," DeWan continues, "those here for generations, combined with new farmers that bring a new way of looking at what 'back to the land' means." New endeavors, like flash-freezing the famous sweet corn of Stone Ridge's Davenport Farms in an ongoing farm-to-school movement, are indicative of community efforts to effect a more holistic agricultural infrastructure. Not far from Davenport's, Stone Ridge Orchard Manager Elizabeth Ryan works tirelessly to reinvigorate one of the valley's few remaining apple orchards. After implementing sustainable farming practices over the last several years, Ryan now looks to expand into the blossoming world of craft cider in order to preserve the precious open space.
Desirie Sherratt at Cohen's Bakery, Ellenville.