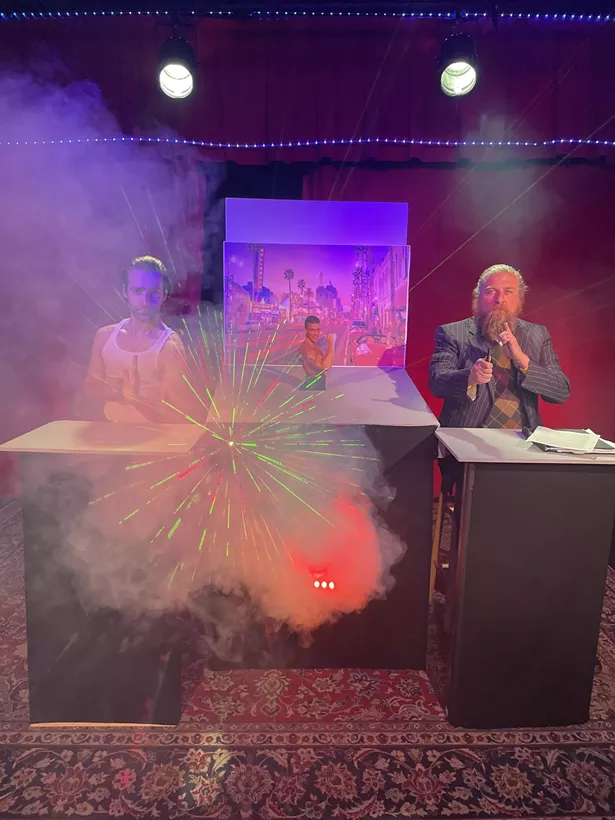 Joe Cordaro plays Jean Claude Van Damme and John Harlacher is the narrator in Timothy Haskell's "The Rise and Fall of Jean Claude Van Damme."
What's your favorite Jean Claude Van Damme (JCVD) movie? Maybe it's Universal Soldier (1992), in which JCVD stars with Dolph Lundgren as Vietnam Veterans brought back to life in a top secret military experiment that creates superhuman warriors. (No extra charge for a grisly final scene in which the stars fight each other and Lundgren ends up on the spikes of a hay harvester.)
Mine is Cyborg (1989). It takes places in a dystopian future where JCVD plays Gibson Rickenbacker, a mercenary who battles a group of murderous marauders led by Fender Tremolo, who eventually crucifies JCVD, nailing him to the mast of a ship. For my money, this scene is the high point of 1980s schlock action movies, a genre JCVD, along with others like Steven Seagal, helped define.
Bloodsport (1989), a showcase for JCVD's athleticism and his first leading role, is the go-to JCVD movie for writer and theater maker Timothy Haskell, whose production of "The Rise and Fall, Then Brief Modest Rise Followed by a Relative Fall Of…Jean Claude Van Damme As Gleaned by a Single Reading of His Wikipedia Page Earlier This Month" will be staged at Philipstown Depot Theater on November 13.
"Bloodsport holds a special place in my heart," says Haskell. "My dad basically left my sister and I alone one time when we were staying with him. We watched Bloodsport 18 times over three days. Jean Claude Van Damme babysat me and my sister one weekend."
A veteran of Off Off Broadway theater in New York City (Jason Zinoman of the
New York Times
referred to him as "
one of the great hustlers of downtown theater
"), Haskell has staged previous homages to pop culture detritus like "Road House," a "fightsical" based on the Patrick Swayze vehicle, and "Fatal Attraction: A Greek Tragedy." He's probably best known for his work The Psycho Clan, which has been producing immersive horror experiences for almost two decades.
When asked what inspired him to create a theater piece about JCVD, Haskell replies: "I thought it'd be funny to see puppets fight." He adds, "I don't get bogged down presenting themes. I like to present entertainment. I want people to be entertained."
No need to take him at his word, because "The Rise and Fall of Jean Claude Van Damme" is seriously entertaining in a completely nonserious way. Originally staged this summer at The Pit in Manhattan, the show is a minimalist affair featuring two actors—Joe Cordaro as JCVD and John Harlacher as the narrator—reenacting an approximate biography of the Muscles from Brussels with action figures jury-rigged into puppets.
With a runtime of little under an hour, "Rise and Fall" is a brief and delightfully zany trip into Haskell's mind as he examines what JCVD and the action hero genre mean. "It's a deconstruction of the era that Van Damme represents," says Haskell. "It's about him, but also the action films which he was the apotheosis of. I'm a fan of his, but not that big a fan. The piece starts off strong in knowledge about him and slowly veers into absurdism."
Don't go for the cultural analysis, go for the puppets fighting.