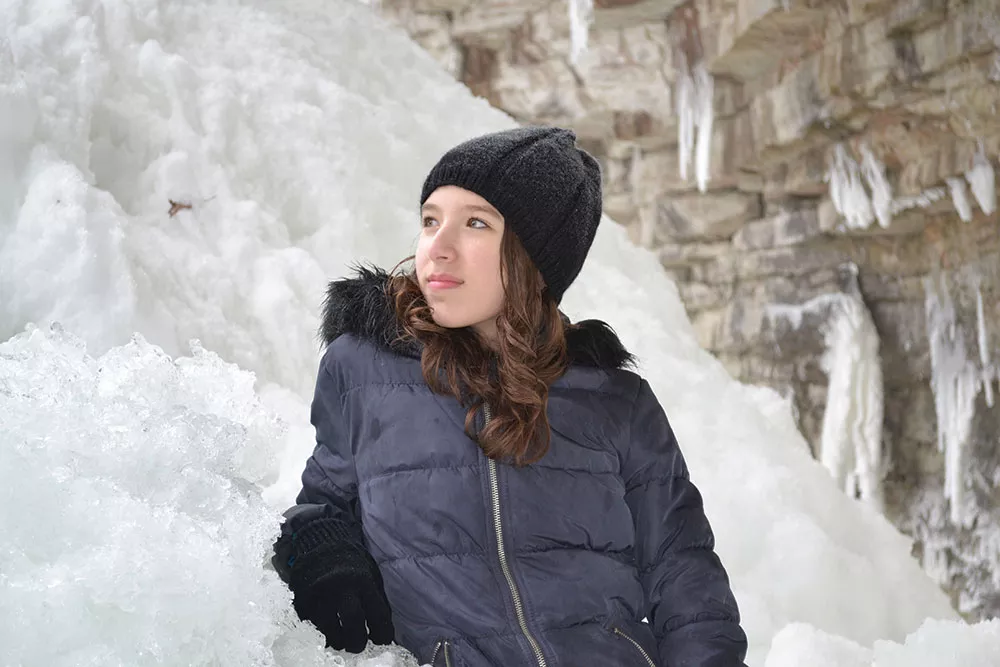 Elise Gold
Maya Gold hiking in Minnewaska State Park, 2014.
After their daughter, Maya, committed suicide in October 2015, Mathew Swerdloff and Elise Gold spent hours every weekend driving back and forth to Geneseo to spend time with Maya's brother Adin. It's 300 miles from New Paltz, and their conversations during those long car rides hatched an idea.
Compassionate beyond her 15 years, Maya was also deeply sensitive. Her empathy led her to veganism and a future plan to advocate for children in Nepal. With Swerdloff's experience in educational support services and instructional leadership, and Gold's experience in human services and social justice, they decided to start a foundation that would honor Maya's ideals.
Suicide is the second leading cause of death among people ages 15 to 34, according to the Centers for Disease Control. Yet, even at a rate of 12.5 percent, teen suicide still trails the highest risk group (white, middle aged men) and even the second highest group (people over the age of 85) by 7 percent. According to the American Foundation for Suicide Prevention, mental disorders and/or substance abuse have been found in 90 percent of suicide cases. "Stigma surrounding suicide leads to underreporting," their website states, "and data collection methods critical to suicide prevention need to be improved."
For Swerdloff and Gold, grieving involved unlocking the discussion around suicide–unpacking the social pressures and concerns that affected Maya and openly sharing their own processes. They both keep blogs about their personal experiences with the aftermath of Maya's death. On his blog, Swerdloff writes, "Ten questions that cannot be answered: 3. Will I ever not be 'the man whose daughter committed suicide?'"
Those left grappling with the loss are often haunted by unanswered questions. Swerdloff went down the path of trying to uncover the roots of Maya's pain, searching her phone, her room, and her social media accounts for answers. If she was contemplating suicide, why did she go to the library the night before her death to prep for a test that would happen in a few days? In the end, Swerdloff recognized that certain questions would never be resolved. "I got bits and pieces," he says. "Then, when I got to the end of that pursuit, the question for me became, how do I respond? I realized that she's still here because I'm here, because she's always with me."
A mission for their foundation emerged: to empower youth. Swerdloff and Gold developed a two-part goal: to support programming for teens in the Hudson Valley that builds emotional awareness, and to partner with vetted NGOs in Nepal to provide basic necessities to children there. They incorporated as a 501(c)3 and recruited volunteers who will support the mission. Board member Sarah Dukler, a family friend and Maya's former babysitter, says, "Before this, I just wanted to do anything to help. These are the most incredible people, and they've been torn apart in every way possible."
Spiraling
The summer of 2015 was a difficult one for Maya. She experienced painful social shifts common to the teen experience as she began her sophomore year at New Paltz High School. She was in therapy, but had also started to self-medicate, experimenting with over-the-counter (OTC) medicines that contained dextromethorphan (DM). She was stealing the cough suppressant pills and taking far more than the recommended dosage in order to get high. According to her parents, it was only three weeks from when Maya started using DM until her death.
DM is an ingredient found in more than a hundred OTC cough and cold medicines. Introduced to the US in the 1950s, it works by raising the coughing threshold in the brain. It's non-addictive and non-narcotic with no pain-relieving properties, but when taken in amounts that well exceed the recommended dosage, the side effects include hallucinations. What's called robotripping or skittling is something that about 3 percent of tenth graders admit to trying, according to data collected in 2016 and released by the National Institute on Drug Abuse. DM is easier and cheaper to get than illicit drugs, and there's an assumption among teens that because it's a medicine, it's somehow safer than street drugs.
The levels of DM from multiple medicines in Maya's body reveal that she probably experienced a temporary psychotic episode, and made a seemingly impulsive choice. Maya didn't overdose on pills. On a Friday morning before school, she took her own life by other means.
"Depending upon the particular medication, it can have spiraling effects," says Lee Livermore, the public education coordinator for Upstate New York Poison Center, which runs educational public and professional programs on drug use, poisoning, and toxic exposures. "If it's a depressant or a sedative, that can put someone in a state where they're not thinking clearly."