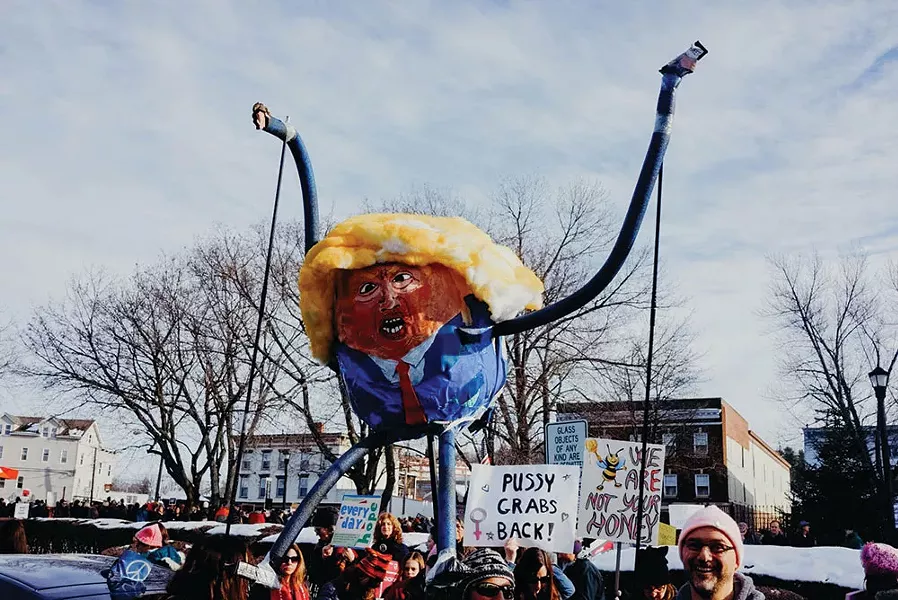 Anna Victoria
Photos from the second annual Women's March in Hudson on January 20
"If Trump is a threat to our democracy and the product of its weaknesses, the citizen activism he has inspired is the antidote, the way to vindicate our long experiment in self-rule. Opposition to Trump is calling millions of Americans to a new sense of citizenship."
—One Nation After Trump
by E. J. Dionne, Norman Ornstein, and Thomas E. Mann
Eve Fox never liked politics. When she lived in DC years ago, she met people who were obsessed with working for members of Congress and reading three newspapers a day. Fox was never passionate like that. "Seemingly, politics is just so much about power and so little about public service, that it's distasteful," Fox says. A Woodstock-based strategic planning consultant to nonprofits, Fox is no stranger to activism, but usually her role is to help organizations engage people. Fox didn't really get involved with politics beyond voting. On November 8, 2016, all that changed. "When Trump got elected, that was really it." Fox became a concerned citizen and launched the blog Daily Acts of Resistance, where she shared information on upcoming policy items and votes, and on how people could contact elected officials and political action organizations. With Donald Trump the 45th president-elect, Fox became part of a catalyzing political movement on the left."While I don't think of my own political views as radical, I feel people like myself felt: okay, Obama is president; he's not necessarily able to accomplish what we hoped he would, but we live in this more progressive country in this more progressive time of the modern world. And suddenly it seemed like that's not necessarily true." What Fox and many others realized is that they have to work to maintain progressive policies gained during the Obama years.
Almost paradoxically, many progressives began to look to the Tea Party for inspiration. Begun in January 2009 with the inauguration of Barack Obama, the American conservative movement used grassroots activism to win influence over elected officials, advance a coordinated national agenda, and infiltrate the Republican Party and its representatives. The Tea Party might argue that a political revolution has already happened.
Fox points to Indivisible as an example of an organization that formed in response to Trump's election. They're a registered 501(c)(4) nonprofit that built a national grassroots campaign in 2017—with at least two local groups in every Congressional district, their website boasts. Their goal is "to defeat the Trump agenda, elect progressive leaders, and realize bold progressive policies." Cofounded by two former Congressional staffers who watched as the Tea Party took on a historically popular president with a Democratic supermajority, then slowed and sometimes defeated Obama's federal agenda. On December 14, 2016, they published a roadmap for Tea-Party-inspired civic engagement—the Guide—which outlines four key grassroots advocacy tactics and has been viewed and downloaded millions of times.
The Outrage
Last year, the Trump administration set out to systematically unravel progressive reforms, appointing people to key government positions who had been outspoken against the organizations they would now run, and confirming a conservative judge to the Supreme Court seat that had been open for a year after Republicans blocked Obama's nomination. From a travel ban on people from majority-Muslim countries to a failed attempt at repealing the Affordable Care Act, in his first 100 days as president, Trump got caught lying, he denounced the media, and his election campaign came under investigation for collusion with a foreign government.
One year later, a Marist poll has found that 53 percent of Americans do not think President Trump's first year in office has been successful, and 33 percent of those believe his time in office has been a major failure. In his most defiant moment, Trump fired FBI Director James Comey over the campaign investigation. Progressives consider his administration a threat to democracy.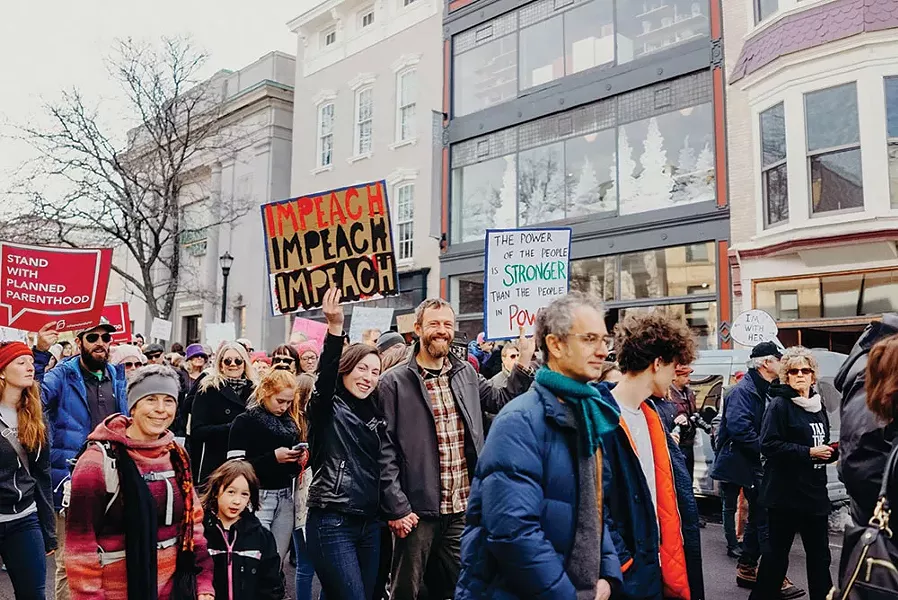 With ongoing spotlights on police brutality and racist, anti-immigration rhetoric, racial justice is a defining conversation of Trump's first year. White nationalism has once again become outspoken and Trump, who allegedly referred to Haiti and El Salvador as "shithole countries" in January, is seen as its leader. Ignacio Acevedo, lead organizer for the Poughkeepsie-based racial justice group, Nobody Leaves Mid-Hudson, recently told the Poughkeepsie Journal that the Hudson Valley is experiencing a surge in activism among people of color since Trump's election.
The Columbia County Sanctuary Movement (CCSM) was founded just weeks prior to the presidential election in response to anti-immigration campaign rhetoric. It's possibly the first and only immigrant justice organization in Columbia County and is currently on its way to 501(c)3 status. "In our first year, we have seen an incredible increase in civic engagement with immigrant and migrant justice issues," explains Bryan MacCormack, CCSM's executive director. Twelve CCSM members have attended six regional, state, and national workshops, trainings, and conferences. Members participated in direct actions outside Congressman John Faso's office and house to demand a Clean Dream Act. Over 100 CCSM members with various immigration statuses participated in city Council meetings and won a Welcoming and Inclusive resolution for Hudson in March.
According to Dustin Reidy, Campaign Director for NY19 Votes, which grew out of the #Resistance and Indivisible movements in November 2016, the swell of people who wanted to get involved was immense. "What began last January as people wanting to do something, anything, has turned into folks being pragmatic and realistic and very committed—let's find the best things to do and the best avenues to really make an impact here," he said. The Hill reported that Faso is one of the most vulnerable members of Congress going into the next election. On their website, NY19 Votes states, "If we are going to turn back Trump, defeat Faso in 2018, and win our country back, we have to get out and talk to voters now through election day 2018."
The event that gave birth to NY19 Votes happened on March 12—the 50th day of Trump's administration. It was -10 degrees with wind chill, and about 400 people came out to register voters and canvass across 12 different sites around District 19. Volunteers who had never canvassed before participated and, according to Reidy, many leading campaigns came out of that NY19 Votes framework. "People take that and run their own efforts," he says. "That's the biggest success we've had, and it's the hardest one to measure."
Creating a coalition from the Democratic and Working Families parties, NYPAN (the New York Progressive Action Network), and both the Bernie and Hillary sides, Reidy also notes Republican volunteers work for NY19 Votes's canvassing efforts. "We're trying to engage both voters and volunteers who are looking for better leadership, which pays attention and listens to voters more than to the elite donors and Wall Street who influence elected officials far too much," Reidy explains.
Stemming from NY19 Votes's conversations with voters across the district, Reidy says there are two big changes in the year since Trump's election. The first is that health care is becoming a non-partisan issue. "Folks want health care expanded, Medicaid expanded," Reidy explains. "That view is prevalent in the district, and it's not one that's tied to party lines the way it was a couple years ago." The other change is that volunteer engagement is more powerful than what Reidy has seen previously. "Volunteers want to do the hard, unglamorous work that it takes to win elections and make change," Reidy says. Things like calling people up, knocking on a stranger's door in all kinds of weather, and asking them their thoughts on politics.
The Marathon
"The whole country's on fire right now," Zephyr Teachout told me last summer. The Fordham University Professor and former candidate in both the New York Gubernatorial and District 19 Congressional races elaborates, "Everybody is politically engaged in a totally new way, and there are amazing opportunities for getting involved in local groups. But there's also a hunger for the basics, like, 'What are the rules by which we live? What are some basic ways in which we can get active in politics?'"
That summer, Teachout co-taught a civics class at the Kingston Library to more than 50 adults who hailed from all over Ulster, Dutchess, Greene, and Columbia counties. It was billed as an incubator for future programming, and sponsored by the Hudson Valley-based Good Work Institute. Her teaching partner was former Ulster County District 7 Legislator Jennifer Schwartz Berky.
8 slides

At the first class, students were handed a pocket-sized Constitution of the United States and tasked with researching all the references to impeachment. There are three. Over four weeks, the course touched upon deep topics like Constitutional Conventions, the Anti-Rent Wars, and the Hudson Valley's Niagara Bottling fight, utilizing classic texts about strategy and the relationship of law to protest, like Martin Luther King, Jr.'s Letter from a Birmingham Jail. Explains Teachout, "You could spend a year on the Constitution, but hopefully an introduction will spark somebody's interest."
During the final civics class, students gave a one-minute summary of their engagement. Some talked about supporting local candidates or working on specific issues like protection of natural resources. Some said the future of activism could include civic technology, a growing industry for grassroots political engagement. The consensus was that students took the class because they wanted to engage in politics more effectively.
For Accord-based Julia Turshen, a cookbook author, civic engagement is a return to fundamentals. Turshen always volunteered her cooking services to charitable feeding programs, like Chiz's Heart Street in Kingston, and meal delivery services for people who are homebound. After the election, scared, frustrated, and overwhelmed, she stepped up her involvement by attending a Citizen Action of the Hudson Valley meeting.
"I had this sense of obligation to be a more involved and active citizen," Turshen says. "But I wanted to plug into an organization." Turshen explained that rather than start something new, she felt it was advantageous to support something that already exists. Citizen Action's lead organizer, Callie Jayne, suggested Turshen start a food team to coordinate meal trains for activists. One year later, Turshen is still doing it, and her latest cookbook, Feed the Resistance: Recipes + Ideas for Getting Involved (Chronicle Books), was published last October.
Folding ongoing interests into new community engagement meant that Turshen's activism would be sustainable. Turshen says, "Honestly it's about being good neighbors—not just for a moment in time. Cooking has been the thing I loved to do my whole life, so how can I do this in new ways that helps better my community? Because then not only do I bring the skills and knowledge I already have, but also I'll keep doing it because I enjoy it." Turshen references the progressive activism mantra: It's a marathon, not a sprint.
Power to the Polls
Many activists blamed Obama-inspired, progressive complacency (or what Urban Dictionary coined "Facebook activism" in 2013) for the election of Trump—in addition to the discovery that Russian hackers had successfully used the social media platform to influence the 2016 American Presidential election by flooding Facebook with fake news stories.
Yet, when Dr. Randy Rissman of Woodstock, a friend of Eve Fox, posted an idea for taking action on the ACA repeal on Facebook, it sparked real-world activism in Fox. "I ended up both writing the letter and then getting people to sign onto it." It was a Google doc with over 90 health care providers' signatures that was delivered to Faso. In February, Fox organized a meeting between healthcare providers and Faso's district director, Ryan McAlister. At the end of March, there was another meeting of 46 health care providers, Health Alliance's CEO David Scarpino, and McAllister at Kingston Hospital. Fox reflects, "Faso was brand new in office, and I thought, 'This is what you do; you try to meet with your Congressperson and tell them your concerns.'"
Recently, however, Fox has limited her activism. "I think activist fatigue is a very real phenomenon. The Trump administration, they're very good at provoking outrage and putting up distractions to keep people busy. I feel like, for a number of months, all I was doing was resisting." Now, Fox is focusing more on self-care and being efficient. "It's interesting, what a difference a year makes," Fox muses. "Knowing that people have limited time and energy, I feel more like it's really important to focus on picking your battles." For Fox, that means turning her attention to flipping the district (voting out Republicans and electing Democrats) in November.
The 2018 Women's March was held on Saturday, January 20, the first anniversary of Trump's inauguration—and it was all about that. An anniversary celebration of the largest coordinated march in history, which happened on January 21, 2017—the day after Trump's inauguration—the original Women's March had approximately five million participants worldwide. In 2018, protesters again gathered in cities across the country, this time, encouraging voter registration, female candidates, and flipping Congress, along with a reiteration of last year's messages about impeachment, racial justice, and feminism. In New York City, protesters turned a city block into a blue wave with sculpted signs that read, among other things, "Vote."