Anna Victoria
Photos from the second annual Women's March in Hudson on January 20
"If Trump is a threat to our democracy and the product of its weaknesses, the citizen activism he has inspired is the antidote, the way to vindicate our long experiment in self-rule. Opposition to Trump is calling millions of Americans to a new sense of citizenship."
—One Nation After Trump
by E. J. Dionne, Norman Ornstein, and Thomas E. Mann
Eve Fox never liked politics. When she lived in DC years ago, she met people who were obsessed with working for members of Congress and reading three newspapers a day. Fox was never passionate like that. "Seemingly, politics is just so much about power and so little about public service, that it's distasteful," Fox says. A Woodstock-based strategic planning consultant to nonprofits, Fox is no stranger to activism, but usually her role is to help organizations engage people. Fox didn't really get involved with politics beyond voting. On November 8, 2016, all that changed. "When Trump got elected, that was really it." Fox became a concerned citizen and launched the blog Daily Acts of Resistance, where she shared information on upcoming policy items and votes, and on how people could contact elected officials and political action organizations. With Donald Trump the 45th president-elect, Fox became part of a catalyzing political movement on the left."While I don't think of my own political views as radical, I feel people like myself felt: okay, Obama is president; he's not necessarily able to accomplish what we hoped he would, but we live in this more progressive country in this more progressive time of the modern world. And suddenly it seemed like that's not necessarily true." What Fox and many others realized is that they have to work to maintain progressive policies gained during the Obama years.
Almost paradoxically, many progressives began to look to the Tea Party for inspiration. Begun in January 2009 with the inauguration of Barack Obama, the American conservative movement used grassroots activism to win influence over elected officials, advance a coordinated national agenda, and infiltrate the Republican Party and its representatives. The Tea Party might argue that a political revolution has already happened.
Fox points to Indivisible as an example of an organization that formed in response to Trump's election. They're a registered 501(c)(4) nonprofit that built a national grassroots campaign in 2017—with at least two local groups in every Congressional district, their website boasts. Their goal is "to defeat the Trump agenda, elect progressive leaders, and realize bold progressive policies." Cofounded by two former Congressional staffers who watched as the Tea Party took on a historically popular president with a Democratic supermajority, then slowed and sometimes defeated Obama's federal agenda. On December 14, 2016, they published a roadmap for Tea-Party-inspired civic engagement—the Guide—which outlines four key grassroots advocacy tactics and has been viewed and downloaded millions of times.
The Outrage
Last year, the Trump administration set out to systematically unravel progressive reforms, appointing people to key government positions who had been outspoken against the organizations they would now run, and confirming a conservative judge to the Supreme Court seat that had been open for a year after Republicans blocked Obama's nomination. From a travel ban on people from majority-Muslim countries to a failed attempt at repealing the Affordable Care Act, in his first 100 days as president, Trump got caught lying, he denounced the media, and his election campaign came under investigation for collusion with a foreign government.
One year later, a Marist poll has found that 53 percent of Americans do not think President Trump's first year in office has been successful, and 33 percent of those believe his time in office has been a major failure. In his most defiant moment, Trump fired FBI Director James Comey over the campaign investigation. Progressives consider his administration a threat to democracy.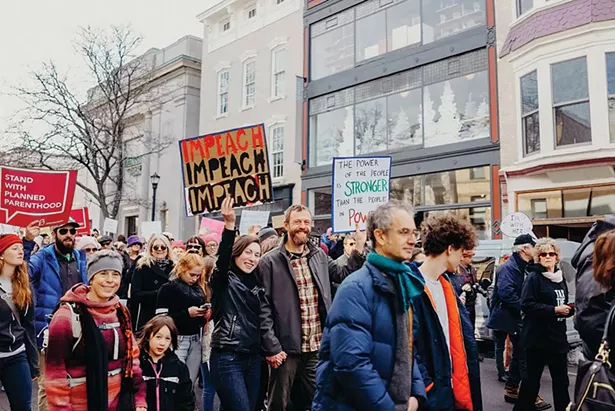 With ongoing spotlights on police brutality and racist, anti-immigration rhetoric, racial justice is a defining conversation of Trump's first year. White nationalism has once again become outspoken and Trump, who allegedly referred to Haiti and El Salvador as "shithole countries" in January, is seen as its leader. Ignacio Acevedo, lead organizer for the Poughkeepsie-based racial justice group, Nobody Leaves Mid-Hudson, recently told the Poughkeepsie Journal that the Hudson Valley is experiencing a surge in activism among people of color since Trump's election.
The Columbia County Sanctuary Movement (CCSM) was founded just weeks prior to the presidential election in response to anti-immigration campaign rhetoric. It's possibly the first and only immigrant justice organization in Columbia County and is currently on its way to 501(c)3 status. "In our first year, we have seen an incredible increase in civic engagement with immigrant and migrant justice issues," explains Bryan MacCormack, CCSM's executive director. Twelve CCSM members have attended six regional, state, and national workshops, trainings, and conferences. Members participated in direct actions outside Congressman John Faso's office and house to demand a Clean Dream Act. Over 100 CCSM members with various immigration statuses participated in city Council meetings and won a Welcoming and Inclusive resolution for Hudson in March.