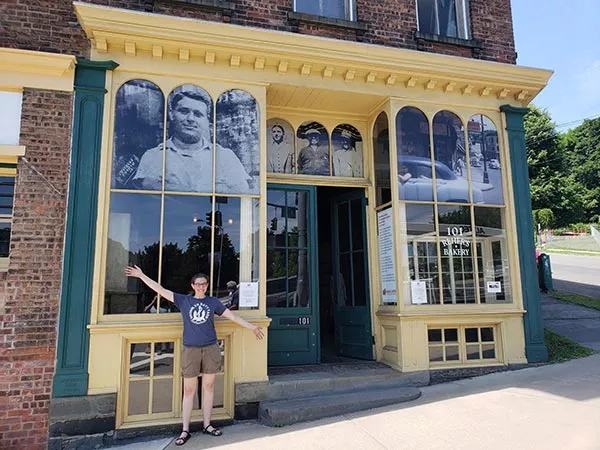 From its past as an immigrant-owned Jewish bakery to its current incarnation as a museum of immigrant culture and history, the Reher Center has long been a multicultural focal point for Kingston. In the 1950s, churchgoers would head to the brick building, which sits on the corner of Broadway and Spring Street in the Rondout District, to get bread rolls after Sunday mass. "It was this beautiful symbol, this idea of breaking bread together," says Sarah Litvin, the Reher Center's director. Even the food itself represented a melting pot of cultural traditions; while the bakery was Kosher, the Irish, Italian, German, and Polish immigrants would use the bread rolls for non-Kosher meals like sausages and bacon.
Founded in 2002, the mission of the Reher Center is to preserve and present immigrant and community stories in the Hudson Valley region through its educational programming, exhibits, and events. At their ninth annual Kingston Multicultural Festival this June 13, 20, and 27, participants will be able to watch performances by dancers, musicians, and poets from diverse backgrounds in the TR Gallo Park gazebo and, in keeping with the Reher Center's history, bridge cultural divides through food. There will be pop-up eateries, each with their own informational posters about the history of the food they're making and serving. The food stalls are the culmination of a yearlong research collaboration between the Reher Center and students at the Culinary Institute of America, who have been interviewing people of different cultural food traditions.
Reher Center
Kingston Multicultural Festival 2018
Reher Center
Kingston Multicultural Festival 2018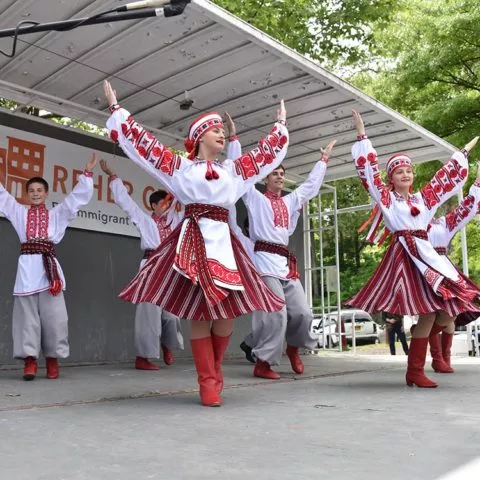 Reher Center
Kingston Multicultural Festival 2018
Reher Center
Kingston Multicultural Festival 2018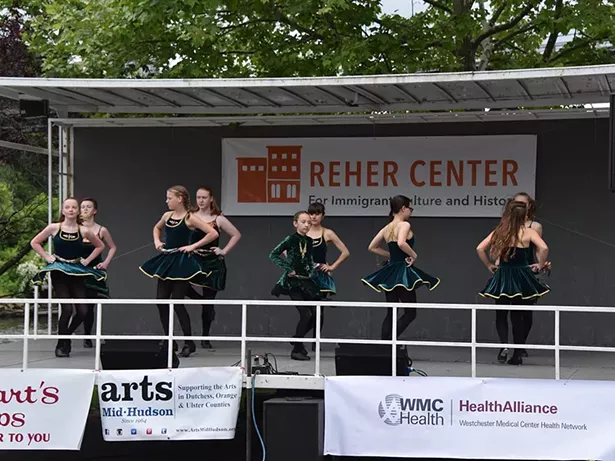 Reher Center
Kingston Multicultural Festival 2018
Central to this year's festival is the Reher Center's worry doll project, or "proyecto muñecas quitapenas" in Spanish, organized in partnership with the Cornell Creative Arts Center. Worry dolls are small, handmade figurines originating from Guatemala, made of wood, wire, and textiles and dressed in Mayan style. According to legend, children tell their worries to the dolls and place them under their pillow at night for the dolls to whisk their sorrows away. The next morning, the children can begin a new day with a fresh mindset. This spring, Guatemalan cultural consultant Andrea Del Cid and educator Karen Pillsworth brought the tradition of the worry dolls to over 700 students in Kingston's public schools. Students heard the story, learned about contemporary Guatemalan culture, and made worry dolls of their own.
Reher Center
Kingston student with worry doll.
Guatemalans make up one of the biggest immigrant groups in the Kingston area. Projects like the quitapenas dolls "give us all a way to connect to that culture," says Litvin. Those who come to the festival will hear Andrea Del Cid tell the worry doll legend in person, and those who can't make it can listen to the story recorded on the website in English, Spanish, and Q'eqchi', one of Guatemala's many indigenous languages. To raise funds to bring the project into more classrooms this fall, the Reher Center will be selling worry dolls made by local artists to festival visitors.
The worry doll project is the second community craft project by the Reher Center. Last year, they created what Litvin describes as a "cultural quilt of the Hudson Valley," made up of mixed media collages locals created to represent themselves and their heritage. The artworks were photographed and then tiled together into a digital quilt, a demonstration of community resilience in the face of the isolation of Covid-19.
In addition to the worry dolls project, "Stitched Together" is open to the public, an exhibition made by students from various local high schools exploring the immigrant women garment workers of Kingston. The exhibit will feature historical reproductions of blouses, skirts, and other garments sewn by students, as well as research materials such as census data and sketches. It will be on display through August and paves the way for a larger show, "Sewing in Kingston", which is a fuller exploration into the history of Kingston's garment industry workers.
The Reher Center will reopen for historic bakery tours this summer, and the smell of freshly baked bread will return to the property. There will be guided tours of the building, set up to look as it did in 1959, and participants will receive bread rolls––it's an immersive storytelling experience. "Visitors can become a part of the story themselves by sharing their own connection to immigration, community, work, and bread," which are the center's four main pillars, according to Litvin.
Andrew L. Moore
Reher Center Bakery Exhibit
"We're working really hard to not only learn the history," she says, "but to think critically and collaboratively about how to tell a story in this space that helps us all find a point of connection, regardless of where we come from."
The 2021 Kingston Multicultural Festival will be held Sundays June 13, 20, and 27 in TR Gallo Park alongside the Kingston Waterfront Farmers Market.
Reher Center for Immigrant Culture and History
https://www.rehercenter.org
99-101 Broadway, Kingston, NY 12401
(845) 481-3738