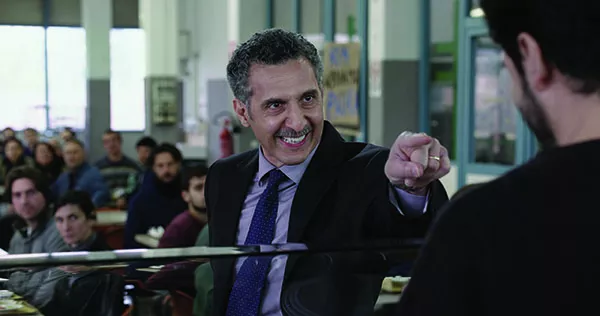 Mia Madre, starring John Turturro.
"I knew that we could potentially do something really interesting," says Calliope Nichols, director of the Chatham-based film festival FilmColumbia. Now in its 16th year, FilmColumbia continues to expand its reach and diversify its programming. From October 20 to 25, film buffs can catch a mix of local, independent, and international films in both Chatham and Hudson, along with panels and other programming, in what's become one of the region's most anticipated cinematic events.
The festival originated with a group of film lovers showing monthly independent films at the Crandell Theatre in Chatham. Though the Columbia Council of the Arts had been running a small local festival in Chatham at that time, "it wasn't very successful," says FilmColumbia Executive Director and Co-Programmer Peter Biskind, "because they were mostly showing local films, and they ran out of those very quickly." The council came to the group and asked them to take it over, and, according to Nichols, "FilmColumbia was born."
The result was a greater number of independent and foreign films, though Biskind says they still favored regional films. "We had access to films that were very, very good, and much better than what we were showing," he says. In its first season, the festival screened Crouching Tiger, Hidden Dragon, Ang Lee's wuxia epic that became a box office hit and Best Picture winner. Highlights of other years include Oscar dynamos like The King's Speech, Birdman, The Lives of Others, and Black Swan.
FilmColumbia has expanded in recent years. It purchased the Crandell Theatre in 2011 and began exploratory programming at the Hudson Lodge last year. This year's newest venue will be the Hudson Opera House, which will screen a program of international children's short films, as well as hold programs and talks.
Nichols describes the screening process as looking for "the best possible films we can bring to the area." Biskind and co-programmer Laurence Kardish choose the films together, with Biskind researching and reading reviews while Kardish attends big-name festivals like Telluride, Sundance, and Toronto. This year's slate includes The Lady in the Van, starring Dame Maggie Smith, and Truth, a docudrama focusing on Dan Rather's erroneous report on former President George W. Bush's air national guard career that Biskind says he is particularly excited for.
The festival's foreign film program should be especially impressive. Mountains May Depart surveys a China past, present, and future, using the central relationships between a woman, her two suitors, and her estranged son to comment on both skyrocketing development and its costs. John Crowley brings Colm Toibin's novel Brooklyn to the screen to tell a story of mid-century Irish immigrants and the split lives they led. Leading the documentaries is Taxi Tehran, which finds director Jafar Panahi driving the titular car through the titular city, capturing the views, hopes, and fears of a wide swath of Iranians on his dashboard camera. Perhaps most exciting is Son of Saul, a controversial Hungarian film focusing on the 1944 uprising of the sonderkommando at Auschwitz, which was awarded the Grand Prix at the Cannes Film Festival. Nichols will also be curating local Hudson Valley films that she thinks will be especially interesting to attendees from Columbia County.
In addition to the films, there will be a series of to-be-announced panels with writers and directors, including the return of Scott Cohen's screenwriting panel to be held on the 25 in Chatham at the Tracy Memorial and later again the same day at the Hudson Opera House. Local screenwriters can bring in pages of writing to be performed by Cohen's collection of actors, and then receive notes from both the performers and others in the audience. "This was very popular [in 2014]," says Nichols.
FilmColumbia's goal is to bring films to Columbia County that might not play anywhere closer than New York City, if at all. "Our audience has a high expectation of the quality of films and events," said Nichols, "and we'll make sure we can rise up to that expectation."
FilmColumbia takes place at various locations in Chatham and Hudson from October 20 to 25. Filmcolumbia.org.