Page 3 of 3
Meanwhile, the little "2,600-seat vaudeville theater" was in the middle of its own transformation process. In 2002, Morris was named CEO, and over the last six years, he has headed up $40 million worth of improvements to the facilities and programming. In 2006, the theater expanded its backstage area, making it possible to stage large-scale Broadway shows there. "We're the only theater between Buffalo, Montreal, and New York City that has Broadway shows," Morris says. The theater also added educational facilities, including an IWERKS movie theater and accompanying curricula in 2007. Last year, 75,000 kids participated in the programs, Morris says proudly.
Proctor's, the 440 Board, DSIC, and the Metroplex have also worked cooperatively to create additional arts spaces downtown, including studios and exhibition spots on Jay Street. Jay Street Studios opened in 2005 and now serves as a home base for seven artists, and in 2006, four adjacent storefronts were leased to arts-based retail, including the soon-to-open Mohawk Valley Guitar. The groups also host Art Night the third Friday of every month, when shops and restaurants in the district stay open later for exhibitions and performances. This June, the arts and entertainment district was officially renamed ElectriCity, a fitting name for the reenergized neighborhood.
This now-thriving district welcomed between six and seven million visitors last year, which is on par with a midlevel mall. The block around Proctor's had a five percent occupancy rate in 1998, and today, 95 percent of those buildings have tenants. "Between the Proctor's schedule, and the movie theater's first-run shows, you've got something going on every night of the week, 365 days a year," Cietek says.
This type of action is exciting for the local businesses that get a piece of all that discretionary spending, but it is also exciting for bigger companies, who see Schenectady as a location that would attract good employees and clients. "Companies say that their employees want to be in an 'Ally McBeal' type of experience," says Cietek. "They want something eclectic, something lively, something flexible, with ready opportunities for fun." By building up its arts and culture identity, Schenectady also becomes attractive to big employers.

"This is the trend. If a city is going to make it, it can't just rely on retail, it has to supply a lifestyle," says Tardi. "You have to give people a reason to come, something to do."
The district's success is also a testament to the transformative power of the arts, and it shows how arts and culture can be a coalescing force for a community, providing a center around which to gather.
"The same as blight spreads, the opposite is also true. You develop a good core, and then that spreads outward," Kehn says.
"Arts is inspirational. It feeds the spirit in a way that grocery shopping just doesn't," Conn says. "It makes you feel like your community is worth saving."
Hillary Harvey
Peter Hughes, advertising manager of Proctor's, surveys the renovated theater.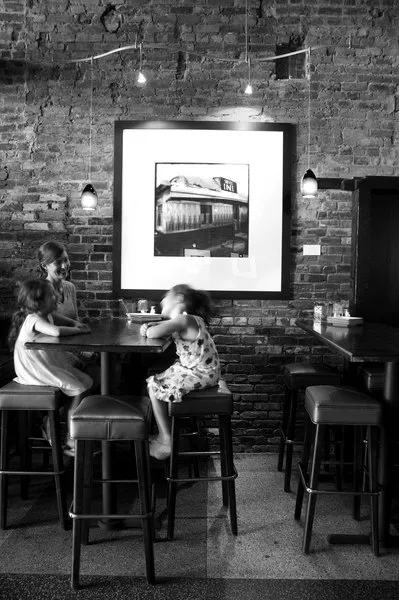 Hillary Harvey
Angelo's Aperitivo Bistro and Wine Bar on State Street.
Hillary Harvey
The shops on the Jay Street, which has been transformed into a pedestrian thoroughfare.
Hillary Harvey
Executive Chef Danny DeLorenzo (left) with Head Lunch Chef Brian Bauhofer in the kitchen at Aperitivo.
Hillary Harvey
The Bow-Tie Cinema on State Street.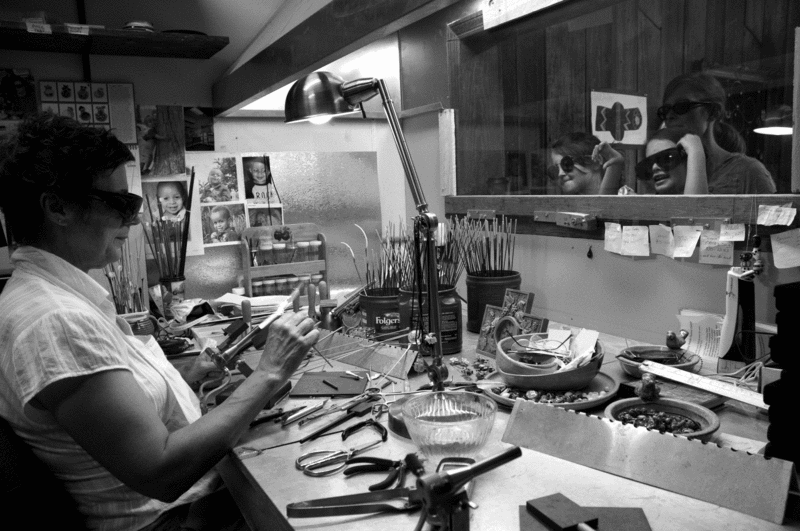 Hillary Harvey
Carol Markytan of the Artists' Shops at 175 Jay Street does lampworking for a captive audience.