Roy Gumpel
The Rail Trail Café is a 96-square-foot shed just off the Wallkill Valley Rail Trail
There's a loud buzz coming from the Wallkill Valley Rail Trail these days, and it's not just the bugs.
An organic, vegetarian eatery where rail-trail users can relax and refuel sprouted in Rosendale in early May, the brainchild of Brian Farmer and Tara Johannessen. Customers have been coming ever since—on foot, on bikes, on horseback, and even in cars.
Farmer and Johannessen launched the Rail Trail Café through a Kickstarter campaign that netted $6,600 and plenty of community support, including a donated pizza oven and an initiative by Rosendale residents to repair a rutted stretch of rail trail leading to the café.
The couple's timing was perfect. The Wallkill Valley Rail Trail is getting more use than ever thanks to recent rehabilitation efforts—including the reopening last summer of the trestle bridge that spans the Rondout Creek in Rosendale, creating an unbroken 24-mile stretch from Gardiner to Kingston.
Roy Gumpel
The homemade pizza is especially popular
"This is so frickin' pleasant," says Jordan Lear, 43, a Montrealer vacationing in Rosendale who discovered the café while on a bike ride. "It's beyond a good idea—it's brilliant. It feels like you're on holy ground."
The 96-square-foot café is nestled under a canopy of tall trees in a clearing about a mile south of the trestle bridge. The couple built the café car themselves, incorporating materials donated by friends and local builders, including aged oak for the body and clear polycarbonate roofing that floods the space with light. Red shutters charmingly frame the window where orders are taken. The car is just large enough to house a conventional oven, a refrigerator, a freezer, and workspace for two people. The wood-fired pizza oven, designed for maximum efficiency and festooned with clay tree roots, was donated by local pizza-oven builder Shawn DeRyder. There are tables decorated with candles and daisy-filled vases as well as strategically placed tree stumps. Citronella torches ward off the bugs, and a netted space is in the planning stages.
The menu features a variety of hyperfresh, delectable, and aesthetically pleasing dishes, such as salads, burritos, steamed dumplings, and, of course, pizza. Dishes will shift depending on the availability of local produce, with green-corn tamales debuting this month. In addition to prepared food, the couple sells produce and freshly baked bread and pastries on Saturday mornings.
Prices on the menu range from $2 for a cider pop to $8 for pizza. "It's an oasis in the woods," says Fishkill architect Robert Marshall, 62, who recently brought his two dogs, Shadow and Maestro, to listen to Big Joe Fitz & the Lo-Fis, one of several music acts that will play at the café over the summer. Throughout the afternoon, about 50 people stopped by to hear the band and sample the fresh fare.
"Everyone's talking about farm to table—well, they're growing it right here," says Big Joe Fitz, 65, of Rosendale, as his guitarist, Mark Dziuba, 53, bicycles up with a guitar strapped to his back.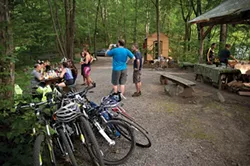 Roy Gumpel
Hikers, bikers, and horseback riders stop by for pizza, dumplings, and salads
The idea for the café took shape after Farmer and Johannessen bought a 1.6-acre parcel of land on Stone Mountain Farm in Rosendale nine years ago. The 200-acre Stone Mountain has communal vegetable gardens and abuts the Wallkill Valley Rail Trail. On the couple's property, called Farmer's Table Farm, they built a 1,500-square-foot solar-powered wood cottage and planted the tiny seedlings known as microgreens, leafy greens, heirloom vegetables, grains, and herbs—"high-value crops," Farmer says, which the couple sells wholesale.
Farmer's Table is about a quarter of a mile north of where the café now stands on land leased from Stone Mountain. "Working in our garden, we could see hundreds of people biking and hiking on the rail trail on weekends," says the aptly named Farmer, 52, an agricultural consultant who grew up in Tennessee and moved to the Hudson Valley in 1981 to study at the Creative Music Studio in Woodstock. "We wanted to create a space where people could come off the trail and a farm-based business where we could do value-added things."
Johannessen, 48, who grew up on a Stone Ridge goat farm and has a master's degree in language-arts teaching from Bard College, was influenced by her extensive travels in Asia. "It's very common to find little cafés on trails or in remote places there," she says. She also was informed by childhood memories of a beloved Marbletown Park concession stand whose Italian ices and corn dogs tasted particularly delicious after a dip in the Esopus Creek.
The pairing of refreshment with a natural setting like the rail trail is "organic and authentic," says Bill Bannan, 56, a jazz-brunch organizer from High Falls. "I'm wondering why no one thought of it before."
The café's food draws praise for its presentation as well as its taste. "Look how colorful and beautiful it is," says David Miller, 55, a software account executive from East Fishkill, eying a red-bean, sweet-potato burrito packed with fresh mixed greens. "It's a rainbow of vegetation."
A salad bursting with baby lettuce, sunflower and buckwheat greens, pea shoots, and roasted beets and pumpkin seeds was a sweet and nutty confection. Even without shitake mushrooms—all of which had been snapped up—the steamed dumplings were a satisfying blend of cabbage, kale, onions, and ginger that tasted even better plain than with the sesame-ginger shoyu dipping sauce.
The burrito managed to meet the exacting standards of an 11-year-old boy. "It's very flavorful, with the perfect amount of sour cream," says Zhou Corzine of New Paltz, who had biked to the café with his parents and also scarfed down some pizza. "I love the fact that the microgreens are harvested right over there," chimes in his mom, Martha Cheo, 51, adding that she got her son out on his bike only by dangling the promise of excellent pizza.
Roy Gumpel
The dumplings are popular with customers of all ages
The wood-fired pizzas already have a loyal following. Toppings such as wild-greens pesto, baby turnips, and zucchini squash impart that just-picked flavor. Among the drinks, the rosewater lemonade is a standout. "It's just what I want now!" declares Xuemei Dunda, 44, of Kingston, who had stumbled across the café on a stroll down the trail.
Farmer and Johannessen sometimes have to hustle to keep up with the demand. The wait for food can be on the long side, but as Farmer puts it, "People are here to chill. They're not in a rush." Adds Johannessen, "What's been happening is that parents are bringing a bottle of wine and relaxing while their kids play and laugh. It's a very informal atmosphere, and the kids don't have to be muzzled." For those who crave private dining, two red picnic tables are set up in a meadow across the trail. There's also a hitching post to secure the "horse regulars," as Farmer calls them, who receive free treats. (Dogs also get free treats.)
Business has been brisk enough that the partners are envisioning another Kickstarter campaign this fall to finance a performance space and additional seating in the meadow. "We thought, 'Could this ever work?'" says Ron Frank, 63, a day trader from Saugerties who is friends with the couple and brought his wife and stepdaughter to eat pizza and hear Big Joe Fitz. "Well, it's working, and we're delighted. I'm thrilled to see the rail trail being used this way."
The Rail Trail Café is located just off the Wallkill Valley Rail Trail on Stone Mountain Farm in Rosendale, about a mile south of the Rosendale trestle bridge. The Rail Trail Café is open weekends through mid-October: Friday from 5 to 8pm, and Saturday and Sunday 9am to 8pm. If it's raining, the café will be closed. (845) 399-4800; Railtrailcaferosendale.com
[slideshow-1]