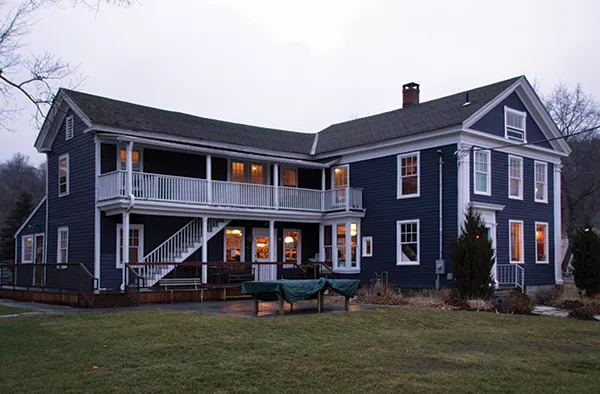 Peter Barrett
The building has offices and storage upstairs, with the bar, restaurant, and kitchen below.
Let's get this out of the way right off the bat: "Prairie Whale" is an old name for a pig; by the mid-19th century, rendered lard was beginning to replace whale oil in lamps. Restaurateur Mark Firth chose the phrase to rename his year-old Great Barrington establishment, formerly the Bell & Anchor, after he got a cease-and-desist order from another Bell & Anchor in Sag Harbor.
Firth, well known for his Brooklyn restaurants Diner and Marlow & Sons, sold his interests in those enterprises and moved to the Berkshires a few years ago with his wife and two young children. Since then, he has been hard at work not just opening and running a restaurant but integrating the business into the fabric of the surrounding community and landscape.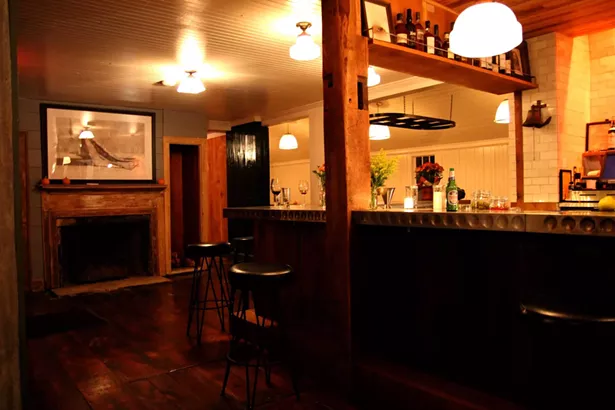 The interior of Prairie Whale
Born in Britain, Firth grew up in Zambia, and returned to England for school. He left at 18 to travel through Europe for several years before arriving in New York, where he worked as a waiter and bartender before building Diner. On their choice of the Berkshires, he explains, "We looked all over New York State for years, visiting on weekends, but never found anything. Then, while visiting a friend in Stockbridge, another friend called to say 'there's a farm for sale in Monterey; you should check it out." They closed within the month.
Their farm, tucked into a valley about 10 miles from the restaurant, sits on 82 acres, of which four are open pasture for sheep and a flock of laying hens. Firth's wife Bettina Schwartz manages the restaurant while the kids are in school and tends the sheep and chickens at the farm. On a gray December day, the red barn contrasts appealingly with the dull woods and still-green grass. A soft mist drifts down the valley and hovers over the pond by the house.
6 slides
Letting their new Maremma puppy Burdock out of the barn to frolic with Hazel, their adult dog, Schwartz summarizes the appeal of the place: "It's beautiful, and the people and schools are great." Maremmas are Italian guard dogs: Pure white, long-haired, and playful, they also possess a powerful instinct to patrol the pastures and keep predators from the sheep and chickens with their deep barks and startling speed. Schwartz shouts at Hazel to stop wrestling with a ram, setting a bad example for the ungovernably enthusiastic pup. She looks forward to having more help as the farm expands.
Firth and Schwartz obtained an agricultural exemption for the whole parcel, and they have big plans for spring. "We're going to take out the nonnative trees and evergreens, leaving hardwood and nut trees," says Firth. Besides the stand of sugar maples on the steep hill above the barn, a resource they have only begun to tap, the resulting forest will be used for sylvopasturing pigs. Sylvopasturing simply means opening up woodlands to create forest/field hybrids, where animals can forage and shelter under trees.

"Animals [raised this way] eat much less because they're not using so much energy to stay warm or cool," Firth explains. His goal is an edible landscape for animals and people alike; fences will keep the livestock in certain areas—pigs with apple and oak trees, for example—while other fruits and nuts will be used in the restaurant. A diet of woodland acorns is, after all, largely responsible for giving the Pata Negra pigs of Spain their legendary (and very expensive) flavor.
There were some Large Black pigs on the farm (Large Black pigs are particularly well suited to foraging) but they were all recently slaughtered and processed by the kitchen into fresh cuts and charcuterie. Because of the regulations governing meat curing, which Firth decries as being the opposite of common sense, all the charcuterie is aged at the Meat Market down the road, where proprietor Jeremy Stanton has a dedicated refrigerator for such a purpose. Besides making prosciutto from the back legs, the kitchen staff also makes guanciale from the jowls, coppa from the shoulders, and bacon from bellies in the hulking smoker out back, welded from an old oil tank.