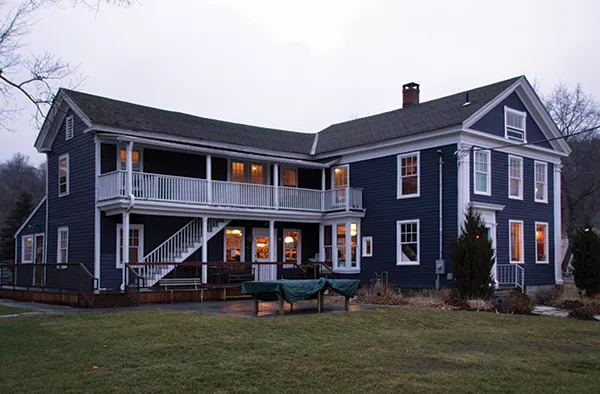 Peter Barrett
The building has offices and storage upstairs, with the bar, restaurant, and kitchen below.
Let's get this out of the way right off the bat: "Prairie Whale" is an old name for a pig; by the mid-19th century, rendered lard was beginning to replace whale oil in lamps. Restaurateur Mark Firth chose the phrase to rename his year-old Great Barrington establishment, formerly the Bell & Anchor, after he got a cease-and-desist order from another Bell & Anchor in Sag Harbor.
Firth, well known for his Brooklyn restaurants Diner and Marlow & Sons, sold his interests in those enterprises and moved to the Berkshires a few years ago with his wife and two young children. Since then, he has been hard at work not just opening and running a restaurant but integrating the business into the fabric of the surrounding community and landscape.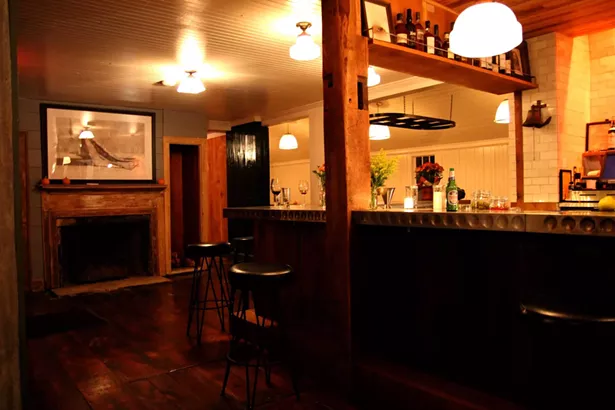 The interior of Prairie Whale
Born in Britain, Firth grew up in Zambia, and returned to England for school. He left at 18 to travel through Europe for several years before arriving in New York, where he worked as a waiter and bartender before building Diner. On their choice of the Berkshires, he explains, "We looked all over New York State for years, visiting on weekends, but never found anything. Then, while visiting a friend in Stockbridge, another friend called to say 'there's a farm for sale in Monterey; you should check it out." They closed within the month.

Their farm, tucked into a valley about 10 miles from the restaurant, sits on 82 acres, of which four are open pasture for sheep and a flock of laying hens. Firth's wife Bettina Schwartz manages the restaurant while the kids are in school and tends the sheep and chickens at the farm. On a gray December day, the red barn contrasts appealingly with the dull woods and still-green grass. A soft mist drifts down the valley and hovers over the pond by the house.
6 slides
Letting their new Maremma puppy Burdock out of the barn to frolic with Hazel, their adult dog, Schwartz summarizes the appeal of the place: "It's beautiful, and the people and schools are great." Maremmas are Italian guard dogs: Pure white, long-haired, and playful, they also possess a powerful instinct to patrol the pastures and keep predators from the sheep and chickens with their deep barks and startling speed. Schwartz shouts at Hazel to stop wrestling with a ram, setting a bad example for the ungovernably enthusiastic pup. She looks forward to having more help as the farm expands.
Firth and Schwartz obtained an agricultural exemption for the whole parcel, and they have big plans for spring. "We're going to take out the nonnative trees and evergreens, leaving hardwood and nut trees," says Firth. Besides the stand of sugar maples on the steep hill above the barn, a resource they have only begun to tap, the resulting forest will be used for sylvopasturing pigs. Sylvopasturing simply means opening up woodlands to create forest/field hybrids, where animals can forage and shelter under trees.

There were some Large Black pigs on the farm (Large Black pigs are particularly well suited to foraging) but they were all recently slaughtered and processed by the kitchen into fresh cuts and charcuterie. Because of the regulations governing meat curing, which Firth decries as being the opposite of common sense, all the charcuterie is aged at the Meat Market down the road, where proprietor Jeremy Stanton has a dedicated refrigerator for such a purpose. Besides making prosciutto from the back legs, the kitchen staff also makes guanciale from the jowls, coppa from the shoulders, and bacon from bellies in the hulking smoker out back, welded from an old oil tank.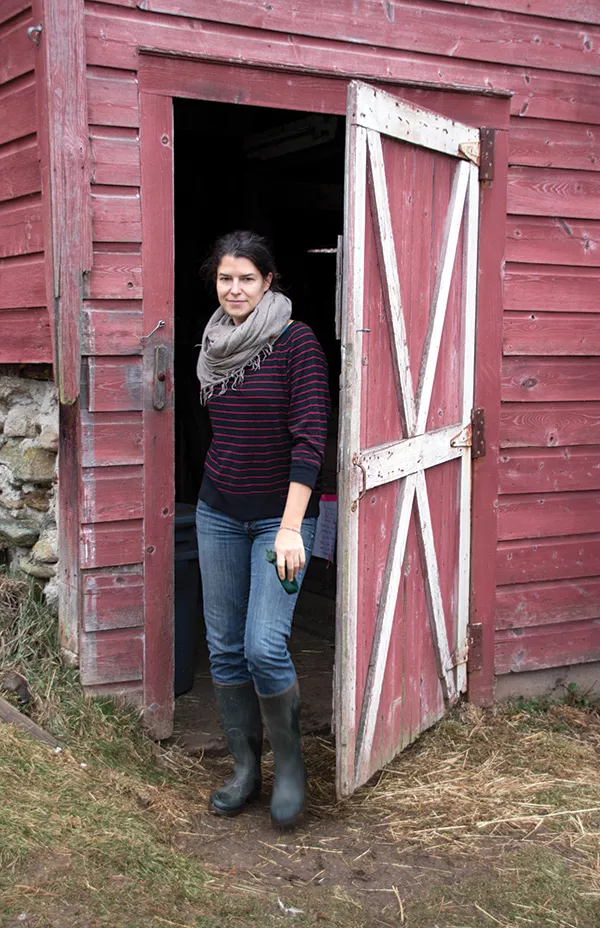 Peter Barrett
Bettina Schwartz at the barn on the restaurant's farm.
The pigs get all the nonmeat scraps from the restaurant, though in their current absence those scraps get composted instead. In addition to his expanding garden at the farm, Firth plans to build a greenhouse and more raised beds on the sizable rectangle of flat grass next to the restaurant, cutting and milling the black walnut trees that occupy the spot where the greenhouse will go. "I want to build a fire pit, too, where people can enjoy a drink and smokers can hang out."
The rambling colonial building, formerly an antiques store, sits on a slight rise above Main Street with a stone path leading to the front porch. Near the front gate, a small sign says "Prairie Whale" on one side and "Food And Ale" on the other. The letters are magnetic, and Firth likes to regularly mess with their message. The interior, extensively renovated by Firth and his crew, is invitingly warm and woody. Firth built all the tabletops with wood cut and milled on his property (the legs are salvage), and the two smaller dining rooms are both paneled with planks of his cherry. More shelves over the bar, one for each type of booze, are next on his to do list.
Chef Stephen Browning changes the menu daily; he and sous chef Dan Studwell take stock of what's coming in from the farms and adjust accordingly, keeping a relaxed attitude about the need for constant flexibility. "Limitations can spur creativity," says Browning, "and things go together because they're in season together." Both clearly love working with such high-quality ingredients and enjoy knowing the people who grow them. Firth regularly forages with Browning and Studwell, combing the woods for ramps and mushrooms in season. Both chefs, as well as pastry chef Megan McDiarmid, moved up from New York City to staff the kitchen, and all are enamored with their new country workplace. "It's a great team: funny but serious," says McDiarmid.
The food emerges quickly from the efficient kitchen on chunky white diner-style plates, the casualness of which contrasts appealingly with the artful presentation—not fussy, but attentive—the visual equivalent of the food's nimble straddling of homey accessibility and skilled execution. An appetizer of coppa, sliced translucently thin and served with arugula salad, conveys the essence of the Large Black pig: meltingly tender, almost sweet, with a lingering animal complexity on the finish. Fleshy descriptors notwithstanding, vegetarians can also rejoice: a soup of roasted kabocha squash broth with kale, fregola, and a poached egg is remarkably rich and deeply flavored, and a quarter head of braised and then grilled red cabbage arrives on top of tender cannellini beans in a bright onion broth. A grilled kale salad seems especially popular.
The menu reliably features some standards: brick chicken with crackling skin, chicken liver pâté with grilled bread and cornichons, a grass-fed steak and burger from Kinderhook farms. The only off note came in the form of a chickpea purée under a perfectly cooked duck breast with apples and radishes; the austere density of the legumes clashed with the fatty pink meat. A couple of desserts featuring local produce made a fitting conclusion: butternut squash pôt de crème—a pumpkin pie in a glass—and a quince parfait with crème fraîche, made from a friend's quinces and using cream fermented in the kitchen.

Behind the bar, the beer is all local and the wines are all natural and biodynamic. Local liquors, including Berkshire Mountain Distillers' fine bourbon and brilliant Ethereal Gin, have pride of place centered on the shelves behind the bar. Firth points to one of the taps. "We had a local hard cider in there, but they got bought up by a big corporation. I need to find a replacement." Speaking about vodka, which he does not like, he makes an analogy between the flavorless spirit and the Long White pigs that dominate industrial meat production: "They have no hair, no fat, and no flavor. It's all been bred out of them."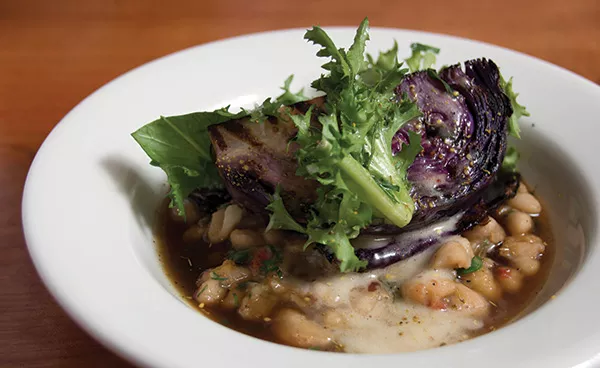 Peter Barrett
Braised and grilled red cabbage, cannellini beans, and onion broth.
Firth, who exudes a restless energy even when relaxing at a table with his family, alternates between talking about the 20-year plan for the restaurant and farm and then reeling it all back in to the present as he overwhelms himself with the scope of the work to be done. "Farming and running a restaurant are both demanding jobs. The next step is to buy a tractor and have somebody manage the farm." As the farm expands, raising more food will help increase profit margins on those ingredients, but he has no plans to be self-sufficient. "I want to keep supporting other farmers, too. We're all connected up here."
He has no time for precious, prolix menus listing every ingredient's provenance, or for self-conscious farm-to-table strutting: "It's like a 'Portlandia' sketch. I've been buying whole animals since back in the Diner days [chef Caroline Fidanza insisted] and produce from farmers. The staff all know where it's from if you want to ask them." His States-softened accent cutting through the hubbub in the dining room, he describes combining nose-to-tail cooking with an affordable menu aimed at regular folks. "It's a passion, but making other people passionate about the same thing takes time. You can't please everybody; you have to do what you believe in. But we always have a roast chicken, a good steak, and a really good burger that you can eat without guilt." While the chefs have free rein to improvise and experiment, he continues, they do so understanding that accessible standards tend to sell the best, and build a loyal local clientele. "I want to be busy on Mondays and Thursdays, too. The weekenders are just gravy."