"Sex is bad for one—but very good for two," quoth Joey Adams in his New York Post humor column. Sheri Winston and Carl Frankel disagree. "Our solo sex experience is extremely important," Winston remarks. "It's our rehearsal hall; it's our experimental laboratory where we can try things out; it's a way we nurture ourselves and love ourselves." Says Frankel: "Solo sex can also be a way to test your edges, to explore, to learn what kind of touch you enjoy. It can be very creative, just like writing poetry or making music." Notice they both avoid the term "masturbation," which literally means "to pollute with one's hand."
Winston and Frankel are a couple, and both are releasing books about sex: Succulent Sex Craft and Secrets of the Sex Masters, respectively, through their publishing house Mango Garden Press. They will celebrate with a joint book party at BSP in Kingston October 8. As far as they know, this is the first time in world history a couple has produced books on sex simultaneously.
Winston began as a midwife, registered nurse, and natural childbirth educator. When she retired from midwifery 15 years ago, she began teaching what she calls "holistic sexuality." In 2001 Winston founded the Center for the Intimate Arts. Winston appeared on the TLC show "Strange Sex" in 2012 as "the most orgasmic woman in the world." Though she admits this title is hyperbolic, Winston says, "I'm definitely in the category of mega-multi-outrageously orgasmic. I have hands-off orgasms; dozens and dozens of orgasms in sex. These are learnable skills; anyone can learn." She has orgasms that last five minutes—or even an hour! Succulent Sex Craft is a compendium of Winston's techniques, with affirmations, studies of brain chemistry, inspirational quotes, and erotic drawings. Parts of it read like a meditation manual (e.g., "Create an altar to honor your genitals").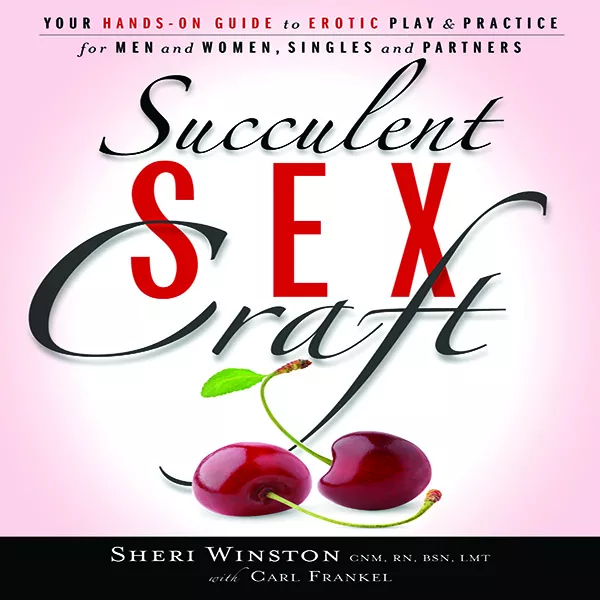 Sexperts Carl Frankel and Sheri Winston celebrate twin book releases on October 8 in Kingston.
Frankel, who was the organizer of Carl's List, a regional mutual-support network (1999-2008), began helping with the Center for the Intimate Arts in 2009, and gradually was drawn to the study of sexuality. Secrets of the Sex Masters comprises 15 chapters by sexperts, including Charles Muir, the first Tantric sex teacher in the United States, and Nina Hartley, the famous porn star.
Winston and Frankel are part of a little-known subculture known as the "sex positive" movement, which sees physical love as a beneficial human art. You and I haven't heard about this subculture—which includes polyamory (which Frankel calls "Open Marriage 2.0"), bisexuality, and public "slut walks"—because it's largely underground. In many parts of the country, admitting that you enjoy sex is dangerous.
I asked Winston about the prejudice against middle-age people discussing their bedroom antics. "The irony is that we have this idea that younger people are sexier, but the truth is, they're at the start of their learning journey, and most of them are pretty confused," she said. "Generally speaking, sex gets better the more experienced you are."
Where did all this "sex-negativity" come from? You guessed it: Christianity. "We've been taught: spirit good, body bad," Frankel explains. "And that's why integrative sexuality is so important, because we only really get the spirit through the body—otherwise, we're dead!"
The Bash of the Sex Books will begin with an hour-long "clothes-on, hands-off" sex class directed by Winston at 6 pm. There will be raffles of sex toys, then a live dance band, Mister Kick. The whole event is free.
The Bash of the Sex Books will take place at BSP Kingston on October 8, beginning at 6 pm. Bspkingston.com.