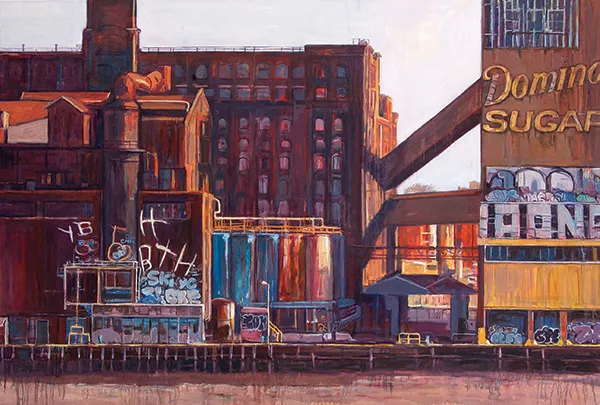 Andrew Barthelmes, Domino Sugar Refinery, 2013
"They needed a place to just talk art," says Livia Straus, co-founder of the Hudson Valley Center for Contemporary Art. She's speaking of the Peekskill Artist Club, which began May 2010. Participating artists—all 40 years old or younger—meet monthly to critique each other's work. At first, the group consisted of Peekskill locals, but now it draws from New Haven, Rhinebeck, and Brooklyn. "The Power of Place," which closes May 5, is the club's first exhibition, and apparently the first group show of young art-immigrants to the Hudson Valley. The pieces were chosen by Livia and Marc Straus.
Youth is always anxious to prove itself. One senses the desire in this show to create the visual equivalent of a "hit" in pop music. Several works succeed—including Geoff Feder's Crippled Yeti, a 1950s-style fishing lure blown up to eight feet in length. Another is Cristina Alvarez Arnold's untitled painting resembling a wheat-colored hand-woven potholder. Both works have the catchy simplicity of "Who Let the Dogs Out?"
The group is aesthetically diverse. "The Power of Place" shows the influence of Marcel Duchamp, Kiki Smith, Andy Warhol, Matisse, Donald Judd. And for young artists today, the undulant shapes of graffiti art are as inspiring as the Great Masters. Wall writing surfaces in several works: in the neon-colored abstractions of Matthew Arnold, in Andrew Barthelmes' painting of the defunct Domino sugar refinery in Brooklyn, now thoroughly "tagged" on its river-facing side. Marvin by Timothy Smith, a close-up of a shouting World War II-era soldier, was executed in spray paint.
There is a theme of obscured faces in "The Power of Place"—perhaps because people under 40 spend much of their time gazing at their cell phones. Rarely do they see each other's eyes. The only unobscured face, ironically, is in The Singularity by Ken Vallario, a surrealist parable about computers replacing humans.
Several pieces trick the eye. Sleep by Emil Alzamora is a cement sculpture of an androgynous curled figure. The piece is painted with an iron pigment that oxidizes, fooling the viewer into believing the sculpture is metal. James Mulvaney creates distressed-looking signs, in a series called "Standards for Personal Responsibilities." "He fabricates old objects," Katrina Ellis, communications director for the museum, remarks. "He makes them, then just beats them up." The results look like trash from the 1970s found beside a railroad track. Mulvaney also invents the signs' messages, such as: "Because it's better this way." Shara Shisheboran's untitled photograph shows her young daughter, surrounded by darkness, sprinkled by some unidentified powder. (I guessed cornstarch; the answer is glitter.) Mr. Speaker by Michael Zelehoski is the speaker cabinet of a public address system dismantled and mounted flat on plywood. From a distance, Mr. Speaker looks three-dimensional.
Zelehoski also has a sculptural work downstairs in a larger show, "The New Hudson River School." Open House is an ice house, used a century ago to store ice, deconstructed and laid out on a wall, 30 feet long. It's a contemporary tour de force, combining historical research, subtle craft, and Cubism. "The New Hudson River School" is raucous and mazelike, like a carnival funhouse. Will Ryman presents Signature, a Byzantine tower built from paintbrushes, and Greg Haberny contributes a large and messy installation, In Case of Emergency, Break Everything (The Money Pit), including the salvaged fuselage of a private airplane, upside down and painted gold.
"The Power of Place" will be at the Hudson Valley Center for Contemporary Art in Peekskill through May 5. "The New Hudson River School" will be up through July 28.