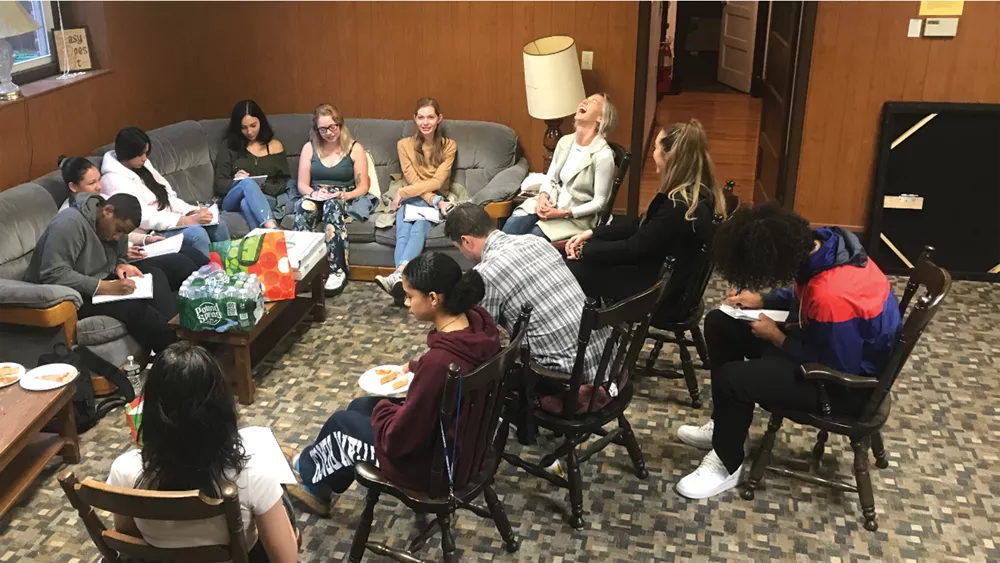 Volunteer peer leaders of the New Paltz-based AWARENESS organization training new leaders.
A few weeks ago, while the coronavirus pandemic continued to rage, Maya Hambright, MD, did something jaw-dropping. She hugged a patient. "It was a kid that I hadn't seen in a while," says Hambright, a family doctor specializing in addiction treatment. "And I just threw my arms around him, because he needed a hug. And I needed a hug." The setting was the Samadhi Recovery Community Outreach Center in Kingston, home to a walk-in, mindfulness-based recovery program that's a lifeline to so many. Even during lockdown, Samadhi introduced Zoom programming but never really closed its doors—because it couldn't. "COVID has destabilized an already unstable population," she says. "Overdoses have gone up. Relapsing has increased among people who haven't used or drank in years. I think it's the isolation, fears, the unknown, and just, really, a loss of connection. And it's across the board, not just in the recovery community."
In COVID times, we all have our crutches. Maybe it's wine o'clock. Endless news consumption. Incessant baking. Overexercising. Instagramming everything. An addiction is a behavior that crosses the line from giving you pleasure to controlling you, and that steals the show from your better judgment or reasoned decision-making. Of course, some addictions are more harmful than others, substance use chief among them. With quarantinis and Zoom happy hours, drinking is on the rise during the pandemic, particularly among women. An October study in JAMA found that instances of women's heavy drinking (four or more drinks in a couple of hours) have spiked 41 percent. And, tragically, opioid deaths are soaring among both sexes, often linked to fentanyl, a powerful synthetic painkiller that's added to heroin with potentially lethal consequences.
A hug may not cure addiction, but there are angels in the community like Hambright who know that "the opposite of addiction is human connection." That's the maxim quoted on the Samadhi website, and it's the idea behind some of the most effective sobriety programs available today. Peer-to-peer coaching, and peer leaders, mentors, advocates, and meetings are part of a new wave of nonjudgmental, camaraderie-rich, and stigma-free recovery methods that put human relationships at the center. Recovery is not easy, and connection is hard to come by in times of corona. But two local programs—AWARENESS, designed mainly for teens and twentysomethings, and Samadhi, with its mindfulness-based philosophy—build on the peer approach for a gentle yet powerful system of harm reduction. No matter what your crutch is, methodologies like these might just help you break free once and for all.
A Safe Space for Young Adults
New Paltz-based wellness organization AWARENESS (which stands for "assisting with adolescence, resolving, empowering, nurturing each student substantively") was born out of a need to break a culture of alcohol and substance use among young people. A mother of five, the program's executive director and founder Marie Shultis wanted to be part of the solution after witnessing underage drinking, drugs, and risky behaviors that led to tragic outcomes in her local community. "We started with a mentor program, pairing middle school kids with high schoolers," she says. She then worked with local judges to create an eight-week program for kids with drinking and drug charges, developing an OASAS-approved early-intervention alcohol awareness curriculum (
OASAS
is New York's Office of Alcoholism and Substance Abuse Services).
Over the years, in schools and youth centers—and these days, on Zoom—AWARENESS has evolved to offer a safe space for youth to share their concerns and reflect on their behaviors and choices within a peer group setting. "The whole basis of this is bringing kids together so they can connect," says Shultis, who takes an educational approach and works alongside licensed mental health counselors. "We connect younger kids to older peers who have been there and done that. It gives them hope, and warnings, because a lot of kids are on a trail and they don't realize it. Then they hear how quickly that trail led to so much worse for someone who is now successful and doing great. But three years ago, they were not."
That was the case for Josh Tucker, a welding-school student in Albany who wound up in the eight-week program in 2018. "I was drinking a lot and got arrested for possession of cocaine," he says. "I was pretty much living recklessly, partying and living impulsively." He heard about AWARENESS through his lawyer and didn't know what to expect. After meeting his assigned mentor, Tucker dove into the peer-to-peer format—which uses an evidence-based script developed by Dr. Ken Winters and edited by Shultis over the years to include motivational interviewing, cognitive behavioral therapy, and measurement tools. "The charming thing about the program is that you go through a template of questions and it sparks conversation," Tucker says. "You end up talking about things that maybe you've never talked about before. It's not rigid, like, 'You have a problem and this is what you have to do to get through it.' But at a certain point, you start to realize what you were doing and you become more aware of, 'Wow, that really took control of my life.' You find it through yourself, which is the beauty, in my opinion."
Daniel Koopman, a volunteer now based in Portland, Oregon, had a similar epiphany after going through the program 10 years ago, at 17. "I assumed that it was going to be, 'Drugs are bad, you must stop using,'" he recalls. "But instead of telling me what to do, it gave me the opportunity to just become more aware of what my drug use was doing to me in terms of motivation, goals, everything, and how it was detracting from where I really wanted to get to in my life. It was much more powerful to realize, for myself, what I was doing."
Statistics for 2014–15 showed that 90 percent of AWARENESS participants identified a need to change their behavior by the end of eight weeks. The program also has a high rate of graduates who, like Tucker and Koopman, stick around to become peer leaders themselves. "Sometimes, 80 percent of the kids will stay and help after going through the program, because they get excited to be involved," says Shultis. "They're empowered to be leaders, and that is what will help them to continue on a good path."
Participants can join AWARENESS offerings virtually, including an online "Start with Hello" isolation-breaker program. While Zoom has opened doors for the program, attracting youths and volunteers from other states to join its meetings, Shultis has plans for expanding in the schools after COVID subsides. "My ultimate goal, after going into middle schools, would be going into elementary schools to teach something around kindness and empathy," she says. The earlier the intervention, the better. "All the kids that get tickets and don't get sent to something like this, they're at a huge disadvantage," she adds. "Because then their first experience is rehab, and now you're forcing them to do something. And sometimes they're [using drugs or alcohol] for stress relief or anxiety or depression, and it's heightening all of that to have to go to this place. That's why it's so important to reach them early and try to help."
Creating Trust, Honesty, and Acceptance
Geared toward all ages, Samadhi Recovery Community Outreach Center differentiates itself with an emphasis on mindfulness, teaching coping skills to avoid slipping into addictive or harmful behaviors. With its mix of online and in-person programming, Samadhi has a packed calendar of 8-step and Refuge Recovery meetings (which resemble a Buddhist approach to the 12 steps), sitting meditation, somatic experiencing, trauma-informed yoga, qi gong, and more. While Hambright offers medication-assisted treatment, such as suboxone, Samadhi is very much rooted in harm reduction. "You don't need to be abstinent to come to us. People have so much shame and it just keeps them away from what they need," she says. "Whatever your addiction is, or your not-addiction, or whatever it is that you're looking for, you could spend the whole day doing programs at Samadhi and not once talk about drugs or alcohol. It's really just about you. It's about finding compassion for yourself, forgiveness of yourself, or whoever else. That's connection. And learning how to sit with yourself, which is the meditation part."
In August 2019, Samadhi held its first peer-to-peer training program, which resulted in 63 certified peer recovery advocates. "It's incredible because they all have different backgrounds," says David McNamara, Samadhi's founder and executive director. "We train people who have been incarcerated, or who've been addicted to heroin or cocaine. We've trained parents of children who have been addicted to substances. And people that have had sex addiction. The idea is, when someone calls looking for a recovery coach, or from the drug court or DA's office, then I or Jennifer Munn, my director of peer services, will look at the person's case history. And we say, 'Oh, she just lost her child from CPS. So, I'm going to put her together with Helen, who lost her child from CPS six years ago and got her child back.' They have that connection and that experience together. For somebody who's just come out of incarceration, I'm going to put them with someone who's been incarcerated. We have transgender people who have faced different kinds of situations and can offer that understanding. Because you want to create that bond and that trust and that honesty."
Luis Mojica teaches a class on holistic addiction recovery to certified recovery peer advocates and volunteers at Samadhi Recovery Community Outreach Center.
Peer-Assisted Recovery
The magic of peer-assisted recovery is that it creates a connection that's not hierarchical. "It's not like, 'They're the counselor and I'm the patient.' It's a different way of approaching things, and it's much more based in harm reduction," says McNamara. "One of my students said it's like taking somebody arm-in-arm and walking through their recovery with them. It's somebody that knows what you've been through and will share their experience to help you, but you have to do it. They're going to be there, like a cheerleader, and there are different roles that we teach. It makes such a difference that you have somebody you can call in a crisis, and somebody who's going to call you on your BS too, when you need it."
The ultimate goal, through Samadhi's program of mindfulness, is to develop the resiliency and acceptance that will get us through the ups and downs of life. "Recovery is about learning how to accept whatever life's presenting to me," says McNamara. "I may not like it and want to change it, but I can't change reality. I think that's what the pandemic has really laid bare for everybody, which is that we don't have as much control over things as we think we do." It's critical to note that Samadhi is not just a program to stop using substances, because people can easily replace a substance with something else, such as anger, social media, or sex. "One of the things we teach is that addiction to anything is an attempt to avoid change or control the seemingly unbearable conditions of the present moment. It only seems unbearable because we haven't attempted to go through it. We've attempted to avoid it, change it, ignore it. But it's not until we actually let ourselves be with it that we can actually move through it."
You don't have to be a monk or an expert meditator to get to this place; mindfulness requires less willpower than people think. "Meditation is examining our own mind and being able to see ourselves clearly, so that when we get triggered, and we want to reach for that drink, it doesn't make you a bad or weak person. It's just what's happening," McNamara says. "And the more clearly I can see that, then the more I have a choice. When I can't see myself clearly, I'm not really making a decision. Like when people say, 'Well, I just drank a whole bottle of wine and I didn't even want to have a drink tonight. That's so weird that I did that.' Or, 'I just wanted to have that one Oreo, and I looked down and the whole box was gone.' When you're not able to pay attention to yourself, those things can happen. It's automatic."
Developing the habit of paying attention doesn't take a huge time commitment. McNamara has seen people change just from spending three to five minutes a day on mindfulness. Consistency is key, and more important than finding a half-hour to meditate. "Usually what happens is that if the person notices the change within themselves, they become inspired to take it deeper and practice more," he says. Meanwhile, having a peer by your side, to cheer you along or be your witness with unconditional acceptance, can make all the difference.
AWARENESS has been nominated for Ulster Savings Bank's Mid-Hudson Heroes contest in the Health, Housing & Human Services category. You can help them win $2,500 by voting daily Dec. 3-13, 2020, on the bank's Facebook page.