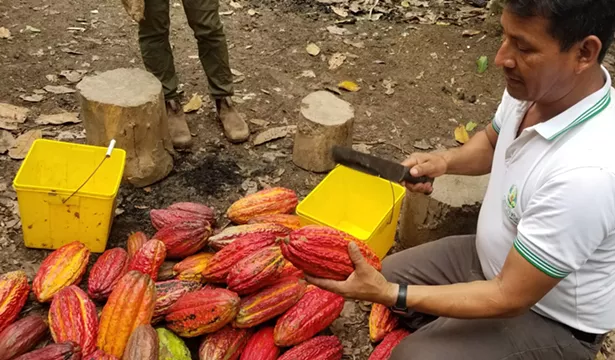 Images courtesy of Berkshire Food Co-op
Whether you're on the hunt for pasture-raised Berkshire pork chops for dinner or looking to quench your thirst with a funky small batch kombucha, it has become increasingly easy to find local and conscientiously grown, sourced, or made food and drink. But what's a sustainably-minded locavore to do when it comes to items that can't be grown in our region, such as coffee, chocolate, bananas, and spices?
Shoppers at Berkshire Food Co-op in Great Barrington, a member-owned cooperative that has been bringing sustainable groceries at an affordable price to the Berkshires community since 1981, will find an answer in the bold red packaging and labels that proudly proclaim "Equal Exchange" that can be found on shelves throughout the store.
Images courtesy of Berkshire Food Co-op
Center Store Manager David Kelly with members of the Oro Verde Cooperative in Lamas, Peru. The cooperative joins 1,687 small cacao farms to share resources and negotiate better prices for all.
"Equal Exchange really invests in the communities they work with," says Berkshire Food Co-op's Center Store Manager David Kelly.
The worker-owned, fair trade buying cooperative was founded in 1986 to help support democratically organized farmer cooperatives in Latin America, Africa, and Asia in industries typically dominated by plantations paying poverty wages. The company helps educate farmers on the benefits of a cooperative like resource sharing and collective organizing for better labor practices, and it offers them fair or above fair market prices for their goods.
Images courtesy of Berkshire Food Co-op
Cacao beans drying in a processing facility, where they will later be fermented and packaged for export.
Kelly experienced Equal Exchange's dedication to its farmer cooperatives firsthand on a 2019 trip to the Peruvian Amazon that he and only five other co-op representatives from across the country were invited on.

During the trip, he stayed with farmers at both a cacao and a coffee farm to better understand their lifestyles and get a glimpse at the beginning of the long supply chain journey that eventually leads to the tasty bars of chocolate and roasted coffee beans that shoppers see on shelves.
Images courtesy of Berkshire Food Co-op
It's a 2.5-hour hike up the mountain to the cacao farm. Heavy rains render the roads impassable for vehicles, so farmers carry supplies up and harvests down the mountain on foot.
"We hiked miles to the farms in the morning and worked the fields with them every day, getting to know the lives of those farmers and what they struggle and go through both physically and financially," Kelly says. "It really brought home the importance of everything they do and how the choices we make as a co-op are so impactful.


Kelly says that some of the farmers shared that before joining the cooperative, the land was used by cartels to grow coca. "Now they're finally growing what they want to grow on the land they love," he says. "Fair trade is really important to them. It allows them to buy new equipment, to buy better homes. The empowerment of working together with others in their own regions and finding that camaraderie and cooperation can help break the cycle of labor exploitation."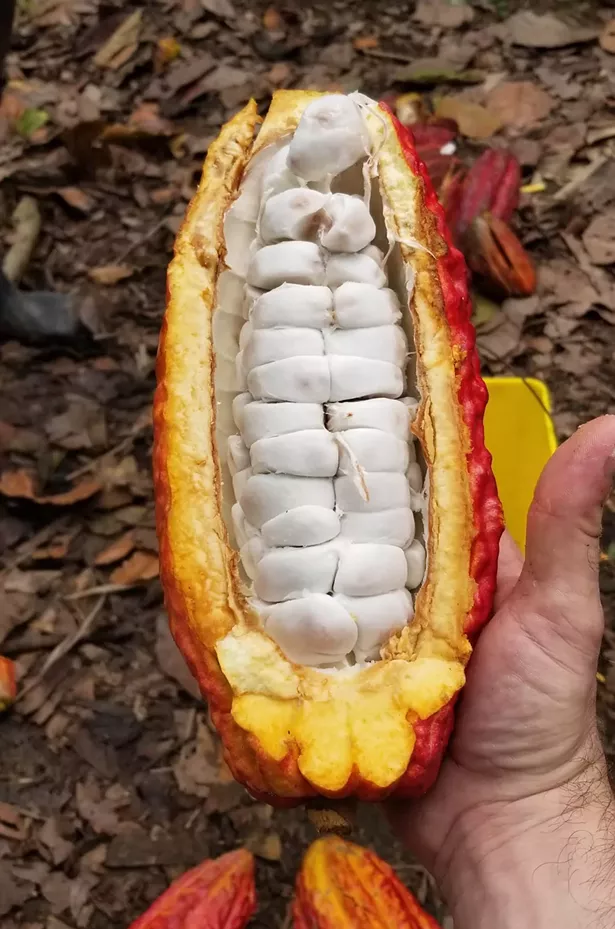 Images courtesy of Berkshire Food Co-op
Cacao begins as a flower with tiny pods that grow to be as large as 6-10 inches in length. This variety has a bright red skin with 30-40 beans inside.
One of the seven cooperative principles that guides Berkshire Food Co-op's mission is cooperation among cooperatives. "We really try to source from cooperatives first," Kelly says. From housewares to bananas to packaged dry goods, cooperative-made products can be found throughout the store, offering shoppers an easy way to create a small but meaningful impact on the workers who grow and make those goods.


"These experiences have changed the way I see the food chain from start to finish," Kelly says. "And it allows me insight to make better choices for our local community."
October is National Co-op Month. To learn more about Berkshire Food Co-op or to become a member-owner, visit Berkshire.coop.