All of the regulars at the Rhinebeck Crafts Festival in the late 1970s would joke about it. They'd laugh and say, "With all the great artists that don't make it in, someone should start a show for all the rejects." Artist Richard Rothbard, one of the ones who did get in, has both a sharp sense of humor and an intuitive knack for business. He knew it was nothing to laugh about.
In 1980, Rothbard invested $500, rented a tent, and signed on 50 exhibitors to sell their wares in the parking lot across the street from the festival. More than 1,000 people showed up that first year, and Rothbard continued what became known as "the other show" for 13 years. He's proud of the high standard he's maintained and that he's done it while keeping his integrity intact. It's more than just business to him; he's wholly devoted to promoting the arts and supporting his artists in whatever way he can.
American Art Marketing produces fine art and crafts shows across the country, and has come to specialize in finding new markets that are ripe for a fair. For instance, the Berkshires, with its summer crowds, local artists, and scenic locale, seemed like a natural venue, yet most organizers had stayed away because they feared there wasn't enough of a residential base to support it. Rothbard picked the busiest weekend of the summer—the July Fourth holiday—and had 10,000 visitors the first year. The show is now in its sixth year, and attendance is just as strong. Rothbard has also launched shows in Danbury, Connecticut, and Westfield, New Jersey.
"It all has to do with your tolerance for risk," says Rothbard. "How successful will you be? You don't know until you do it. I've managed to take risks that weren't as risky as others might think. With knowledge, you can have an understanding of what you're up against." Rothbard isn't exactly modest, but he gives the real credit to the artists. "Artists are entrepreneurs, they're the greatest kind of entrepreneur. They take raw material and make it into something useful, something beautiful. Do they know how successful a piece will be?"
This year, live glassblowing and woodworking demonstrations were added to the roster at the Berkshire Crafts Festival. In his true entrepreneurial spirit, Rothbard is always testing how he can improve each show. With live entertainment, food vendors, and other added attractions, Rothbard hopes to bring in larger crowds. In particular, he notices a lack of children at the shows. This troubles him, but not for financial reasons. He explains, "Parents should be bringing kids to these shows. Kids should meet artists, talk to them. If you have a child that has any artistic interests at all, it can open up so many doors for them." And, he adds, "most shows are free for kids."
Adventures in marketing
Rothbard and his wife, Joanna, who is also an artist, manage American Art Marketing out of their rustic home in the Orange County town of Slate Hill. The offices, warehouse, and workshop also serve the Rothbards' two other businesses—American Craftsmen Galleries, the last surviving crafts gallery in Manhattan; and Boxology, Richard's own artworks, which he describes as "poetry, psychology, and philosophy in wood."
On a given day, Rothbard does everything from checking e-mails to checking warehouse orders to pricing merchandise to designing ads. Joanna primarily works with internal operations—tracking data, supervising staff, managing computer systems, and buying for the galleries. They work seven days a week, traveling to Manhattan two to three times every week. Rothbard admits they survive thanks to gyrotonics and pilates classes once a week and taking vacations in the slow periods. Through years of experience, they've learned not to get as stressed as in their earlier days together. "It's become a matter of extreme organization, and hiring the right people," he explains. "Some of our employees have been with us for 20 years or more."
Rothbard has also developed extensive systems of reporting, so he can keep track of exactly which artists are selling and how much as well as provide triple and quadruple checks for quality control. When you own your own business, he says, "you're responsible for everything that happens, and everything that doesn't happen. Of course, things are going to go wrong and that's not your fault—unless you screwed up."
Rothbard is frank about his adventures in business, admitting to learning the ropes as he went along. An art fair in Indianapolis, for instance, never took off for reasons he attributes to listening to the wrong people and having a weak marketing plan. In other locations, his shows were eventually overcast by larger, glitzier shows that followed on their coattails.
When it comes to the gallery, Rothbard says, "We had no way of knowing it would be a home run, that we'd be so successful, so fast." With locations in Rockefeller Center, Times Square, and Stockbridge, Massachusetts, American Craftsmen Galleries represents more than 500 artists. The couple purchases more than $1 million in crafts annually, and sales have remained steady. Prices on the objets d'art vary greatly, with pieces ranging from jewelry and furniture to ceramics and glassware. The celebrity roster of customers includes regulars like Andrew Lloyd Weber, Bill Clinton, who's stopped in to buy perfume bottles on several occasions for Hillary, and even Oprah, who owns one of Richard's boxes.
"I'm at the gallery a lot of the time," says Rothbard. "It makes a big difference. When people are spending money like that, they want to know you." He continues, "It's the same thing at the shows. I tell the people that aren't selling, 'You have to be there yourself, to talk to people and get them to trust you.' It's about them knowing who you are, and it's also about the business of selling."
Building trust
Across the board, Rothbard maintains a reputation for integrity and quality work. "We try to set the bar higher," he says. When referring to the jury selection process for the art fairs, he says he takes into consideration not only his own standards but also that of the other exhibitors. "You have to take them into account," he says. "We treat the artists as business equals." This practice of building trust-based relationships with artists has proven to be a great asset, and the trust has been reciprocal. "A successful show gives us instant credit," he explains. "If we're responsible for the $50,000 an artist makes, they're eager to support us with the gallery." Oftentimes, he says, it's gone even further than that. "We've helped many artists who couldn't stay in business. We did what was necessary to keep the craftspeople who were supplying us in business."
Boxology is the business that is closest to Rothbard's heart, and it's easy to see why. He describes the handcrafted music, jewelry, and puzzle boxes as an evolution in his woodworking, which he began in 1967. He uses a variety of exotic woods, like bubinga, a finely textured, reddish-brown African rosewood, and bocote, a golden brown hardwood from Mexico and Central America. One, in the shape of a piano is made from maple burl with a natural, freeform edge. Delicately carved hands serve as the handle, and when opened a small, velvet-lined compartment is exposed. For those who choose to have the boxes customized, a song of their liking can be played when the box is opened. In addition to being exquisite, most of the boxes also tell a story, either a scene from history or of someone's life. Adam and Eve, for instance, in all their innocence, or Alice in Wonderland, her story unfolding in layers as the drawers of the box are opened.
Rothbard admits he's unlikely to give up any of the businesses any time soon, even though he's achieved a comfortable level of financial success. He wonders what he would do with his time if he wasn't working, and points out that many people look forward to retirement in order to try the kinds of ventures he's been at all his life.
"We're not millionaires. When you take risks, there are losses. It's expensive, living today. We also like to take vacations and travel a lot. I'm an artist and a gallery owner and a show promoter," he says, trying to sum up all that he does. "It's work but it's not work. It's the impossible dream."

Richard Rothbard's wooden box creations can be seen at www.boxology.com.
Hillary Harvey
One of Rothbard's boxes with a "key," a cut-out design.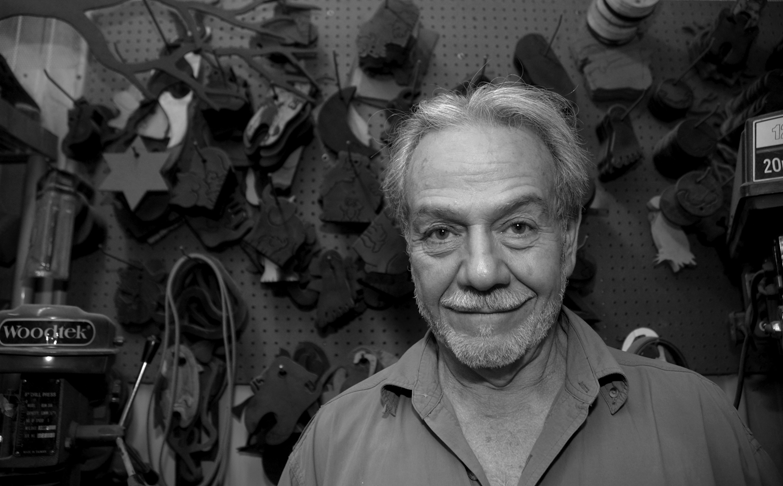 Hillary Harvey
Artist Richard Rothbard in his Slate Hill workshop.
Hillary Harvey
A piece of maple from Rothbard's woodpile, ready for carving.