[THE EDITORS OF CHRONOGRAM CHOSE TO PROFILE THIS HOUSE AND HOMEOWNER. THE FEATURED HOME IS NOT FOR SALE.]
As founder of
the Listings Project
, artist Stephanie Diamond has a strong passion for houses—and the pristine vaulted ceiling, glass windows, and wood-everything in her Phillipstown home show it.
Fifteen years ago,
Stephanie Diamond
went looking for an apartment. A graduate student at the time, the artist, dancer, and entrepreneur was living in Queens but wanted to be closer to the NYU campus in Manhattan, where she was studying art education. "I emailed my friends, like all of us do before we start casting a bigger net, and said, "Hey, I need a space." Diamond, a native New Yorker, had already built a substantial contact list, first as a student at the Rhode Island School of Design and then working as an educator and community coordinator for MoMA PS1. "People sent me great listings," she recalls, and although she actually found a place through another avenue, what happened next was unexpected. "People
kept
sending me great listings," she remembers. All were for unique apartments and too good to keep to herself, so Diamond passed them along to her network of artists and healers. She didn't think too much of her tendency to share. "I just did it, I didn't mean to make it anything, I was just helping people out," she recalls. Then she received an email from a fellow artist: "I'm renting my space, can you send it out to your great list?" it asked. "I thought, 'Great list? What are you talking about? What great list?'" A light bulb went on. Diamond connected the dots and her ingenious combination of social art practice and high-tech entrepreneurship,
the Listings Project
, was born.
The daughter of a landlord and an artist with "a photographic memory for every space she's ever lived in," it was natural for her to combine her love of photography with her love of shelter and her talent for creating community. Curated and updated weekly, her emailed "list" features "every type of space situation available"—including art studios, apartment shares and swaps, lease-takeovers, exhibition and rehearsal spaces—sharing them with members all over the world. More than just dwelling spaces, the Listings Project is a place to make meaningful connections and grow community creatively. True to her talent for connecting people with places, Diamond and her growing family have found a space especially suited to themselves in the rolling landscape of the Hudson Valley. A modernist house of glass, wood, and stone with an earth-friendly design, it honors the surrounding landscape's respective history. And, while it took Diamond time to find her place, she quickly forged a deep connection to the land and her newly adopted Hudson Valley community.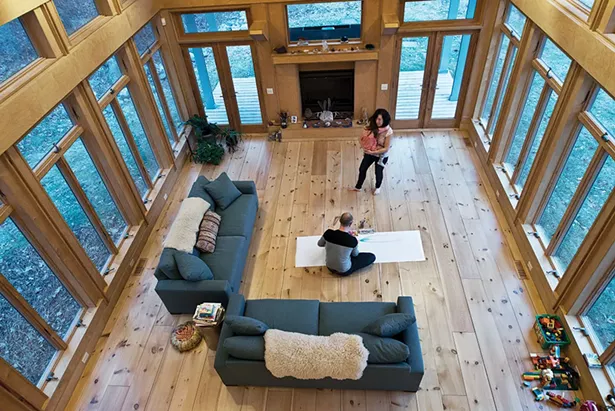 Deborah DeGraffenreid
The home's two-story main room is open to the upstairs loft. The bare floors are intentional. "We are a dancing family," explains Diamond. "We dance every day or we are in here making art."
Finding her way home
Both the road to Phillipstown and the road to running a successful start-up had their twists. After that first explicit emailed request, Diamond partnered with an internet provider and established a website where friends could sign up to receive listings. Like a snowball rolling down a hill, the number of submissions grew, all of them vetted by Diamond and then shared with an expanding roster of members. When her professional situation changed, Diamond realized she had to monetize the service but was hesitant to ask for money. She didn't want to lose her community but couldn't afford to keep working pro bono. So she wrote a letter to listers explaining her decision to charge on a sliding scale. Instead of rejections she received thank you notes. The overwhelming positive response —that she should continue, and that many members had already been looking for a way to repay her—challenged her notion that being an artist meant constant financial struggle. "Artists are not nonprofits," she realized. "We can make money." With the blessings of her community, Diamond hired her first employees and began adding new features and categories to the site.
Diamond's personal life added a few categories as well. She discovered the "5 Rhythms," a movement meditation and dance practice, and trained as a teacher. At one of the dances Diamond met her partner, an educator with a background in holistic youth development, equity, and inclusion work. They had a daughter, and after living in New York City for many years, decided to try life on the West Coast, relocating to Berkeley, where they lived for two years. It was a rather circuitous route, but this cross-country move helped Diamond realize where her true home lay. She found herself missing the East Coast attitude and people as well as the brood's extended families in New York and New England. However, their connection to the natural world was equally important—returning to New York City wouldn't do.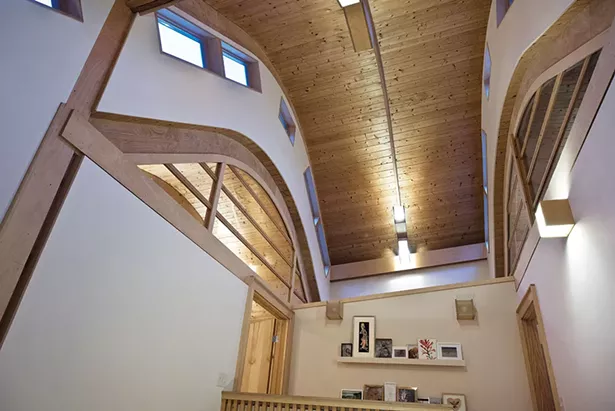 Deborah DeGraffenreid
The home's barrel-vaulted ceiling and multiple interior and exterior windows enhance the bright, boundless space. A mix of the couple's own artwork, friends' pieces, and family photos line the walls.