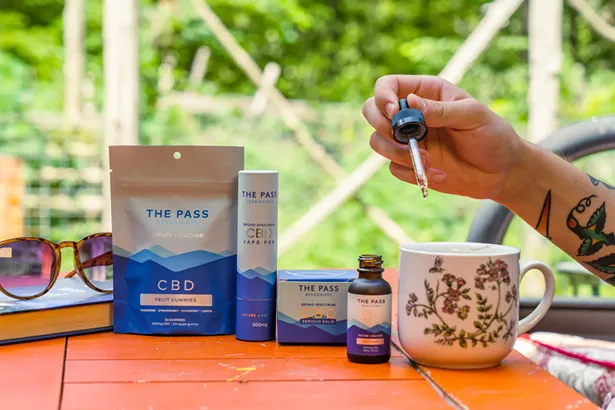 Since The Pass opened its recreational cannabis dispensary in the small mountain town of Sheffield, Massachusetts in July of 2020, the vertically integrated company has worked diligently to bring its farm-to-label philosophy to cannabis connoisseurs in the Berkshires and beyond. It was only natural then, that when the company chose to break into the often downright confusing CBD market, that The Pass would adhere to the same values of sustainability and transparency that have defined its approach to recreational cannabis.
Hitting shelves this month is The Pass's new line of high-quality CBD products, which are designed to support the holistic cannabis experience and complement the dispensary's current offerings.

With the addition of its CBD products, customers now have access to a diverse range of high-quality, trustworthy products and experiences that call on the full spectrum of naturally occurring elements of the cannabis plant, from terpenes to cannabinoids to THC.
Products now available include The Pass's Full-Spectrum Mixed Fruit CBD gummies, which come in tangerine, strawberry, raspberry, and lemon; its CBD Muscle Balm with a cooling blend of menthol, wintergreen, peppermint, eucalyptus, and camphor oils; and its CBD Tinctures, made with CBD hemp extract, MCT oil, and pure peppermint oil, which are perfect for oral use or adding directly to food or beverages. Its Full-Spectrum CBD Vaporizers, with a refreshing blend of lemon, spearmint, and bergamot oils, is set to join the lineup soon.
The Pass partnered with Massachusetts-based Heritage Hemp to grow its hemp, which is non-GMO and grown without the use of chemicals or pesticides. True to one of The Pass's core tenets of sustainability, the hemp that Heritage Hemp's collective of small farmers grow also provides benefits to the environment through the use of low-intervention regenerative farming practices, which can help remove carbon from the atmosphere and return it to the soil.
For more information about The Pass's new line of CBD products, visit Thepasscbd.co.