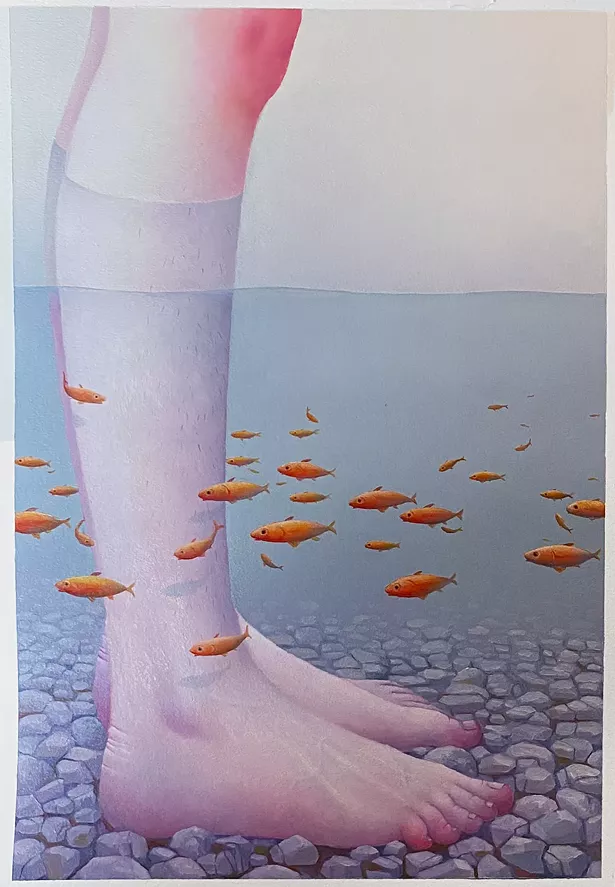 Detail of Swim: States of Being, oil on paper, 22" x 30", 2020
As part of a series called "New Work On Paper," the detail of the painting featured on this month's cover suggests an aquatic dreamscape in a fluid surreality, featuring two feet with fish submerged in water. Inspired by the life of environmentalist Rachel Carson, painter Ashley Williams wanted to tell a story about Carson's direct, sensory experiences in nature and her deeply romantic relationship with her friend Dorothy Freeman. "It's a story about desire, impending environmental disaster, and the power of dreams," Williams says.
Initially, Williams wanted to create a comic book based on Carson's life, but found that the illustrations quickly became too abstract to function as a linear narrative. "Over time, the project evolved into a series of paintings, but the graphic novel/comic format stuck," she explains. "I've always been drawn to the aesthetics of comics: dividing an image into cells, moving the reader through the space of a page."
Completed during the pandemic, the painting echoed Williams's feelings of isolation. "I found myself thinking about how we divide our days, the patterns of the sun and moon, the strange ways that time seems to speed up and stand still when we spend so much time alone," she says.
Williams, a resident of South Hadley, Massachusetts, is also inspired by nature. "I believe we can learn from plants, animals, and rocks about how to be better humans," Williams says. Rachel Carson believed this too. "I often ask myself how fully can we understand a cloud, a tree, or a rock? Can we develop a vocabulary that enables us to do that? What does our desire to engage with the non-human world tell us about ourselves? My central goal as an artist is to discover alternative, more empathic ways of interacting with nature and with each other," she adds.
Rendered in oil on gessoed paper, the painting is an exploration of touch and sense-based communication. "This is also a story about an impending environmental disaster, which you can see in the final frame of the series," Williams says.
Though this particular piece will not be on display, other works by Williams will be featured in "Urgent Beings," an exhibit at the newly opened Headstone Gallery in Kingston, from July 2 to 31. "I have created an enormous painting of a lichen-covered rock and a series of painting and sculpture pairs," Williams says of the works that will be featured in the exhibition. "I've been playing with light, shadow, and layers of oil painted paper."
Much of the work is paired with "data" and "field notes," which serve as a record of Williams's attempts to connect with the nonhuman world. The text and color "core samples" contain information about animal communication, questions about the nature of language, and her deep desire for interspecies understanding.
The newly refurbished 1,200-square-foot gallery space at Headstone was created by artists Lauren Aitken and Chase Folsom and features exhibitions of contemporary artwork by emerging and established artists from all over North America.
Folsom and Williams attended grad school together at UC Boulder and have stayed in touch ever since. "We were thrilled to know that Ashley was close by in Massachusetts and that she was available to show with us," Aitken and Folsom replied via email.
In all of her work, Williams endeavors to communicate desire. "My work is always a kind of reaching out—a desire for human and non-human connection," she says. "I call all of my work 'communication attempts.' These attempts sometimes fail. There are so many mumbles and missteps in the process. I am deeply interested in the failures of language and in our eagerness to connect with each other despite how difficult that often is. I think mumbles and stumbles are weirdly beautiful."