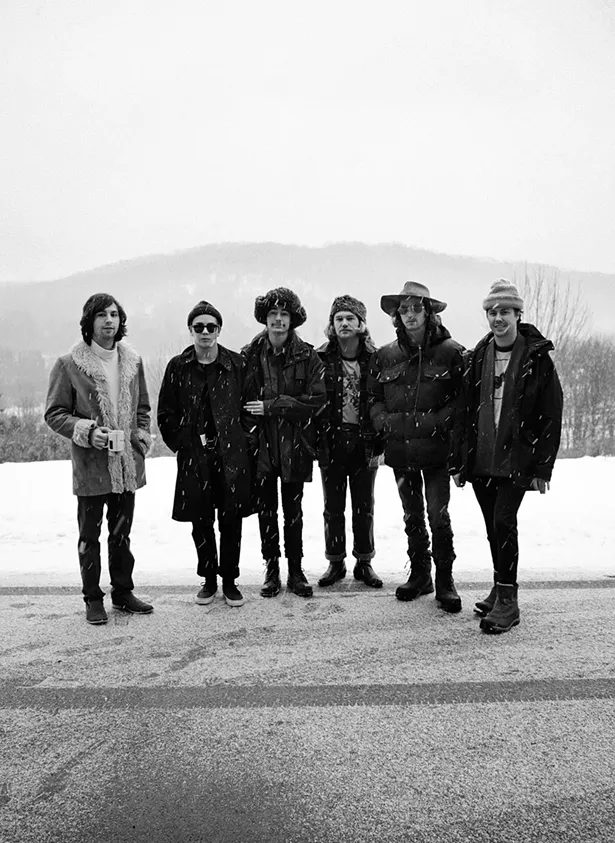 Fionn Reilly
The Nude Party outside their Livingston Manor farmhouse (l-r): Patton Magee, Alec Castillo, Austin Brose, Shaun Couture, Connor Mikita, Zachary Merrill.
It was never anything sexual," says singer and guitarist Patton Magee about the activity that inspired his band's name: performing in the buff. "It was just, you know, to be weird."
Being nude and weird were central to the Nude Party's branding when they began performing in their native North Carolina. The former practice, though, has ceased, at least for the time being, as the six-piece psychedelic/garage rock outfit weathers its first butt-freezing Hudson Valley winter since relocating here over the summer.
"We've started to care more about the songs," explains guitarist Shaun Couture. "We want people to focus more on that." While the nudity has been shelved, the weirdness, thankfully, remains.
The band, whose members are all between 23 and 25 years old, also features drummer Connor Mikita, bassist Alec Castillo, percussionist Austin Brose, and keyboardist Zachary Merrill. The sextet came together in 2013 around a shared love of partying and British Invasion sounds. Throw in an irreverent sense of fun and more recent Velvet Underground, Modern Lovers, and Syd Barrett-era Pink Floyd influences—your music editor also hears the classic San Francisco stylings of the first Country Joe & the Fish album and early Grateful Dead—and top it all with the contemporary psych of the Black Angels and the Allah-Las, and what you have is a lysergic, dance-friendly concoction full of freaky, feelin'-fine grooves. Free your mind and your (bare) ass will follow.
The birthplace of Nude Party is the remote Blue Ridge Mountains town of Boone, home to the late Doc Watson and a thriving bluegrass culture but by no means a nurturing hive for garage rock. So how, then, did the boys bump into such arcane, nonmainstream inspirations when the local college station runs a "commercial alternative" format and the closest major underground rock scenes are hours away? The answer, of course, is the internet, and one posits the band wouldn't exist as such without it; millennials who've grown up with the ability to instantly access and listen to pretty much anything have had their tastes shaped in polyglot ways unimaginable to previous generations.
"Yeah, I guess that's sorta true," says Magee. "We got into the Animals and early Stones first from hearing them on the classic rock station and from some of our parents' record collections, then we started looking up stuff on Spotify that was related or kinda had that sound."
Although several of the group's members had known each other in high school and some had met as students at Appalachian State University when they decided to start a band, only Magee and Couture had previously played instruments; bizarrely, given the Nude Party's lo-fi sound, Couture had been in a short-lived band called Carson that featured "American Idol" contestant Taisha Bethea on lead vocals. When Castillo's parents vacated their rural lake house for the summer, the six moved in together, Monkees-style, and began hosting drunken public jams there while they figured out how to make music—often getting naked along the way. "We were loud and bad," remembers Merrill. "We'd learn one riff—the main riff from [Booker T & the MG's'] 'Green Onions' was the first, I think. Then we'd just play it loud and quiet until we pissed off the neighbors."
Original songs began to be worked up and the band started playing at outside house parties and at the town's handful of bars. "Even though the kind of music we were playing was really out of place in Boone, we'd still get really good crowds at the gigs because there's just not a lot to do there," says Brose.
"We didn't really do the naked thing at bars, mainly that was at parties," says Castillo. "It really divides the crowd—people either think it's hilarious or they get offended. Sometimes people in the audience would get naked, too. Once we played this basement party where everyone was fucked-up and naked and someone had called the cops because of the noise. When the cops walked in they were, like, 'What the hell is going on here?!'"
Encouraged by visiting Asheville garage greats the Shine Brothers, the group cut 2016's basement-recorded Hot Tub EP (a concurrently released 7" features two of the EP's tracks) and started touring, at first regionally and then nationally, opening for name acts like the Jacuzzi Boys and the Growlers along the way. "We drove 24 hours to play three shows at South by Southwest, where one of the clubs threatened to cut the power on us and call the cops because one of us got naked," Magee recalls. "Then we drove 24 hours back to Boone. We got home just in time to fail our midterms."
Later that year, Shine Brothers keyboardist and Black Lips drummer Oakley Munson tipped area promoter Andy Animal, the mastermind behind the brilliant Meltasia music festival, to the band. The impressed impresario added them to the lineup of Meltasia's inaugural weekend in Greene County. There, the (clothed) group slayed with a set marked by chugging, yet-to-be-released jams like "Feelin' Alright" and "Boys Gotta Make a Living." The local love was mutual, so much so that when Munson offered to manage the band and invited them to live communally in his newly purchased Livingston Manor farmhouse, they readily accepted. With the stately, weathered manse as their new base—Nude Manor, they've dubbed it—the band is putting down fresh roots at Hudson Valley venues and taking advantage of the striking distance to New York City, where they shared the bill with the reunited Make-Up and others at September's Seaport Music Festival and completed a three-night residency at Baby's All Right in Brooklyn last August. "It was a pretty easy transition, moving up here," says Mikita. "It actually feels a lot like the area we're from."
At the time of this writing, the band is putting the finishing touches on their upcoming debut on New West Records, tracks for which were produced by Munson and engineered by Matthew Cullen (Yoko Ono, Isobel Campbell and Mark Lanegan) at Dreamland Studios in Woodstock. "Some of the newer songs have a '70s outlaw country vibe," explains Magee. "We've been digging a lot of Graham Parsons with the Flying Burrito Brothers, a lot of Merle Haggard and Willie Nelson. Our buddy Catfish from the band Natural Child has been sitting in on lap steel. So, we're experimenting a lot now with different styles."
During the leadup to the new album, the band has been unveiling new songs online via a series of official videos, rather than physical or digital releases. The most recent is for the organ-dominated "Water on Mars," a surreal Alice in Wonderland-esque romp, shot in the wilds of North Carolina before the band's Northern exodus.
When questioned about what it was in particular that drew him to the band, Andy Animal is quick to reply. "What's not to like?" he answers. "Musically, they're like a cross between the Velvet Underground, Canned Heat, and Davie Allan and the Arrows. And as people they're funny as hell. All very comfortable in their own skin."
The Nude Party will perform at Mercury Lounge in New York on January 11 and Baby's All Right in Brooklyn on February 1. The official video for "Water on Mars" is viewable now on YouTube.