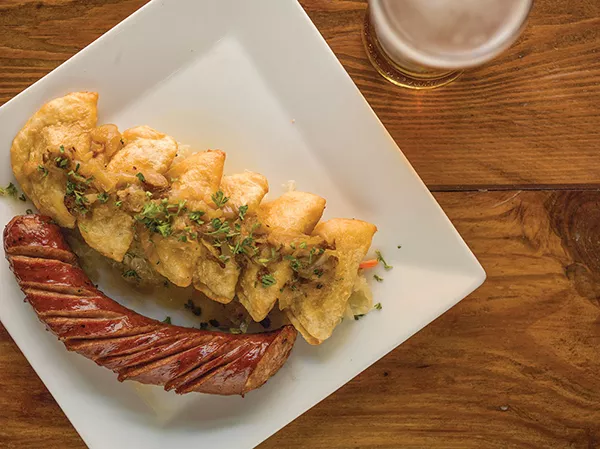 Matt Long
Pierogi entree, served with house-cured Polska kielbasa
Saturday nights in Catskill are still relatively quiet—unless you're at the New York Restaurant, where the libations are flowing, the house band is rocking, and the wait for a table is 25 to 30 minutes without a reservation.
Located on Main Street in the historic-yet-perpetually-up-and-coming village of Catskill, the New York Restaurant offers live music, a full bar, and classic American and Polish cuisine—also known as "stick-to-your-ribs" kind of food. If you're looking for gourmet food that's light and airy and leaves you raiding your refrigerator when you get home, move along. If you want unpretentious, delicious, affordable food that could last for potentially one or two more meals, this could be your next favorite spot.
The hefty half-pound New York burger ($11.50), served with a steak knife sticking out of its warm sesame bun is as flavorful as any burger in a five-star restaurant. Many of the appetizers, like the pierogi ($6.50) and Polska Kielbasa ($10.50), are almost meals to themselves. But it's more than the rich and hearty food that draws people here—it's also the casually elegant, nostalgic yet alluring vibe that reminds one of both an Eastern European pub and an eccentric grandmother's parlor.
This is intentional, of course. Owner Natasha Witka conceived and designed the restaurant to be an extension of her living room, which, as the child of Polish immigrants who settled in Catskill when she was five, was full of family, friends, and food.
Witka credits her babcia (grandma) for teaching her authentic methods and styles of old world cooking, and her aunt and uncle, who own Pyza, a Polish restaurant in Greenpoint, for teaching her about the food industry. During summer breaks from high school and, later, college years in New York City (she studied business and law at Pace University), Witka worked her way up at Pyza, bussing tables, working in the kitchen, and doing everything in between, in order to soak up as much knowledge as possible before returning to Catskill to pursue her own dreams after graduation.
"As early as I can remember, I've always wanted to have my own restaurant," recalls Witka, now 30 years old. "My whole vision was to create something comfortable, warm and inviting, that was casual but had a statement of class."
She bought the 150-year-old building that houses the restaurant in 2014. It had been vacant for nearly a decade. "It was in such bad condition that the village was ready to condemn the building, but something just kept calling me there," she says.
As far as Witka knows, the location has always been a tavern, pub, or restaurant. In fact, in 1922 it opened as the New York Restaurant (a photo of the original establishment is on the restaurant's website). Witka decided to re-birth the name when she opened in October 2015 after a grueling year of renovation that included repairing the collapsing roof and cracked sewer lines, as well as preserving a 120-year old freight elevator in the sidewalk once used to bring in ice. She installed a piece of walkable glass over the old elevator, so people can see it before entering the restaurant.
"Preserved history connects people," says Witka, who furnished the restaurant on a budget by shopping at local auctions, salvage yards and with the help of Deb Parker of Sister Salvage, a popular antique and vintage shop in nearby Hannacroix.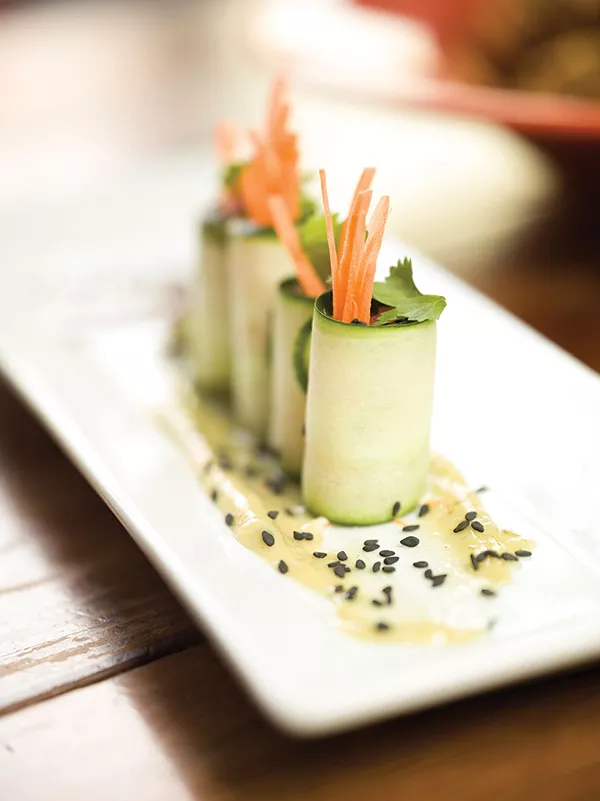 Matt Long
Ahi tuna cucumber rolls
Diners sit at candlelit tables made of repurposed wood on soft leather benches lined with pillows, surrounded by old world charms like exposed brick walls and cream-colored tile floors (both original to the first New York Restaurant), and a gallery-style wall of vintage mirrors near the bar. There's another wall display of old farming tools in the vestibule outside the restrooms.
For the food, Witka turned to high school friend, Zachary Stough, a self-taught chef who learned his trade by working his way up through the ranks of the Catskill resort industry. Natasha's aunt and cousins flew in from Poland to teach Stough how to make some of the classic Polish dishes that are now house favorites, like pierogi ($6.50 appetizer, $17.50 platter) stuffed with sauerkraut and wild mushrooms topped with bacon, onion chutney and sour cream, kielbasa ($10.50) topped with house sauerkraut, and golabki ($18.50) stuffed cabbage rolls served on creamy mashed potatoes.
If you can't decide which of these to get, there's always the Tour of Poland ($19.50), which comes with all of the above plus bigos, a hunter's stew made of cabbage, kielbasa, kraut, mushroom, tomato, and stewed with bones. (The portion is large enough to sustain you for days).