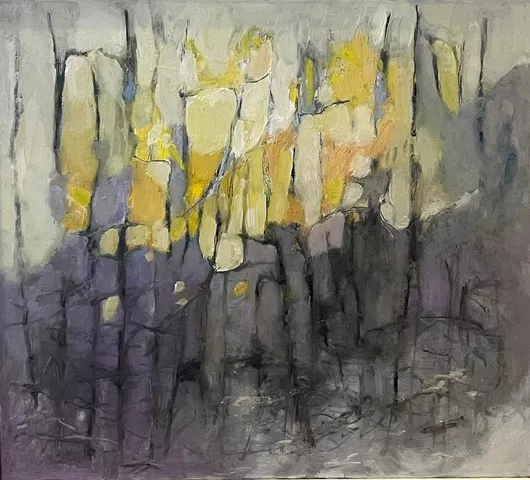 A painting by Sara Harris
Depending on how you count, it took three, 25, or nearly 80 years for Don Kenly to create the Olive Branch Studio & Gallery. Three, if you consider that Kenly took his first on-line sculpture course with his now-friend and mentor, Eduardo Gomez in 2019. From there, it required only a few more sparks to fire the renovation and the July 2022 opening of the 1,200-gallery space in the building on Rt. 213 that he has co-owned for the past 25 years.
But for over 80 years, seeds planted by Kenly's mother, a ceramicist, and his grandfather, a church designer and watercolorist, lay dormant until the time was right.
"My mother had a kiln in the basement and hand-painted her work, and my grandfather, who I thought was God himself, designed church tabernacles and alters, so it's always been there," he explained of his connection to art.
Building A Future
Born in Brooklyn and raised in New Jersey, as a young man, Kenly focused on business. He moved from the excavating business into mining for aggregates—the sand, gravel, and crushed stone used to manufacture asphalt and concrete. But first, he fell in love with Woodstock while traveling around New York State as the publisher of a magazine for the autobody industry. After a visit in early 1960s to the Woodstock Ford dealer's autobody shop, he pulled into the first real estate office in town to ask about the price of land ($1000 an acre), when the broker offered him five acres in exchange for clearing and building a 1500-foot road.
"I did that and accomplished whatever else I have with the help of my friends," Kenly said, explaining that when he received the deed there were actually nine acres.
A sculpture by Sandra Zuccala
In 1967, Kenly built a home on those nine acres in the Bearsville section of town and, with his wife, Alice, raised four children there. The down payment for the house came from his serendipitous discovery in 1963 of $18,000 rolled up in the cement blocks of a house he was razing.
"My wife went berserk and ironed all of these damp $50-dollar bills, all silver certificates," he recounted. "To make sure who the money belonged to, we went to our priest who consulted with a lawyer who determined that legally, it was ours—after a donation to the church, of course."
In 1984, he funded the growth of his mining business, Kenly Materials, Inc., by selling the house and moving to Kingston. From then, through a series of expansions and buy-outs with his competitors, he gave in to a final offer from the Albany-based Crainsville Block and, in 2007, retired. Over the next 12 years, with 10 grandchildren, a great-grandchild on the way, a sweetheart named Carol (following his divorce after 37 years), a golden retriever named Kramer, and a winter home in Stewart, Florida, Kenly had enough to keep himself busy.
By 2019, however, he not only faced the isolation of Covid, but the painful deaths of both Carol and Kramer—within five days of each other.
A Path Toward Healing
"I really needed something," he said of how he found his way to Gomez's on-line course on sculpting, the first of several he took through the local Florida Lighthouse Artists Association.
Working on his first piece, a female nude in molded clay, Kenly "got bit." The intimate connection with the material brought a sense of peace, a grounding mind-body connection that he remembered experiencing decades earlier when he and his son, Tom, a landscape designer, took an ice carving course at the Culinary Institute of America in Hyde Park.
"I enjoyed that so much," he said, "but timing is everything. Back then I was working to stay ahead of the bank, so I put it behind me."
Kenly continued to sculpt under Gomez's guidance. But by the summer of 2021, as he was contemplating the repairs needed on the building in Olivebridge—the ground level of which sat empty for some years after housing a store, a deli, and then the Tangore restaurant—he realized he could move his studio out of his home, and the idea for a gallery took hold.
Around the same time, he stopped at the ASK Gallery in Kingston toward the close of
Gülnar Babayeva's
solo sculpture exhibition "Revival,"
where he met the artist and designer
. They struck up a conversation and he asked if Babayeva would collaborate with him to open the newly renovated gallery. She agreed and
came on board as a business partner, directing the launch of the gallery, designing the gallery's visual presence, and curatings its first invitational sculpture exhibition. The first show, "The Other Dimension,"
which ran until August 28, featured sculptural work by
Babayeva
, Kenly, Alex Kveton, Iain Machell, Marie Mastronardo, Philip Monteleoni, and Casey Schwarz.
Now, as he prepares for his second exhibit, this time of abstract paintings, Kenly is playing all of the required roles with the enthusiasm of someone with a keen interest and eye for art, people, and a new challenge.
"I love the whole thing," Kenly said. "And the people who come through say they love the space, the presentation. It keeps me young; it keeps me alive."
The Next Show
The Olive Branch Studio & Gallery will host the opening of its second exhibit, "A Life of Medium Intimacy," on Friday, September 16 from 5 to 7pm. The show features sculptures and abstract paintings by six local artists: 91-year-old Marie Mastronardo; Sandra Zuccala, Francoise Collet; Sara Harris, Benjamin Franklin; and Gary Buckendork.
"A Life of Medium Intimacy" will run from September 16 through October 15.
Olive Branch Studio & Gallery
5097 Route 213, Olivebridge, NY