Photo: Peter Barrett
Todd Cavallo rolls a barrel into the yard to use as a tasting table.
It's been 10 years since I wrote a (not very enthusiastic) survey of Hudson Valley wines for this magazine. In the ensuing years, there have been some heartening developments as the growing global movement away from chemical wines has gained purchase in the region. A new crop of young winemakers are embracing organic, low-intervention methods to transform our local fruit into compelling libations. Most interesting among these new arrivals is Wild Arc Farm, now in its fourth year producing a range of wines and wine-adjacent drinks using native yeast, little to no sulfur, and organic fruit whenever possible.
Todd Cavallo, 39, moved to a farm in Pine Bush from Brooklyn in 2016 with his wife, Crystal Cornish. Initially they were looking for a weekend house, but they couldn't afford that, so they focused instead on choosing somewhere close enough to the city that he could continue commuting to his job as project manager for a web development company. He had been doing all sorts of fermenting in their apartment—pickles, beer, and the like—and wanted to take his passion public, so to speak. The move, to a house with a barn on roughly nine acres, made it possible. Their evident skill and work ethic made it successful: "We got a farm winery license, bought half a ton of fruit from the Finger Lakes, and people liked it." Thanks to his brother's connections in the industry, some of those people were influential sommeliers and figures in the New York wine world. As a result, Cavallo's 10-year plan turned into a two-year plan.
Photo: Peter Barrett
Using a thief to barrel-taste wines ready for bottling.
In a linen shirt, baggy shorts, and Birkenstocks, with his scruffy beard and laid-back demeanor, Cavallo looks every bit the Brooklyn hipster-turned-farmer/winemaker, a far cry from his (and Cornish's) formative years spent in Syracuse's hardcore punk scene. But that DIY ethos of honesty and integrity still pervades their efforts. The labels, which the couple designed themselves, are clean and simple ("minimal, yet pastoral," in his words), with witty descriptions and as much information as they can legally put on there. "I'm in favor of total transparency, but I have to be careful not to ruffle any feathers at the TTB" (the Alcohol and Tobacco Tax and Trade Bureau, which regulates labels). Sweetheart, for example, named for one of his old bands, is Northern Spy cider fermented on grape skins. But, because it contains grapes, he can't legally use the word cider on the label.
They buy fruit from different parts of the state, but the bulk of their output comes from the Amorici vineyard in Washington County, home to a dozen hybrid varieties. The blend is a juicy, light red suited to drinking on the cool side. In its austere New York way, the wine is reminiscent of those California field blends made from unknown old vines planted in the 19th century: greater than the sum of its parts. Luca, a traminette macerated on the skins for two weeks, has a strong elderflower perfume outlined with bracing acidity. The riesling, an oily ochre juice that we tasted out of barrel (where it spent 14 months) opens up to reveal classic peach and petroleum notes, but with the rounder texture resulting from malolactic fermentation, a characteristic of many natural wines. Cavallo enjoys this unorthodox version: "Someday, I might get a filter, block malo, and make a clear, laser-focused riesling like other wineries, but it kind of goes against my desire to let the grapes do what they want."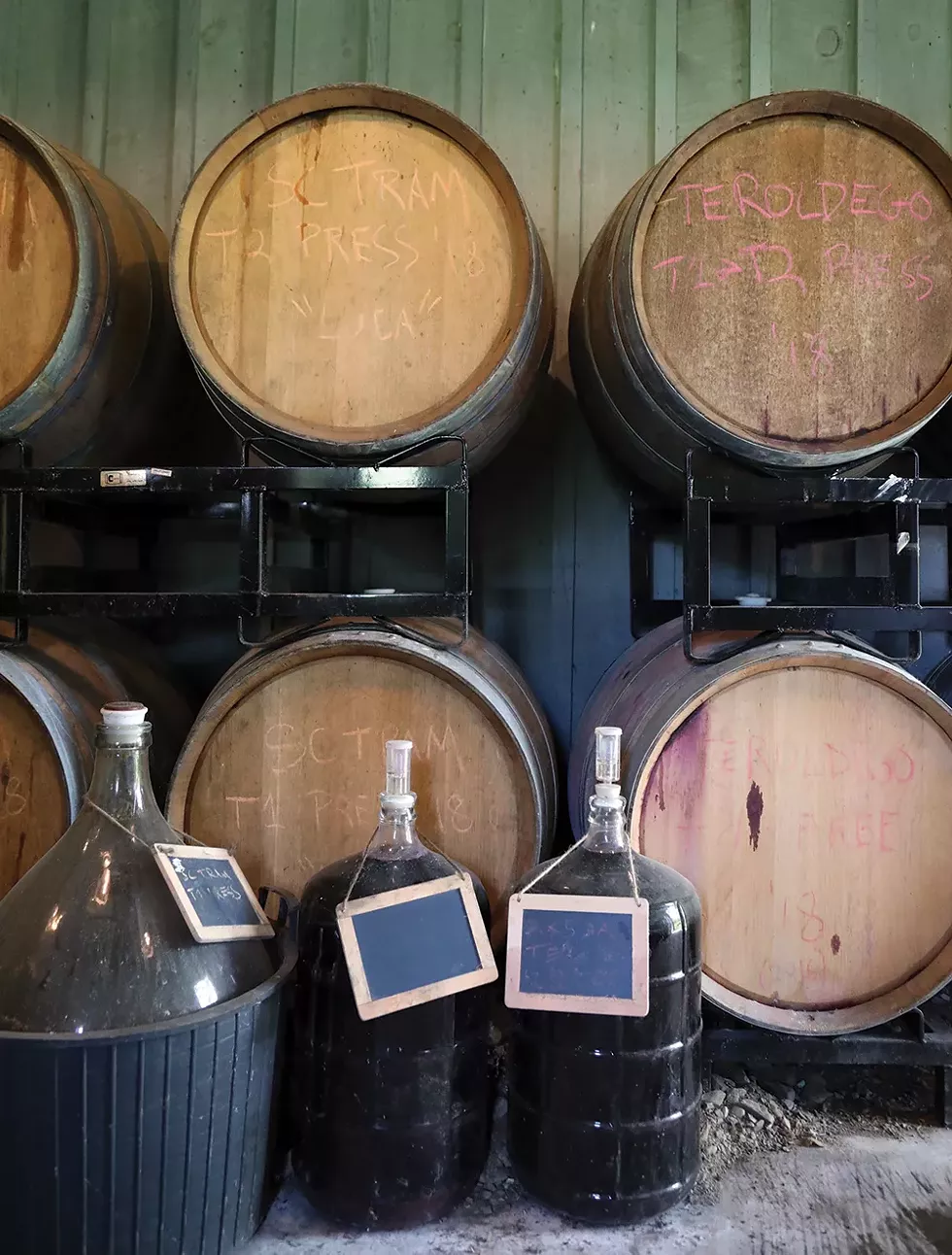 Photo: Peter Barrett
The glass demijohns on the floor hold wine used for topping up the barrels during fermentation and aging.
Last winter was brutal: With a hard freeze in January and another one in April, they lost 70 percent of their vines. Others in the area also suffered severe losses. Climate change is already forcing growers in many parts of the world to adapt to increased uncertainty, and here is no different. While warmer weather could be a boon for growing vinifera grapes (less cold-hardy European wine varieties), the reality so far is more extreme fluctuations: colder freezes, heavier rains, drier droughts. So nobody knows what the region will be like in 50 years, let alone 20. "Initially, I wasn't super thrilled about hybrids, but a vineyard with Cab Franc and Chardonnay also had Traminette, so we did skin contact, and it was our favorite. That was the year our daughter was born. So we named it Luca, after her."
The quick takeoff of the business means that they're making do with the facility they have for the time being. They produced about 1,500 cases total this year, and are hoping for 2,000 next year. This target, along with doubling direct retail sales to half their total, would mean viability for the business and represent just about the maximum they could do and still have it be a handmade product. "We never intended to do production in here," Cavallo says, gesturing at the barn. "But we had no choice when we got started so quickly." In time, he plans to build a new structure for fermentation, aging, and bottling and renovate the barn into a tasting room and store where they can sell the herbal teas, tinctures, and other products they're developing. They also plan to build a couple of small houses for volunteer workers (who play an important role when it's time to bottle and label) that could be rented out as well. Cavallo's brother recently opened the Golden Russet Cafe in Rhinebeck, which could be a venue for dinners and other events. Regarding revenue sources, as with their beverages, they're open to all sorts of possibilities.
Every Last Drop
Behind the barn, a large field hosts an acre of vines and a half-acre of trees in adjacent blocks. The vines are an assortment of vinifera and hybrids, the trees a variety of pomes and stone fruit. Using what's known as guild planting, a method popular in permaculture circles, they've planted sea buckthorn, aronia berries, and New Jersey tea shrubs in rows between the trees. As the trees mature, they'll continue planting flowers to attract pollinators and pungent herbs to repel pests. The idea is to create a self-sufficient ecosystem within the orchard that nourishes and protects the trees while dramatically increasing the yield of other fruit and flowers from the understory plants.
Photo: Peter Barrett
Pouring the 2018 Chardonnay.
Piquette has been key to their quick success. An old tradition in Europe, where grape must (skins and seeds) left over from winemaking is refermented in water, creating a low-alcohol drink that was often given to vineyard workers instead of wine. Cavallo makes his more interesting by using local wildflower honey to boost the fermentation, adding back 15 percent of the original wine to increase the alcohol and flavor, and bottling or canning it with a little residual sugar so that fermentation continues and creates carbonation. It's sparkling, pink, sour, and irresistible.
Wild Arc releases single-varietal piquettes as well as a blend; the vicissitudes of each year's crop and quality will likely mean more blends in the future. Blending has a way of smoothing out rough edges and creating richer results. It's currently available in 750-milliliter bottles and 375-milliliter cans; next year Cavallo plans to dilute it to six percent, so it can be sold in 12-ounce cans at grocery stores. At seven percent alcohol, it drinks like a rosé but hits like a beer: the perfect crowd-pleasing summer jam. "People who hate natural wine like it; beer people like it; people who love natural wine like it. This is the one thing I can bring home at Thanksgiving. Nobody knows what it is, so there are no preconceived notions."
The skins, from Teroldego grapes he bought from Long Island, were a byproduct of making wine, then piquette, and finally ended their wild, three-episode arc by imparting a lovely pink color and juicy vibrancy to the Sweetheart cider. If there's a more frugal and efficient way of extracting flavor and value from an agricultural product, I'd love to hear about it. And when their dozen chickens arrive (the coop is built and ready for them) they will feed future batches of spent skins to them. The chickens will be pastured on the vineyard and orchard, where they'll eat the beetles that eat the vines and fertilize as they go. Apart from wasting nothing, the piquette also allows them to nearly double their output, which makes the business viable. "We could sell our wines for $40, but we prefer to sell them for $25 and get the extra $15 from piquette. It makes things affordable and keeps us afloat."
This open-source approach, appropriate for someone who studied computer science, is what sets Wild Arc apart from many other producers in the region. Expanding the scope of their efforts beyond wine, beyond cider, being flexible with their sourcing, and leaning into the sometimes unusual flavors that result from these methods shows a resourceful imagination devoted to promoting a way of farming. Holding his glass of Sweetheart up to the sun, Cavallo explains, "Purists might say that we shouldn't sell anything that's not organic, or we shouldn't use any sulfur at all. But in order to move the needle, we have to sell what we've got. We're buying from people who are moving towards organic. People in the hardcore scene talk about selling out as a negative, but if I were able to scale up dramatically, I think about how many more acres I could get under organic management in my state."
Cavallo recently organized the Kaatskill Wine Summit at the Emerson Resort in Mount Tremper. A dozen New York winemakers, leaning heavily toward the natural end of the spectrum, convened to show off their wares. The Finger Lakes, Hudson Valley, and Long Island were all represented, and over 100 paying customers circulated, tasting, talking, and buying. Some, like Wild Arc, are just out of the gate. Others, like natural pioneer Eminence Road, are selling their 10th vintage. The wines cover a lot of ground, both literally and figuratively, ranging from true-to-type crowd-pleasers to some seriously out-there efforts.
The event made clear that while this region presents many challenges to winemakers, the new generation is rising to meet them, experimenting boldly, and choosing to err on the side of natural, embracing the possibilities for flavors and products that are uniquely of this place.