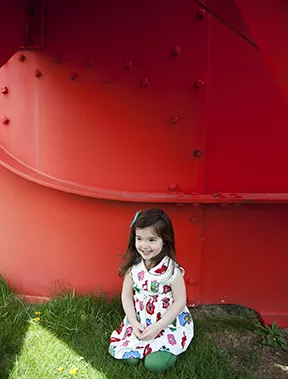 Hillary Harvey
A 3-year-old enjoys the shade of "Gui (Mistletoe)" an Alexander Calder sculpture from 1976 at the Storm King Art Center
When I was about 18 months old, I wandered in an endless, open field before noticing immense, red structures so vast I could hide inside. They weren't buildings, and it wasn't a playground. (Playgrounds in 1976 were more metal and dark-colored.) For years, that unsettling feeling of being so small next to monolithic figures lived large in my childhood memory. I puzzled it like a dream, trying to make sense of how something could be both playful and a little bit scary, industrial and natural. It's probably my first memory ever. And though we lived in Brooklyn Heights at the time, it happened in the Hudson Valley (probably when we were up house hunting). It wasn't until years later that I rediscovered that strange park as a teenager out with friends. It was the Storm King Art Center, and it was still just as memorable.
There's a reason Storm King is the backdrop for fashion shoots, films, and happy family memories. You don't have to be a modern and contemporary abstract sculpture lover to appreciate the elegant shapes, colors, and sheer size of the monuments, or how each is intentionally situated in the 500-acre park to spark dialogue with its immediate natural surroundings and those breathtaking Hudson Valley views. What makes it so distinct is that it's a museum without walls that merges the outdoors and the art world. And that connects with children (and parents) of all ages, who can view some art in between sprinting and rolling down the hills. "There's a freeing aspect of being here," says Victoria Lichtendorf, Director of Education and Public Programs at Storm King. "Being attuned to the landscape and architecture, that environment fosters freedom, play, and reflection."
For the past few years, Storm King has offered programming for children and families every Sunday at 1p, taught by a rotation of environmental educators, artists, and art educators. They're run with the same sense of freedom: pre-registration is not required, and participants can come and go throughout the usually two-hour programming, contributing as much or as little as they like to the usually collaborative artwork happening there. "The idea of the workshops is to activate the experience and help people to engage with the art," Lichtendorf says. Programming happens in the landscape (so allow for a little travel and be prepared for weather) and encourages the whole family to join in. There are suggested age guidelines for every program listing in
the Events section
of the website, but Lichtendorf says it's fluid, with understanding that some families have younger siblings in tow.
Coming up this week at Storm King: the last free admission day of the season is on Thursday, August 27th, from 10a-5:30p; a
Moonlit Walking Tour
of the park to see Lynda Benglis' phosphorescent
Hills and Clouds
happens on Saturday, August 29th at 8p; build and race boats and water-runners out of bundles of sticks and feathers with Free Style Arts Association's
Art Afloat
on Sunday, August 30th, at 1p. Programs are free with admission.
Don't miss these events in September! During Labor Day weekend, Storm King is the last stop for
the Hudson Valley Shakespeare Festival's presentation of The Tempest
. The event requires an additional ticket, but it's free for kids under the age of 18, and has a kid-friendly start time of 6p. The
Children and Families program
on September 20th will weave a collective sculptural tapestry at 1p that will fill the field behind
The Feelies concert
, which is from 2-4p. There will be food and popsicles nearby, and it's free with admission.
Storm King Art Center, 1 Museum Road, New Windsor, NY 12553: open Wednesdays – Sundays, 10am-5:30pm (til 8p on Saturdays and Sundays through Labor Day); adults $15, senior citizens $12, kids ages 5-12 $8, kids under 4 are free.
There are two parking lots, north and south, and both have picnic areas adjacent to them where you can carry in your own lunch. Or grab something local, sustainable, and delicious from Shelly Boras of Fresh Company at the outdoor Storm King Café, where they serve kid-friendly fare like hotdogs ($4), butter scones ($3), and mac & cheese ($6.75) on the other side of the north parking lot. Plan to roam, so bring a stroller or baby-carrier. Kids will love to ride the electric and solar-powered tram around the park, which is the easiest way to see the majority of sculptures and learn a little bit about them through the bus's automated tour. Pick it up at the Museum, or at any of the ten stops you happen upon around the park. Bicycles are also available for rent, so you can explore at your own pace. ($8-10/hour or $32-40/day).
Hillary Harvey
A 3-year-old studies "Black Flag" an Alexander Calder sculpture from 1974 at the Storm King Art Center
Maybe the best thing about Storm King Art Center? They mean it when they say kids are welcome! Even inside the Museum Building where there's an annually rotating exhibition, bathrooms, and a gift shop, kids are encouraged to sit and draw or spend time exploring, and the guards are friendly and helpful. It's a museum experience where kids can truly feel at home. Reciprocate the good vibes (and protect the legacy) by keeping kids from climbing on the outdoor sculptures.