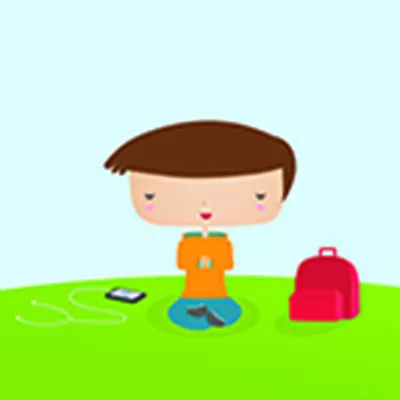 The Dalai Lama has famously remarked that if every eight-year-old in the world were taught meditation, we would eliminate violence from the world within one generation. Some have called that an oversimplification, and it's undeniable that getting it to happen in the first place would be tough. But thanks to a blend of advances in neuroscience, creativity among educators, and sheer desperation, a movement toward mindful education is growing steadily—and the results are looking promising indeed.
Those of us who survived elementary school probably remember exasperated teachers snapping, "Put your heads down on your desks and close your eyes NOW!" when things got heated. It was usually a punitive move, commanded when the classroom was spinning out of control. Nonetheless, that moment of silence often worked to reset the tone and calm things down, which is probably why all our teachers did it.
Moments of Silence
In recent years, many factors—high-stakes testing, reductions in recess and gym class, traumatized students—mean that teachers are confronted with that spinning-out feeling on a regular basis. A 2008 study indicated that one-third of all new teachers lasted only three years and 46 percent left within five years. The old "everybody put your head down" hasn't been cutting it, nor have the stimulants prescribed to millions of children proven miraculous. Zero-tolerance discipline policies have likewise failed to terrorize disruptive youth into receptive, attentive silence.
Mindful education, by contrast, is reaping great results. Teachers who institute a simple contemplative procedure into daily classroom routine report that kids rapidly come to love it and make the skill of centering their own, leading to improved academic performance and fewer disciplinary issues.
"I started reading about people doing a moment of silence and focus in classrooms maybe four years ago," says Laura Graceffa, middle school dean at Poughkeepsie Day School. "One of the teachers knew about Goldie Hawn's MindUP work and turned me on to her book [10 Mindful Minutes], and it turned out I knew the consulting neurologist who wrote some of the brain science material. It seemed like a winner to me—and when we tried it with middle school kids, the evidence was right there. I'm a science teacher, and I'm a skeptic. I like empiricism and facts. If this didn't work, we wouldn't be doing it."
"Teachers have always asked the question, 'How do I get students to slow down so they can learn?' It's really hard for anyone outside you to slow down your brain, but it turns out they can learn to do that for themselves very well. This is something we need to be aware of and teach to all kids; after all, we work with their brains all day long. And anything you teach kids about the brain, at any age, they are fascinated by, so right off they are inclined to buy in."
At Poughkeepsie Day, children either close their eyes or simply gaze downward as a bell is rung, and listen to the sound of the bell until they can no longer hear it. "We start with a very brief period of silence, maybe 10 seconds," says Graceffa, "and work up, with the sixth graders, to one minute, which is longer than you think in a room full of 12-year-olds. Then we ring the bell again and when they can't hear it anymore, they open their eyes or look up but stay silent, come out of it gently.
"The results are amazing. In less than two minutes, you've hit the reset button. I think it could work anywhere—as long as the adult truly buys in, takes it seriously, and practices it too."
Teaching the Teachers
That last bit of truth has led advocates for mindful classroom practice to focus on getting the adults trained first, not just so that they can pass the knowledge along but because it helps them just as much as it does the kids. "Some of my colleagues deal with stress outside of school—special needs kids, eldercare—and the great thing is, you can take this with you wherever go," says Lynne Ogren, who teaches Spanish to fifth- and sixth-graders at Sand Creek Middle School in the South Colonie School District near Albany. "People who are unfamiliar think you have to meditate for hours to get results, but even taking a minute for a deep breath helps."
Ogren found her way to mindful classroom practice through personal experience; a yoga teacher outside of school, her two worlds converged after a transfer from high school to middle school led her to seek fresh coping strategies. It's worked. "I like to start the school year with a simple explanation of brain anatomy and function, so they understand how the activities fit in," she says. "It becomes our go-to before tests and at any other stressful moment. Now, some will even request it, which gets me excited."