Music and Merriment at Mountaintop School
There's something so bewitching about the Waldorf way of education. The wooden, silken, woolen toys, the oral pre-literacy tradition, the puppet shows, the time outside in the woods and on farms, the daily rhythms, the breadmaking! There's a sense of magic to the whole thing. So, of course, the tradition includes community gatherings with such a sense of renewal and allure that there's even an extra "e" at the end of the name. Two local Waldorf-inspired schools are treating the community to a weekend of spring faires.
Primrose Hill School is situated on a farm, so at their
2nd Annual Spring Faire
, families can enjoy the animals (including a bunny hutch) and lots of hay-filled fun (like hay rides and a hay pyramid). Throughout the day, there's music, dancing with The Vanaver Caravan, and a puppet show. Primrose Hill School is a Waldorf-inspired program for nursery through 2nd grade (and growing a grade each year). They offer a Nature Camp in summer and a CSA.
2nd Annual Spring Faire, Saturday, May 30th, 11a-3p, at 23 Spring Brook Park in Rhinebeck; local food available; free admission. For more information, contact [email protected] or (845) 876-1226.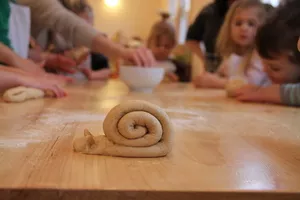 Breadmaking at Primrose Hill School
At Mountaintop School's sixth annual
Music and Merriment Festival
, there will be a lot of both with local musicians/parents of students, Neil Rosen and Rachel Loshak, performing, a square dance, and the Niddle Naddle Puppeteers to close the day with a show. In true Waldorf fashion, families come together to make a day full of homemade pleasures: food, crafts, and a raffle of handmade toys. There's even a Pocket Person who invites children to pick a pocket of her cape and see what tissue-wrapped treasures they can find. Mountaintop School provides a Waldorf Little Ones program through mixed-age Kindergarten, plus a summer program.
Music and Merriment, Sunday, May 31st, at 68 Band Camp Road in West Saugerties, 1-5p; $5 suggested donation (proceeds go to Family of Woodstock). For more info contact 845-389-7322 or [email protected]
UPDATE: Due to rain on May 31st, the
Music and Merriment Festival
has been postponed until the rain date of Sunday, June 7th. Check it out then!