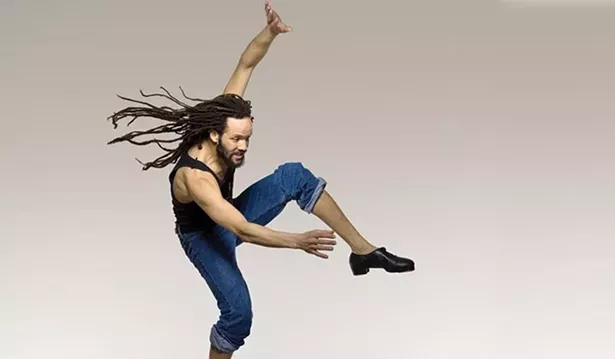 Collaging financial support from a generous seed donation, a $5-million loan, and a grant from Cuomo's Capital Region Economic Development Council, in 2015 the American Dance Institute was able to purchase Dunn Builders Supply, a creekside industrial complex in the town of Catskill.
The upstate location will serve as the home of nonprofit's technical residency program and main performance venue. Ongoing renovations did not stop the
Lumberyard
from getting a jump on programming this summer. Their Under Construction Summer Festival was held at locations both onsite and off, in collaboration with area venues.
Now, on September 1, the final performance of the summer season will double as the inauguration of the Lumberyard's $8.2-million state-of-the-art performance center. The 7,000-square-foot building houses a flexible-layout theater that can double as a soundstage for film and TV, along with administrative wings, practice studios, and resident housing.
The grand opening event will kick off with a performance by Tony Award-winning tap dance
virtuoso Savion Glover in a rhythmic duet with acclaimed jazz drummer Marcus Gilmore
. Glover was youngest person to ever receive a scholarship in the Newark Community School of the Arts. Before he was a teenager, Savion gained fame as the star of the Broadway musical "The Tap Dance Kid." Gilmore, the grandson of iconic drummer Roy Haynes, is jazz royalty and a dynamic musician in his own right.
This memorable evening will be hosted by Golden Globe Award-nominated actor, director, producer, and social activist Alan Cumming.
The grand opening will be hosted by Alan Cumming.
"It is exhilarating to finally welcome the public into our artistic home," says Lumberyard Artistic and Executive Director Adrienne Willis. "Lumberyard's ambitious and innovative vision is inexorably linked to this space—as well as to the communities and economic resurgence of the Hudson Valley."
Lumberyard's grand opening will take place on Saturday, September 1 at 6:30pm, with a VIP reception after the performance where guests can mingle with the artists and host. General admission tickets are $40 and up, VIP passes to the reception are $200, or $240 for the performance and the reception.
Buy your tickets today.