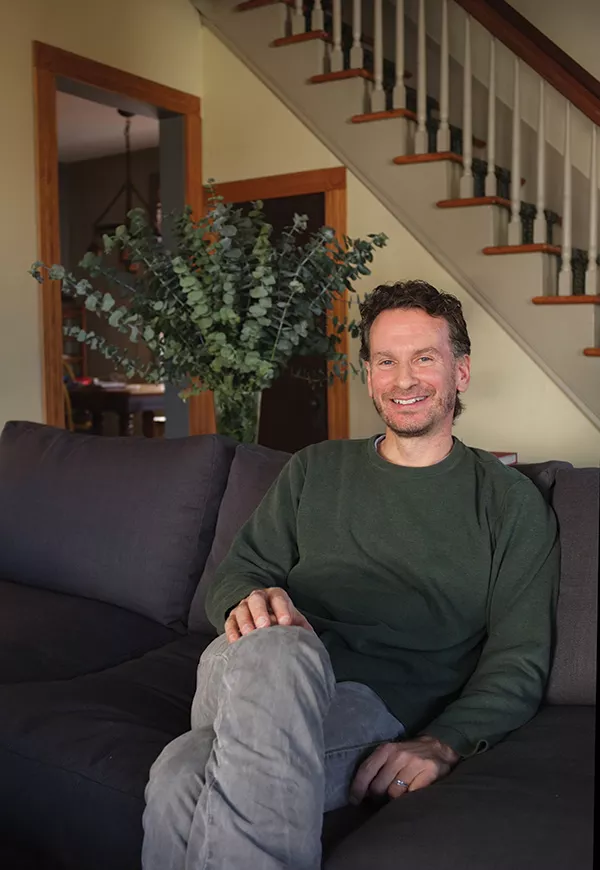 Among followers of contemporary jazz, there can be little question that Larry Grenadier is one of the music's foremost double bassists. Best known for his long-time membership in the trios of Brad Mehldau and Pat Metheny, he's also laid down the low end alongside luminaries like Charles Lloyd, Paul Motian, John Scofield, Joshua Redman, and Kurt Rosenwinkel. The bass earns him a livelihood and takes him around the world, not only as a performer but also as an instructor; for part of the year, the Kingston-based musician teaches at Basel Music Academy in Switzerland. But it was actually a completely different instrument that got Grenadier started on the road to be becoming a professional musician: the trumpet, which his father, Albert Grenadier, had played.
"After serving in the Army during World War II, he'd been in some big bands that worked around California," says the 48-year-old junior Grenadier, who, like his older brothers Phil and Steve, was raised in San Francisco. "He'd basically given up trying to make it as a musician by the time my brothers and I came along, but he instilled a love of music in us and got us playing when we were really young." Larry began trumpet at age 10 but switched to electric bass a year later, forming a cover trio with Phil on trumpet and Steve on guitar. It was at 12, when he saw a performance by the legendary Ray Brown, that he set his sights on the upright. "It was exactly the right moment, in the right space; I was listening to all of these classic jazz records that Phil had and gravitating toward the upright bass," says the artist, who "was drawn to the subtlety and the physicality of the instrument. There are two sides to being a musician: the social side, which involves being in a band and interacting with other musicians, and the solitary side, which involves practicing and being alone. I've always dug both."
By age 16, Grenadier had become the upright upstart of the Bay Area jazz world, gigging and recording with local players and such visiting greats as Johnny Griffin, Bobby Hutcherson, Anita O' Day, Art Farmer, Frank Morgan, and Toots Thielmans. When it came time for college, he attended nearby Stanford University, where he majored in English literature and met, and eventually began touring with, another icon: saxophonist Stan Getz, who was then an artist-in-residence at the college. "[Working with Getz] was amazing. He was definitely one of the great musicians and pushed me toward the highest levels [of musicianship] while also being a very patient teacher," says Grenadier, who next worked with Getz's fellow sax legend Joe Henderson. "Joe was an incredible cat, even beyond music. He taught me how to be a man, to be modern and contemporary but also deeply rooted—big things."
Grenadier graduated in 1989 and headed to Boston to play with vibraphonist Gary Burton, with whom he toured globally. In 1991 he relocated to New York, where he reconnected with Henderson, worked with vocalist Betty Carter, and started to forge new relationships with other young players on the Gotham jazz scene. One of these rising instrumentalists was pianist Mehldau, whom the bassist began working with in 1993. "Brad and I had both done gigs with [saxophonist] Joshua Redman, and when Brad got a one-week residency at the Village Gate he invited me to play," Grenadier recalls. "He ended up getting a record deal not long after that, we started getting more gigs, and it just kind of took off. I don't think any of us expected the band to have the kind of longevity it ended up having." Today the Brad Mehldau Trio, whose current configuration also includes drummer Jeff Ballard, is one of the most critically exalted and top-drawing jazz outfits of the last three decades. The group's catalog numbers a dozen albums to date and includes the five-volume milestone Art of the Trio series and its most recent outing, 2012's Ode (all Nonesuch Records), each of them imbued with the threesome's nimble, complex interplay.
Near the end of the 1990s Grenadier signed on with another stellar threesome, this one headed by ground-breaking guitarist Pat Metheny. The bass man appears on the Pat Metheny Trio's Trio 99>00 and Trio Live (both 2000; Warner Bros. Records) and on a pair of collaborations between his two employers, 2006's Metheny/Mehldau and 2007's Metheny/Mehldau Quartet (both Nonesuch). "Like Brad, Pat is a great composer," says Grenadier. "But one of the other things I love most about playing with him is that he's very sound-conscious. He goes for such distinct sounds in his own playing, and he always has an awareness of how much sonic space the other players are taking up and leaving open." Besides his ongoing tenures with Mehldau and Metheny, Grenadier also performs in renowned guitarist John Scofield's band and worked for 10 years with Paul Motian, recording five albums with the late drummer. Another of Grenadier's long-standing combos is the trio Fly, which pairs him with Jeff Ballard and saxophonist Mark Turner and has released three celebrated albums. A notable one-off studio date saw him with pianist Ethan Iverson, saxophone great Lee Konitz, and drummer Jorge Rossy and resulted in 2013's Costumes Are Mandatory (High Note Records).
"Larry's a really flexible player with a great sound and feel—he really listens," says Woodstock's famed percussionist Jack DeJohnette, a frequent musical partner who's performed with Grenadier in the company of their neighbor John Medeski, Joe Lovano, Larry Coryell, and others. "He can just step into whatever music's going on and make it sound better. Also, Larry's a great soloist who makes unusual note choices—he always does something that catches my ear. I'm looking forward to doing more with him in the future."
While working in New York in 1996, Grenadier met his wife, singer-songwriter Rebecca Martin, yet another artist whose music has been enhanced by his talents. "Of course, Larry is very special to me as a person," says Martin. "But musically there are two things that are special about him: one, he really understands the role of the bass in a fundamental way; and two, he's a transparent and modest player who really serves the music, and through that makes you a better musician when you play with him." The couple, who lived in Newburgh for two years before settling in Kingston in 2002, recently unveiled a new project, the aptly named Upstate, a collaboration with Argentinian pianist Guillermo Klein and occasional guests.
As a sideman, Grenadier certainly has no shortage of work. But how about that elephant in the room? At such a juncture in their careers, most other jazzers would be leading their own bands. Isn't he champing at the bit to step out front? Not just yet. "At some point, maybe, yeah," he says. "But I really do feel like I can express myself easily enough with what I'm doing now, and I always feel like I'm learning something while I'm doing it. So I'm not in any hurry, there's still time for everything. That's what I love about music: It's a life-long thing. It never stops."
Upstate, featuring Larry Grenadier, Rebecca Martin, and Guillermo Klein, will perform at the Falcon in Marlboro on December 1 at 7pm. Liveatthefalcon.com. The Brad Mehldau Trio will perform at the Egg in Albany on December 14 at 7:30pm. Theegg.org.