The Felice Brothers will perform at the Bearsville Theater in Bearsville, New York, on November 21, 2018 at 7pm. Tickets are $25—$5. For more information, call (845) 679-4406 or buy tickets online.

Well, this is certainly overdue. For nearly a decade, your music editor has watched and listened from the sidelines as the Felice Brothers have gone from being a local band with a following of friends to a certified phenomenon that sells out large venues across Europe and North America, wins drooling praise in the press, and places albums in the Billboard charts.

But during that time whenever the idea of featuring the band came up it always seemed like they were out there on the road, doing what they do and amassing more and more zealous fans. The Felice Brothers aren't the easiest guys to catch for a sit-down. Finally, though, here we are, with accordionist and keyboardist James Felice and singer, guitarist, and main songwriter Ian Felice in their rehearsal space just outside Hudson. It was here, the garage of a farm outbuilding adjacent to a chicken coop and a tractor repair shop, that they recorded Life in the Dark, their seventh and latest studio album.
"Sometimes the chickens come by and hang out when we're playing," says James, who engineered the band-produced effort and once lived in a converted chicken coop himself. "We have a friend with a wood shop next door. You can hear his table saw sometimes when you're in here. We made [2011's] Celebration, Florida in a school building in Beacon. All our records have been done in odd places."
Odd places. By this point in their near-constantly-road-dogging career, the Felice Brothers have seen many of them. The list starts, however, with the one where the group's founding members, and real-life brothers, James, Ian, and vocalist-drummer Simone Felice, hail from: Palenville. A hamlet of Greene County with a population of 1,037, the tiny town is perhaps the least-likely locality in the Hudson Valley for an internationally known rock band to have originated. Little more than the T intersection of routes 32A and 23A, it sits at the craggy foot of Kaaterskill Clove and is mainly known to modern outsiders as a wide spot en route to Kaaterskill Falls and Hunter Mountain. But there's history in this hollow. Bisected by the Long Path hiking trail that connects Fort Lee to Albany, Palenville was a magnet for the Hudson River School painters, the set of productions by silent film star Mary Pickford, and the fictional home of Washington Irving's Rip Van Winkle.

The sleepy site was also an idyllic place for the Felice boys, whose father worked as a builder and whose mother juggled various jobs, to grow up in. "It was pretty Huck Finn-ish," says Ian. "We'd make rope swings in the woods, go camping. There definitely is a spooky, Sleepy Hollow vibe to the landscape. It was pretty lawless then, too—Palenville doesn't have a police department." (The town relies on state troopers and Catskill cops for security.) Prior to the formation of the Felice Brothers, there actually was a touring local band of note, 1990s alternative unit Dripping Goss, which provided inspiration to the young siblings (leader Brian Goss was in Fuzz Deluxe, one of Simone's numerous early projects). There were also the acoustic hoots at creek-side tavern the Fernwood Restaurant. "I saw John Herald there when I was 14 or 15," Ian recalls. "Seeing all of these folk people like him was a big influence."
Fueled by folk, the three brothers started getting together at their father's house for Sunday song swaps/cookouts. Their confidence buttressed, they soon took the blend of rootsy country rock that they'd been developing in their mountain home to the subways and streets of Manhattan, where they worked as buskers.

To many, the rustic, ramshackle sounds they made evoked those of a group of earlier players who'd done some similar woodshedding just a few miles up the road from Palenville, in the cellar of a certain pink house in Saugerties. James, however, considers his group's perceived picking up of the mantle of Bob Dylan and The Band as "an accident of geography. We never tried to get into that world and we never felt like part of that scene. Yeah, we're from the same area, but we had as much exposure to that music as anyone else our age."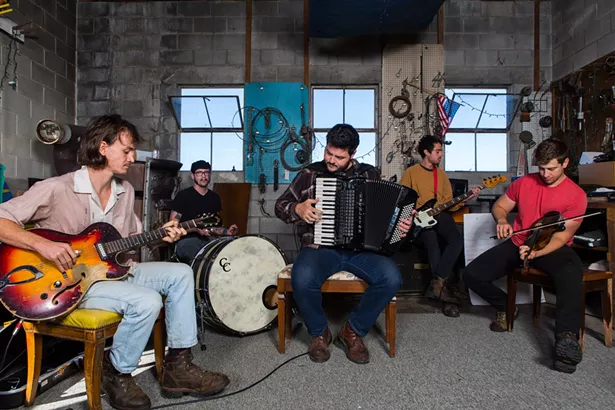 In 2006, the group recorded its self-released, official debut, Through These Reins and Gone, added bassist Josh "Christmas Clapton" Rawson, crammed themselves and their gear into a beat-up short bus and began touring like the rootless narrator in the first album's "Trailer Song." The acoustic-orientated Through These Reins... lassoed major airplay on WDST Radio Woodstock, thanks in large part to early championing by station program director and morning show host Jimmy Buff. "I was living in Palenville, and their younger sister Clare gave me one of their demo CDs, which had 'Ballad of Lou the Welterweight' on it," says Buff. "I really liked that track and started playing it, and the response was great. Ian's one of the best songwriters in the world today, his lyrics seem so effortless and true. The Lumineers' drummer, Jeremiah Friates, recently told me about coming to Kingston to see the Brothers back in 2007 or 2008 and being blown away—he said it changed the way he and [singer] Wes Schultz viewed how music could be made."