Fruit chocolate fondue at Last Chance cafe in Tannersville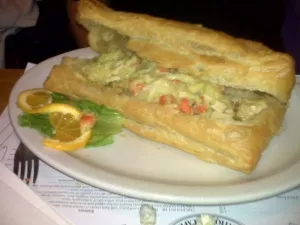 Locally made cheeses for sale
When the mercury dips below zero, I always get a craving for The Last Chance in Tannersville. I went there for the first time with my husband a few years ago. The Last Chance restaurant is a very cozy and family friendly place. They sell local cheeses, candies, maple goodies, and merchandise. My husband was really hungry so he asked the server his standard "What's the heartiest thing on the menu?" She sold him on the chicken pot pie. As you can see from the photo it's huge!
I was good and ordered the veggie cheese burger and gave him the potato knish. It was delicious! They also have Campfire S'mores Dessert item for $13.99 that looked really interesting. Another time we ordered the chocolate fondue with fruit which the kids really enjoyed. A tip for families: Avoid the candy selection up front until your child finishes lunch. Just pretend it's not there!
We have fond memories of a weekend stay at Villa Vossila in Tannersville in the early 1990s. The best part was hanging out in the jacuzzi watching the snow fall!
Follow Vanessa Ahern's food recommendations and adventures at HudsonValleyGoodStuff.com, a blog she started in January 2009.