Photo by Rommel Demano, BFA
Most people think that art feeds the soul. The Barns Art Center sees food as art itself.
"The Barns champions art at the nexus of food, farming, ecology, and sustainability," says Gallery Director Tara Dalbow, whose dream for a nonprofit art space focusing on food, ecology, and sustainable agriculture has finally come alive. "We're rethinking the legacy we leave behind as a community," she says.
That ethos couldn't be more apparent than with the selection of the center's location, which is adjacent to the former IBM site in East Fishkill. "Before it was this 500-acre, sterilized campus, it was farmland," Dalbow explains. "The Barns Art Center is a return to that farmland. How do we reintroduce life, change what's left behind, and stimulate action? Art is a catalyst for community transformation."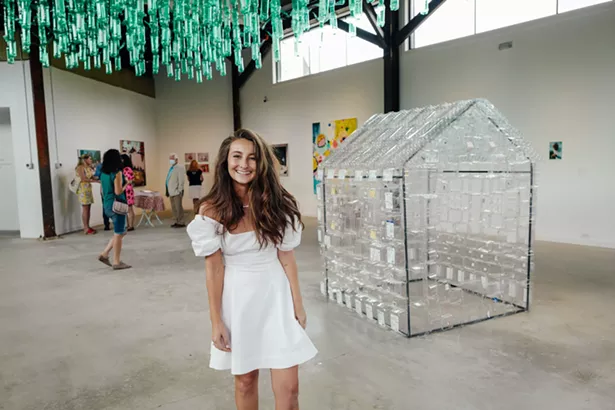 Photo by Rommel Demano, BFA
Gallery Director Tara Dalbow at The Barns Art Center's inaugural exhibition, "Tasting Menu."
On the heels of "Tasting Menu," her inaugural exhibition, Dalbow is working with Hudson Valley film production company Northguild on "Lost Arts," an immersive film experience honoring farmers in the Hudson Valley that premieres at the center's Harvest Festival October 9 and 10.
The docuseries follows 10 farmers, including Jack Algiere from Stone Barns Agriculture Center, Rick Osofsky from Ronnybrook Dairy, and Karen Washington from Rise & Root Farm, exploring their relationship to their work, community, and land.
Photo by Rommel Demano, BFA

"By looking to the past for forgotten methods, techniques, and philosophies, these farmers have found more innovative, sustainable, and equitable ways forward," Dalbow explains.

Alongside the screening, visitors can grab a bite, a sip, or some merch from vendors at the center's adjacent artisan market hosted during the festival. They'll also be invited to make rubbings or etchings from granite millstones—hand-carved by artist William Royal—that will evolve into Future Farmers'
"Of Furrows & Lands in Harps,"
a large-scale public artwork from the renowned artist collective also premiering at the center on October 9 that, over the course of three years, will become an experimental sound sculpture, a bake-oven, and community gathering space.
The Barns Art Center
736 South Drive, Hopewell Junction
Barnsartcenter.org