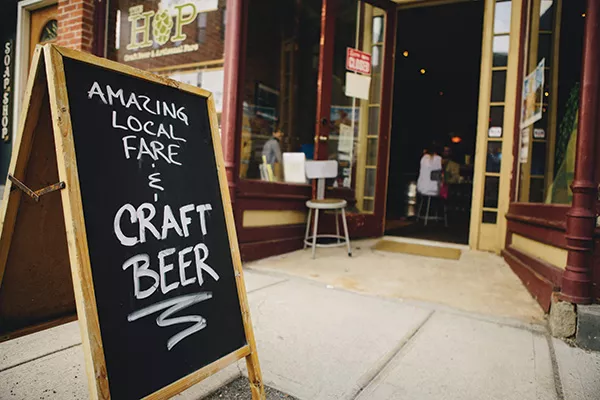 Thomas Smith
The Hop in Beacon features hundreds of craft beers.
It's Thursday night, the monthly meeting of the Mohonk Home Brewers Association, and founder Jerry Pantano is waxing rhapsodic about craft beer. "This is the hottest thing happening in the state of New York," says Pantano, 55, owner of Pantano's Wine Grapes & Home Brew, a winemaking and beer-brewing supply store in New Paltz that serves as the homebrewers clubhouse. "It's a craze. The club does a brew day here every month, and there's a lot of passion, there's love there. You can see the glow in people's faces."
All across the Hudson Valley, homebrewers and professional brewers are toiling to make great craft beer, drawn by their love for it as well as the camaraderie offered by the tight-knit craft-beer community. As the Hudson Valley's profile continues to rise as a destination for farm-to-table foodies, the region is also gaining recognition for this broad selection of delicious craft beer, along with a slew of beer-centric events. New breweries, brewpubs, bars, homebrew shops, beer stores, and hops farms are popping up, while existing ones are expanding their offerings.
Hop to It
"It's a revolution hitting the Valley," says Justin Riccobono, owner of Dutchess Hops, a two-year-old hops farm in LaGrange. "It's really captured everyone. It's bringing more tourism to the region. It's helping agriculture, it's creating jobs. The Hudson Valley over the last 10 to 15 years has really garnered the whole local-food movement, but to get a beer made locally with local ingredients takes it to a whole new level."
A decade ago, the Hudson Valley was home to just a handful of breweries: the Gilded Otter, Keegan Ales, and Hyde Park Brewing Company. Now there are close to 25, along with several in the planning stages. They range in size from Captain Lawrence in Elmsford, which cranks out about 24,000 barrels a year, to backyard and barnyard operations that produce just a few hundred barrels. In the last two years alone, at least five breweries have opened, and at least five more are in various planning stages. To help cultivate the next generation of brewers, the Culinary Institute of America has partnered with Brooklyn Brewery to build a brewery and pub on its campus, with plans to open to the public next summer. Courses on brewing will be integrated into the school's curriculum.
Meanwhile, at least half a dozen festivals celebrating beer have sprung up, with one of the newest, Dutchess Farms' Hoptember Harvestfest, drawing some 600 revelers last September. The largest festival, TAP New York at Hunter Mountain, attracts scores of breweries and thousands of attendees in late April.
Retail Ramp-Up
On the retail side, Beer World in Kingston, opened last August, carries nearly 2,000 types of craft beer and holds daily tastings of its 32 beers on tap. The four-year-old Grand Cru in Rhinebeck is a craft-beer market with a tavern's license, so you can sip while you shop. Even local vineyards are trying to get a piece of the beer action by offering beer on tap or applying for brewery licenses.
Homebrew shops are growing, too. Pantano plans to offer regular beer-brewing and winemaking classes and expand the retail space in his four-year-old, 3,500-square-foot facility. Former marketer Jeff Rossi, 39, says sales and traffic have been strong at his shop, Beacon Homebrew, since it opened last January.
Sophisticated Suds
Craft beer is generally defined as beer produced in small batches using barley, water, hops, and yeast. By contrast, large commercial brands—disdainfully referred to as "TV beers" by craft-beer aficionados—often use rice, corn, and genetically modified additives such as corn syrup and dextrose.
Beyond the four core ingredients, "the sky's the limit," says Geoffrey Wenzel, 29, general manager at Keegan Ales in Kingston, one of the region's largest brewers. Many spices and fruits are finding their way into beer. For instance, Rushing Duck Brewing Company's spring release, Bauli Saison, is a Belgian farmhouse ale brewed with kaffir lime, coriander and white peppercorn. Double IPAs with twice the hops and alcohol content of a standard IPA are also popular.
"Craft beer tastes as good as it does because the brewers are concentrating on flavors and ingredients that the big guys overlook," says Alan Daniels, 59, president of Half Time Beverage in Poughkeepsie, which carries 2,500 types of craft beer.
Craft beer attracts people of all generations from all walks of life, even as it is treated with increasing sophistication by producers and consumers, who discuss it in terms formerly reserved for wine: potential food pairings, desirable aging period, collectability quotient, and uses in cooking. Today, it is possible to spend $100 on a particularly fine growler of beer. "Beer's getting like wine," says Bruce Franconi, 48, founder of the Hudson Valley Homebrewers association, which has seen several of its members go professional. "It's very chic."
Thomas Smith
The Little Beer Bus recently made a tour stop at Keegan Ales in Kingston.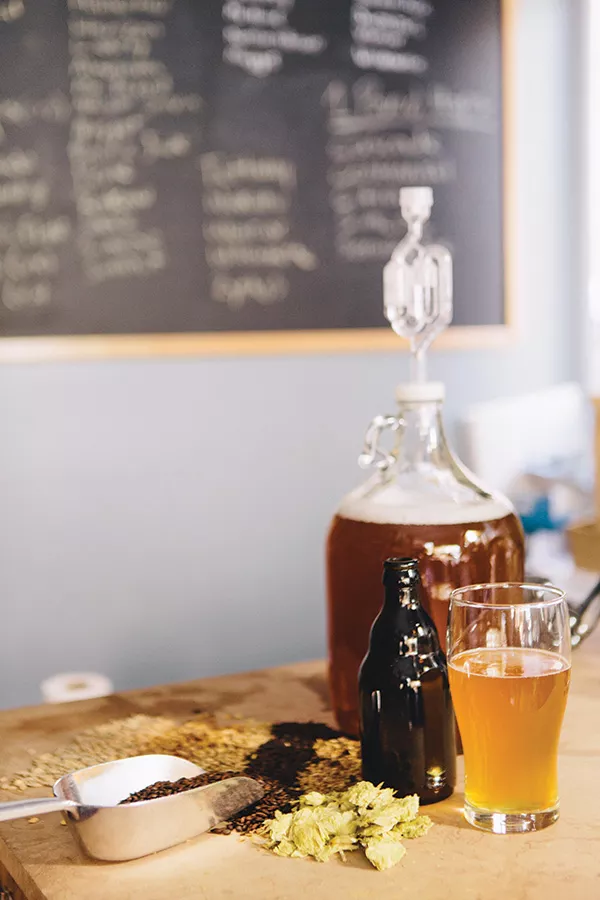 Thomas Smith
Brewer's supplies at Beacon Home Brew.
Tania Dougherty coined the term Hudson Valley Beer Trail in 2011 to help brand the local craft-beer industry and attract tourists. Her Little Beer Bus company, started in 2007, offers tours of breweries and hops farms. "Everyone wants to visit a hops farm and sit down and have the beer they made from their own hops," says Dougherty, 42, who estimates she ferries 3,000 people a year to local breweries. "The beer tours are so popular I have to turn away business."
Farm Brewery Initiative
Craft beer's share of the total US beer market grew last year by 9.6 percent, while beer sales overall fell slightly. Governor Andrew Cuomo's Farm Brewery initiative, which took effect last year, is helping to spur the growth in New York. Under the new rules, microbreweries can sell beer by the glass in their tap rooms as long as 20 percent of their hops and 20 percent of all other ingredients come from the state. Rushing Duck, which is set to expand production from 540 barrels a year to about 1,000, offers tastings in its Chester tap room but will be able to sell flights of beer once its Farm Brewery license is approved.
The initiative has stimulated the state's hops production, which doubled to 150 acres last year from 75 in 2012, while the number of microbreweries more than doubled to nearly 100. At four acres, Dutchess Hops is the biggest Hudson Valley hops farm among just a handful of others in earlier stages. To fine-tune his hops for breweries, Riccobono is working with Vassar College chemistry professor Christopher Smart, who is leading students in analyzing the acid and oil profiles of the farm's hops.
Increasingly, farmers are growing hops to use in their own beer, including Ray Bradley of Bradley Farm in New Paltz, who is partnering with Pull Brewing Company to brew beer in his barn. Pull's Farmhouse Ale, which also contains honey from the farm's apiary, is paired with fresh produce and other local ingredients for Bradley's farm-to-table dinner series.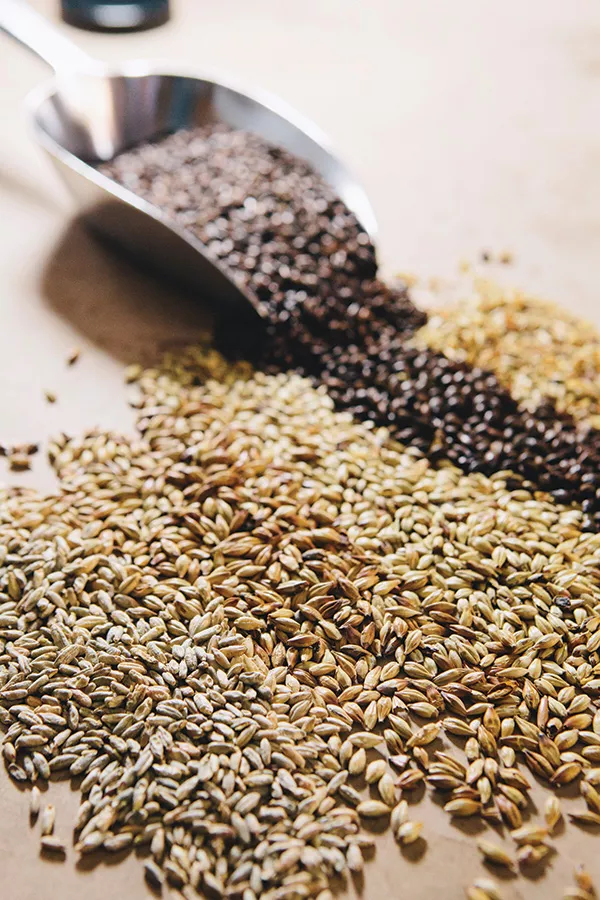 Thomas Smith
Assorted barley from Beacon Home Brew.
The Beer Boom
After just a year in business, Yard Owl Craft Brewery is expanding from a 400-square-foot shed in James and Michelle Walsh's New Paltz backyard to a 4,000-square-foot renovated barn in Gardiner that will quintuple their brewing capacity and allow them to add a tasting room and a beer garden. The Walshes and their partner, winemaker Kristop Brown, hope to open by the end of the summer. "We're going to be a real farmhouse Belgian brewery—in America!" says James, 37.
In Poughkeepsie, two-year-old Sloop Brewing Company is in negotiations to double its yearly production capacity to 1,000 barrels, according to co-owner Justin Taylor, 32. Craft brewing runs in his family: His father, James Taylor, 60, a member of the Hudson Valley Homebrewers along with Justin, won the New York State Homebrewer of the Year competition in 1996. "He passed the passion down to me," says Justin, who started brewing at 21.
Also in Poughkeepsie, Mill House Brewing Company, a sleek brewery cum upscale eatery, opened last fall in an 1800s mill house after a million-dollar-plus renovation. "There hasn't been a brewpub in Poughkeepsie for 100 years," says partner and brewmaster Jamie Bishop, 38. "We saw it as a great opportunity to bring great craft beer and food to the area."
To help disseminate all this brew, bars with as many as 20 taps devoted to craft beer are springing up—including The Anchor in Kingston, Schatzi's Pub & Bier Garden in Poughkeepsie, and The Hop in Beacon, a farm-to-table café that sells 200 types of craft beer. In Ellenville, Aroma Thyme Bistro holds a tasting of 99 types of craft beer every fall and partners with a local brewery every month on a "beer dinner," pairing various brews with the restaurant's farm-to-table food. Not content simply to sell other brewers' beer, establishments like The Dutch Ale House in Saugerties, Bacchus in New Paltz, and the brand-new Bull & Barrel Brew Pub in Brewster are brewing their own.
Still, all the new players haven't changed the collegial nature of the local brewing landscape. Brewers say there's room for everyone given craft beer's inherent individuality. "We all work together," says Mark Peffers, 42, head brewer at Bull & Barrel and a former supermarket frozen-food manager who was so taken with the craft and the community that he switched careers five years ago. "I can call Newburgh [Brewing Company] and say I need some hops, and they'll sell it to me. We don't feel that we're in competition."