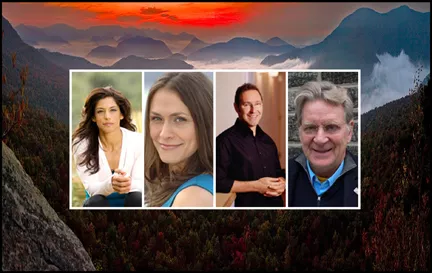 Life is busy. You may not have time to sit on a mountaintop (for more than a weekend) in order to reach a more enlightened state of being. You need knowledge to last a lifetime and tools you can take home. This weekend retreat is designed to give you practical techniques to live a happier, calmer, and more powerful life. Your retreat leaders will energize and inspire you with interactive lectures, yoga, heart-warming physical practice, meditation, and coaching exercises that will require you to rethink how you live your life. Activities will address heart, mind, and body and help bring them into alignment with one other. A dream to be happy is required, but, instead of waiting for your dreams to come true before you can be happy, be happy first and watch your dreams come true as a result!  Many people present the keys to happiness and health, but few live consistently with what they are teaching. Your retreat leaders this weekend are the exception.
Patricia Moreno
 is a pioneer of physical and spiritual transformation, and a leader in the global fitness and wellness industries. Named one of the top 10 women who shape the world, Patricia is one of the most respected mind-body life gurus and fitness experts today with over 25 years of experience as a dynamic motivational speaker and fitness trainer. She is the author of the 2010 bestseller 
The intenSati™ Method 7 Secret Principles to Thinner Peace.
Laurie Gerber
 is President of Handel Group™ Life Coaching, an international coaching company, which specializes in teaching individuals to take focused and powerful action in every area of their lives. Laurie has dedicated the last 15 years to coaching hundreds of individuals and leading to large groups and also teaches the Handel Method® to world-wide audiences through her popular blogs, radio and television.
Dr. Frank Lipman
 is a pioneer and internationally recognized expert in the fields of Integrative and Functional Medicine. He is the founder and director of Eleven-Eleven Wellness Center in NYC, where his personal brand of healing has helped thousands of people reclaim their vitality and recover their zest for life.

Robert A.F. Thurman
 is Professor of Indo-Tibetan Buddhist Studies at Columbia  University, co-founder and President of Tibet House US, and author of numerous books.
For further information on the retreat, please click
here.