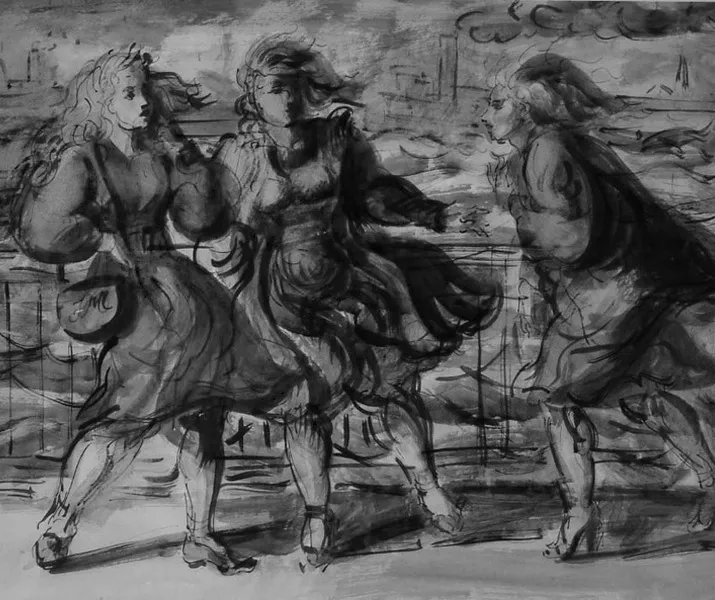 Detail of _The Windy Day_ by Reginald Marsh, a watercolor in the collection of the former Canajoharie Library and Art Gallery, reopening September 23 as the Arkell Museum of Art.
Bartlett Arkell was founder and first president of the Beech-Nut Company, the Canajoharie firm famous for its eponymous baby food. Founded first as a meat packing business in 1891, the company through time sold a variety of foods ranging from Mollie's Grape Jam to Life Savers to military "K-rations." Beech-Nut (the name was chosen for its leafy overtones) was one of the first modern corporations in American; it made Arkell fabulously rich, and among the things he devoted his wealth to was collecting art. A tycoon in an age of philanthropy, Arkell built Canajoharie a new town library in 1925, and funded an art gallery in the library building that opened the following year. For more than 80 years, the Canajoharie Library and Art Gallery was one of the most unlikely cultural venues in the region, a slate-and-stone temple hidden in the Mohawk Valley, with a collection of American art to incite the envy of larger institutions in larger towns.
Arkell purchased more than 300 oil paintings, watercolors, and works of sculpture for the gallery from the time it opened until his death in 1946, and some 200 additional works for himself, much of which he left to the institution.The centerpiece of the collection is a first-rate group of Winslow Homer paintings and watercolors, followed by a strong collection of works from the "Ash Can School," urban realists working in the early 20th century, including John Sloan and Edward Hopper. The collection also features fine individual works by Thomas Eakins, Georgia O'Keefe, and Albert Pinkham Ryder. None of the work has been on view in Canajoharie since 2005, when the gallery closed to transform into a full museum named for its benefactor. The new Arkell Museum of Art more than doubles the size of the original two-room gallery, while incorporating the existing space, with its elegant skylight and fireplace. The redesign also preserves one of Bartlett Arkell's quirkiest contributions, a full-size copy of Rembrandt's The Night Watch, one of many replicas of Dutch Master paintings the institution was equipped with by the founder. "In a funny way, it's still what people think of when they think of us," says director Eric Trahan, though, with the new space, that may not be true for much longer. The Arkell's grand opening is September 23. (518) 673-2314; www.clag.org.