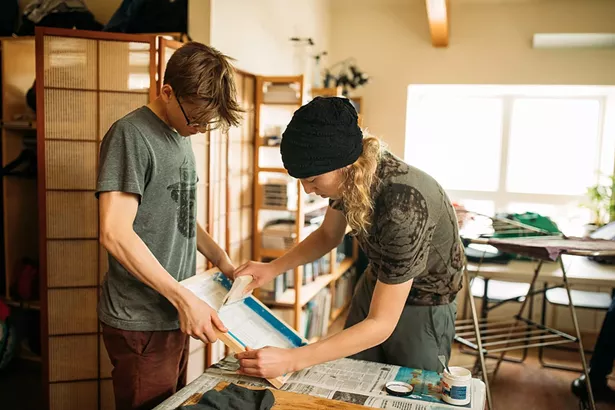 Photo by Erin Witkowski
Two of Homestead's middle school students screen print t-shirts they designed for their micro-business project.
In the 42 years since the Homestead School was founded in Glen Spey, its nature-based, humanitarian Montessori education has nourished thousands of self-motivated students and instilled a greater sense of responsibility to community and to the Earth. Originally only offering grades PreK-2, the school has thoughtfully expanded to grade 8 over the years to meet the needs of its growing families and students.

This year, the school is making another transformative leap forward by moving into high school. It will start by launching its junior high program with grade 9 this fall, and subsequent grades will be added every year until the launch of grade 12 in 2024. The move will make Homestead the first Montessori school in the region to offer the educational model for grades PreK-12.

Photo by Erin Witkowski
Early childhood students explore with the binomial cube, one of the foundational sensorial and math materials designed by Maria Montessori.
For many families who would otherwise transition their children to another school system for high school, the expansion provides peace of mind that Homestead's child-centered, self-guided curriculum can continue to evolve as children enter their most independent years.

"Montessori is a philosophy that can be applied to any age," says Jack Comstock, Homestead's Director of Secondary Education. "Extending the model into high school will continue the experience of deep presence and relationship with learning, while being supplemented with the additional teachers and resources that adolescent learners require."
Photo by Randy Harris
Students apply green architectural concepts by building a geodesic dome on campus.
To help its older students thrive, Homestead is opening a new campus in Hurleyville, which will provide plentiful opportunities for exploratory, hands-on learning of advanced skills. The heart of the campus will be the Technology Hub and Incubator (THINC) building on Main Street, which will be renamed when it becomes the school's main building. The recently constructed creative wonderland offers a 3D print lab, laser cutter, CNC router, digital media and audiovisual labs, a ceramics studio, woodworking shop, and a nearby greenhouse and rail trail.
Through a partnership with The Center For Discovery, students will also have access to regenerative agriculture experts who staff 300 acres of organic- and biodynamic-certified vegetable and livestock farms and orchards. Additional opportunities for core studies and electives abound, thanks to collaborations with the Hurleyville Performing Arts Center's dance and yoga studios and theater and stage, the fiber arts studio at Fiber on Main, and the staff at The Hurleyville Sentinel. High school students will also have the unique opportunity to be dual-enrolled at SUNY Sullivan and Homestead, allowing students to take advanced courses that will count toward a high school diploma and for college credit.
Photo by Erin Witkowski
Exploration of the natural world is a year round activity at Homestead School.
"It's important for us to honor the process of exploration during these important adolescent years and empower young people to be agents of change in the world," says Comstock.
"We're designing the high school curriculum to evolve alongside students, to support students in learning through service to their wider community, and to make the world the place they want it to be."
The Homestead School is now accepting applications for the 2021-2022 school year, for Pre-K through Grade 9. For more information, visit Homesteadschool.com/admission.