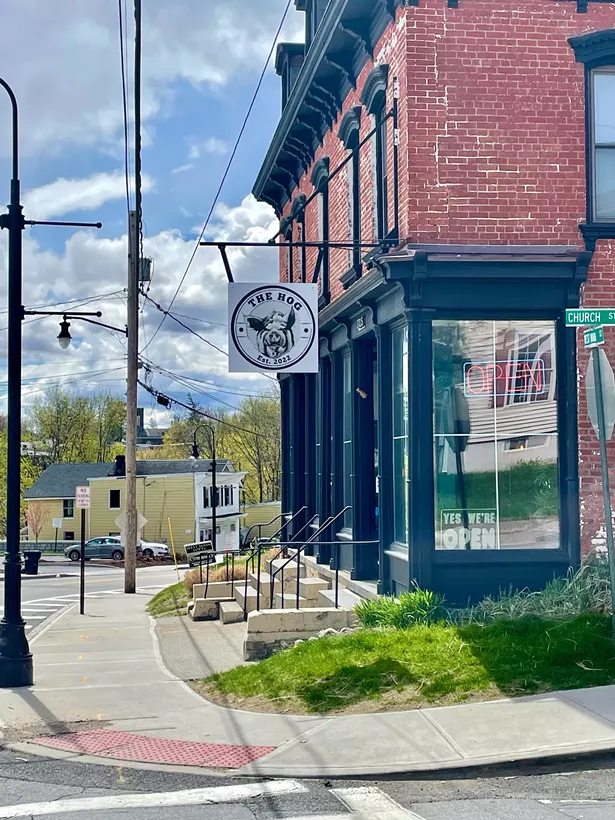 Located in the historic, 19th-century Bain Building (where George Pataki attended elementary school), the Ground Hog Cafe has been a fixture of the Wappingers Falls community since 1983. In its latest iteration, under new chef-owner Adam Sternberg, the eatery has changed format and upped the culinary ante with global influences, clever twists on classics, and seasonal specials that highlight local farms.
Aside from brightening up the interior of the building and dropping "ground" from the name, Sternberg, who owns the Hog with his wife Corinne, is trying to remain true to the eatery's historic role in the local community. "We wanted to keep the breakfast/lunch focus, but we stepped away from the cafe model to a more streamlined, fast-casual counter service," Sternberg says. "It's just a reflection of what is going on in the world—the pandemic, the cost of goods, the cost of employee retention."
Sternberg prefers his current open kitchen/sandwich counter to being holed up in a kitchen with no interaction with customers. In spirit, he's something akin to a short order cook in a classic, old-school diner. "In the long run, there's more of a personal connection with every single customer. I have conversations with people while I am cooking for them," Sternberg says. "As I get older, it's such a great thing to have that rapport and connection. I know whether they like their coffee hot or cold. I know how they want their eggs."
Sternberg has been a fixture of the Hudson Valley culinary scene on and off since 2004. (He was also a contestant on season three of "Chopped.") Most recently he worked at Wonderbar in Beacon, and in the past consulted on menus and recipe development for Bird & Bottle Inn, Hudson Valley Marshmallow, and Dutch's Spirits. He is a fan of traditional techniques and bold flavors, bringing his own inventive flair to classics. Though the menu at the Hog is sandwich-oriented, Sternberg clarifies, "We're not a New York-style deli in any shape or form, but you can still find variations and whimsical twists on classics."
Three variations on the buttermilk fried chicken sandwich at the Hog.
There are a slate of egg sandwiches served on brioche buns, ranging from simple to extravagant. The steak and eggs sandwich ($14) comes with shaved ribeye, two fried eggs, smoked pub cheese, and spicy coriander chimichurri, while the vegetarian Truffling ($10) comes with two fried eggs, truffle zest, brie, Calabrian chili spread, and truffle vinaigrette-tossed arugula.

In the sandwich department, the buttermilk fried chicken offering, OG Birdie, shines bright though simple, served with shredded lettuce, buttermilk mayo, and pickles ($10). For an extra $2, you can change the flavor profile with a hot bath dip, in flavors like maple Gochujang, sweet cucumber, or coffee. Looking for a hearty sandwich to keep you full on the job? The Muffler is served with prosciutto cotto, mortadella, sopressata, shredded lettuce, garlic caper relish, and buttermilk mayo on a long roll ($14). There are also a slew of salads, toasts, small bites, and bowls.
"We are a contemporary American-style sandwich shop," Sternberg says of the concept. "There is no limit to what you can do. I love fusion—I like taking items that are from different cuisines and making it into something that works well together."

The menu is geared toward customizability and built with dietary restrictions in mind. "When I was growing up you just had to have one vegetarian item on the menu, now you have to think of celiac, vegan, dairy-free, and nut-free," Sternberg says. "With a lot of our items, if you subtract one ingredient, it becomes this other thing. I can give customers a list of items on our menu that, with a couple tweaks, they are capable of eating."
The specials, which change weekly, are where Sternberg showcases peak season Hudson Valley produce as well as testing out new offerings and combos for the regular menu. He sources cage-free eggs from Feather Ridge Farm, microgreens from Tiny Greens Farm, and a lot of cheese and meat from within New York State.
One big change from the Ground Hog? No espresso machine. So don't wander in looking for a latte. Still, the small-batch, New York State-roasted drip coffee from Brewtus Roasting is popular with customers. The Hog also serves house-made hot cocoa, Harney & Sons teas, and, soon, a selection of refreshing summertime drinks.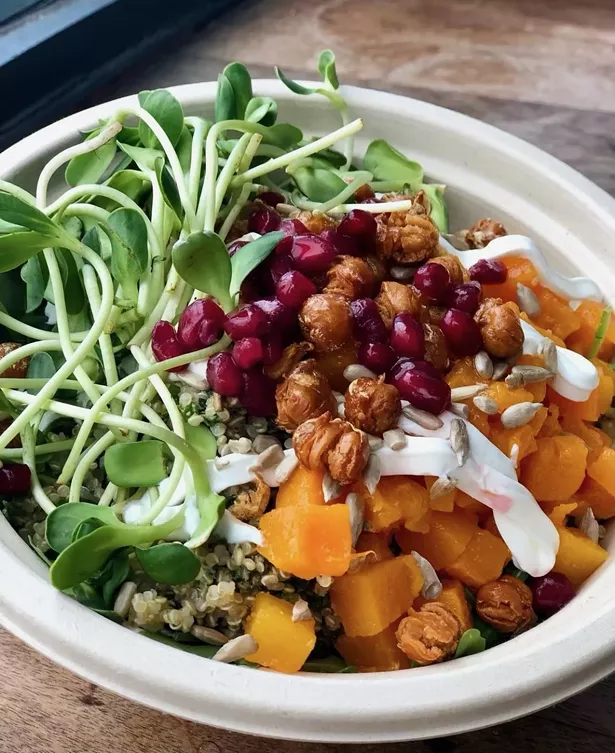 "We had a small handful of people that were very upset. We were not their cup of tea, but pretty much everyone that was a loyal Ground Hog fan loves our food, loves our coffee," Sternberg says. "We have people that drive from LaGrange just for an egg sandwich and coffee. If you are going to drive a half-hour, it's because it's the best you have found in the area, so that's a very nice compliment."
The Sternbergs are currently awaiting a wine and beer license and working on an outdoor patio space. In the coming weeks, the Hog will also begin staying open until 8pm on Friday and Saturday nights, with a more dinner-oriented menu. With the extended hours, eventually Sternberg will look to hire other kitchen staff, but for now, it's just him on food and Corinne at the cash register. "We are a mom-n-pop shop, 100 percent," he says. "The main thing is that I want to cook almost every item that leaves this place. I put a lot of love in what I do and people can taste that."