With the close of yet another legislative session on June 19, New York again failed to pass the Marihuana Regulation and Taxation Act (MRTA) for the sixth year in a row, though this was the first time that it had seemed possible. Earlier in the year, Governor Cuomo made cannabis reform a core component of his State of the State address, and the Assembly and newly Democrat-controlled Senate were able to push through a raft of other progressive legislation, encompassing climate change, rent control, and driver's licenses for undocumented immigrants.
But legal weed, once again, died on the vine. "Whenever big changes are proposed in the way things have been done for a long time, people will be wary," says Senator Liz Krueger (D-Manhattan), who first introduced the MRTA in December 2013. "I heard many good-faith concerns from my colleagues, many of which I believe have been addressed in new versions of the bill, but we ran out of time before we could make it across the finish line."
Photo: Jacob Plowden
New York City Cannabis Parade.
"There were many good-faith concerns" would be a fitting epitaph for the MRTA. What had earlier in the year seemed like a foregone conclusion—the legalization of recreational marijuana for adult use in New York—was reined in by police unions and PTAs, scaremongering anti-legalization groups, and a cold-footed Democratic caucus whose differences seemed to grow by the day. On the other side, the push to reform marijuana policy in the state of the Rockefeller drug laws included movements driven by social and criminal justice reformers, small farmers, tourism, health care, and agribusiness. It promises to be an incredibly complex industry, and a very lucrative one: The state estimates revenues of half a billion dollars in the first year alone.
That's why everyone—from farmers, investors, and activists to state legislators and the people on your block—seems to be talking about weed these days. Public conversations are happening throughout the Hudson Valley. A few weeks before the close of session, two dozen people packed into a slim gallery space in Midtown Kingston, for a "cannabis chat" led by Andi Novick, cofounder of the New York Small Farm Alliance of Cannabis Growers and Supporters. The gathered throng displayed a wide range in familiarity levels with the plant and the legislation, and competing passions and prerogatives. The room was heavily in favor of ending prohibition, so it wasn't a perfect analogy for the crowded field of cannabis reform, but the symbolism was unmissable.
I talked to more than 20 people on all sides of the issue for this article and came away both more convinced that cannabis reform will happen in New York one day and clearer on why it hasn't yet. "It touches lots of different agencies and parts of the state," Senator Krueger says.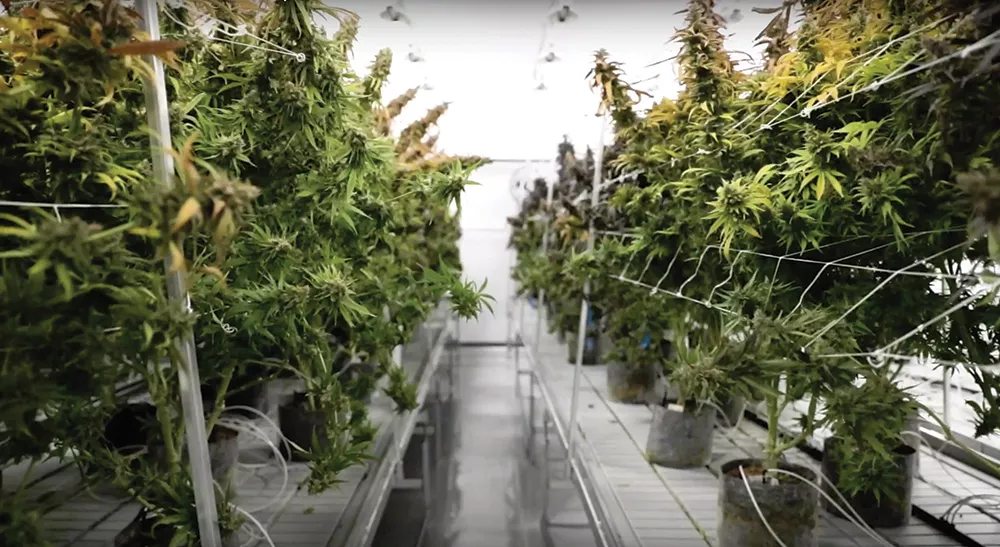 An Acreage Holdings grow room in Syracuse.
Though most New Yorkers now support pot legalization, there are many competing factions with different policy priorities. And if the destination is now generally agreed upon, the path forward still remains as tangled as ever.
How We Got Here
First, let's back up.
Momentum toward legalization picked up in 2014, the year New York passed the Compassionate Care Act, aka the medical marijuana bill. On the eve of that session, Senator Krueger introduced the Marihuana Regulation and Taxation Act, a recreational bill that cherry-picked policies from other states and European markets that have ended cannabis prohibition. The MRTA would legalize recreational marijuana use for anyone over the age of 21, taxing and regulating it in a manner akin to the state's current treatment of alcohol and tobacco.
With slight tweaks, the MRTA has been reintroduced year after year, picking up cosponsors along the way. Majority leader Crystal Peoples-Stokes (D-Buffalo) sponsors the bill in the Assembly. In his 2019 State of the State address, Governor Cuomo proposed the creation of a new agency, the Office of Cannabis Management, to oversee the industry, estimating that tax revenue would be $300 million by 2023.
A 59-to 38-percent majority of New Yorkers now support the sale of legal marijuana, according to a Quinnipiac poll released in January, with little deviation between New York City, upstate, and suburban voters.
"We have the largest cannabis industry in the country, it's just that criminals run it all," Senator Krueger says. "Crystal Peoples-Stokes and I have been watching what's happened state by state, country by country, talking to regulators and advocates. I believe that New York State can have the best marijuana legalization in the country."